UP TO YOU*GFE
Selle Français, Bay, 1m69, 15 years
He was injured in 2019 after a very good 2018 season at 1,55m level. He is back to sport in 2020 and his first offspring have shown by their performances, the trust that breeders placed in him was fully justified. He passes on his remarkable canter and his spectacular back movement.
---
Stud fees
Breeding guide program
Frozen semen :

Booking fee : 350 €
Pregnancy fee : 1 000 €
Prices above do not included VAT 10%

Pedigree
CALVARO

CALETTO I

COR DE LA BRYERE

DEKA

RIXA

CAPITOL I

FELICITAS

OLISCA

OLISCO

JALISCO B

STELLA

JE TE DONNE II

CABDULA DU TILLARD

BABY BOOM IV
▶ License : SF
▶ X-ray score : 4* - WFFS : Génotyp N / N

Grades for breeding (from 1 for a few to 5 for a lot) :
SIZE : 4 LENGTH : 4 CHIC : 3
BLOOD : 3 SCOPE: 5 BONES : 4

THE SIRE'S CHARACTERIZATION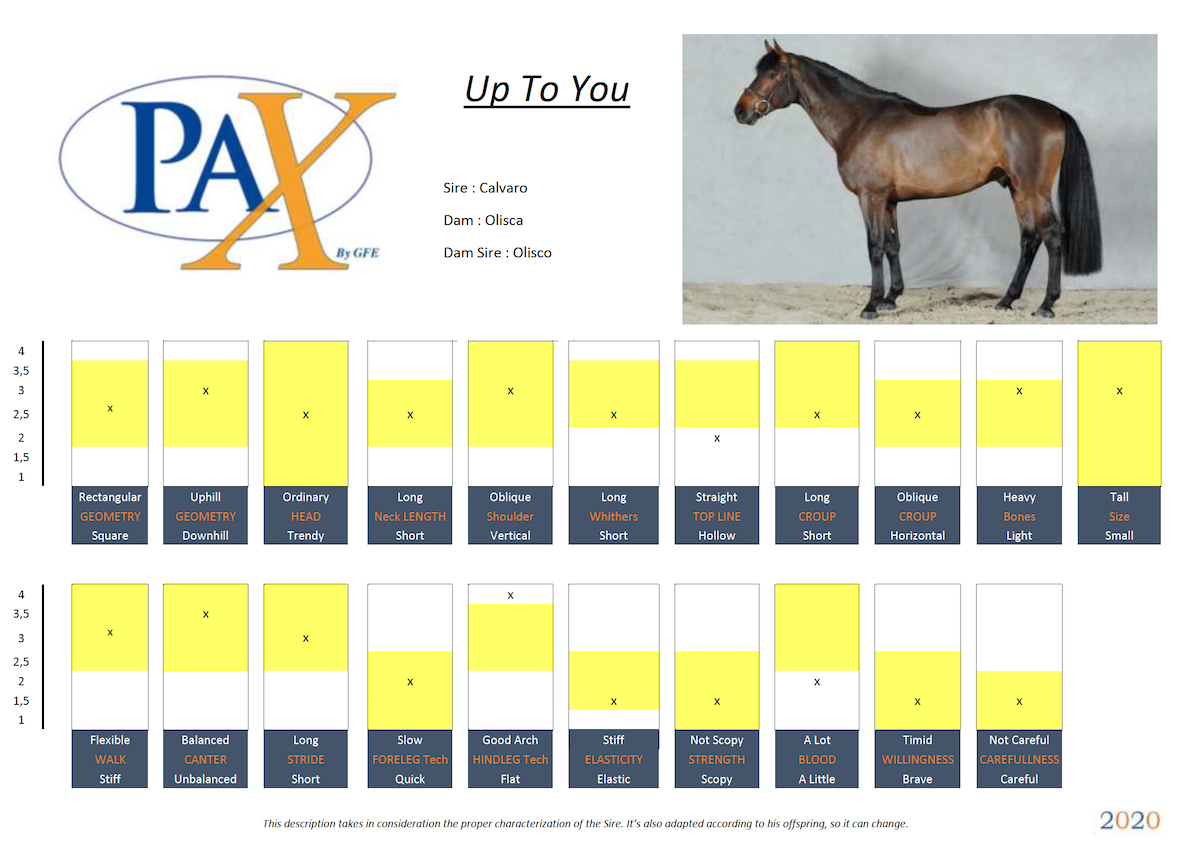 Click here in order to refine your selection with the PAX Graphique

Hij raakte in 2019 geblesseerd na een zeer goed 2018-seizoen op 1,55m-niveau. Hij komt terug in de sport in 2020 en zijn eerste nakomelingen hebben door hun prestaties laten zien dat het vertrouwen dat fokkers in hem stelden volledig gerechtvaardigd was. Hij geeft zijn fantastische galop door


Origins
▶Calvaro, holsteiner Sire, international performer, Olympic Games of Sydney with Jos Lansink, then European World championships of Europe with the brothers Whitaker. Classified 19th best Sire of winners CSO on WBFSH ranking in 2018. Many products winners in CSIO GCT, World cup, CSIO among which Calvilot, 5th of the GP Rolex CSI5* of Aix la Chapelle, 7th of GP GCT CSI5* of Hamburg with A. Kreuzer; Tina la Boheme ISO 162(17) with McL. Ward; Skyhorse, 3rd of the GP CSI5* of Villach Treffen with C.O' Connor; Utchan de Belhème, CSIO5* with Mr. McAuley, ISO 164(17); Chance Ste Hermelle, 3rd of the GP CSI3* of Lexington with M. Morrissey; Gasper van den Doorn, 5th of the GP CSI2* of London with S. Moore; Uma, winner of GP CSI2* of Arnas with M. Bordat, ISO 152(17); Scara Mouche, CSI4* with G. Garofalo, ISO 161(18) and Poor Boy de la Folie ISO 150(16), Quick Petite Folie ISO 150(16), Quinoa of Riollets ISO 159(16), Rapid Petite Folie ISO 144(17), Safir de l'Hermitage ISO 150(16), Saga de Romilie ISO 152(16), Santiago de Blondel ISO 163(15), Scarlet d' Enfer ISO 159(18), Schweps de Soutrait ISO 146(17), Schou d' Ouilly ISO 154(17), Siamoise Minotière ISO 159(15), Sixtine de Vains ISO 168(16), Sibell du Gisors ISO 159(15), Smatch de Blondel ISO 151(14), Snaike de Blondel ISO 168(16), Sombrero Brimbelles ISO 148(16), Soraya de Freol ISO 144(16), Soray St Martin ISO 151(17), Stardhust Quinhon ISO 164(14), Surprise du Fort ISO 152(16), Talia du Cary ISO 151(16), Talma des Vatys ISO 151(18), Tendresse du Fort ISO 146(17), Tesway de la Batia ISO 154(18), Thais de Pégase ISO 159(16), Théorème du Desir ISO 164(17), Uma ISO 160(18), Unamour de Suyer ISO 162(18), Valkyrie de Terlong ISO 147(17), Valou du Mys ISO 147(17), Baccara du Talus ISO 156(18), best horse of its generation in 2017, Bugatti de Carva ISO 145(17)…
▶Olisca has 6 other young products as Taliska (Corofino holst), 12th of the 5 year Chamionship and finalist of the 5 year old World Championship in Lanaken with V. Benchimol, finalist at 6 year old, classified in GP CSI2*, ISO 132(13) ; Calling You (Kannan kwpn), ISO 119(18)

Performances
▶2012: 12 perfect performances out of 14 in Classical Cycle 4 years under the saddle of Jean-Christophe Lecorneur. Qualified for Fontainebleau, wounded right before
▶2013: With Audrey Paris, finalist in Classical Cycle in Fontainebleau, 19th of his generation.
▶2014: 11th TOP 100 SHF, finalist in Fontainebleau with Audrey Paris.
▶2015: Classified on the TOP 7 circuit with Fabrice Paris.
▶2016: With T. Anciaume , takes part in tests CSI2* and CSI3*. Regularly in GP 1,35m: 4th in Cabourg and Canteleu, 5th and 7th in Le Mans, 5th CSI2* of Deauville, 6th in Auvers, 8th CSI2* of Le Touquet. Also 2nd GP 1,40m in Le Mans.
▶2017: 4th in 1,40m classes in Saint-Lo and CSI2* of Auvers, 4th of a 1m45 at the CSI3* of Saint-Lo, 9th of the GP 1,45m CSI2* of Auvers, 5th of the GP 1m50 and 3rd of Grand National in Lorient…
▶2018: With T. Rousseau, he has more than 37,000 euros of price money: Winner of the GP Elite 1,50m and winner of the Grand National in Montfort/Meu, winner of GP CSI2* of Le Mans in March 2018, winner of GP CSI2* of Le Mans in July 2018, 2nd of the GP 1,45m in Saint-Lo AEC, 4th of the GP 1,45m CSI2* of Fontainebleau, 6th of the GP 1,45m in Notre Dame d'Estrées, 6th of the GP 1,45m of Saint-Lo SLCO
▶ISO 155(18)
Production
▶Ep to You, approved SF stallion, finalist in Fontainebleau and Pompadour, 12th best of its generation in eventing with A. Roques,El to You Manathis, Etoile du Bidou, Electro des Forets are qualified in Classical Cycle 4 years without taking part in the finale.
▶In 2018, Girolata Mont Oger, 7th French Championship of the 2-year-old Males to Saint-Lo, approved Sire, Fakir des Ruettes, 3rd of the sire qualificative of Saint-Lo, sold 34,000 € at the Sales Fences Elite and Flower des Forets sold 25,000 €, Forever des Forets sold 22,000 €, Fajitas des Forets sold 22,000 €, Follow Up sold 22,000 €, Fabuleux des Forets sold 19.000€.

He passes the canter quality. He also passes his rather rectangular silhouette, a beautiful neck orientation and an easy character. Its products generally have bone and a good balance.
He crosses better with mares close to blood than with heavy ones.