VLEUT*GFE
KWPN, Dark bay, 1m65, 21 years
His success with breeders is still strong and he counts among the most sought-after stallions in France. In addition to the sports ability shown by his first descendants, he distinguishes himself by the conformation, elegance and beautiful gaits he transmits.
---
Stud fees
Breeding guide program
Frozen - Chilled semen :
Booking fee : 350 €
Pregnancy fee : 1 000 €
Prices above do not included VAT 10%

Pedigree
QUICK STAR

GALOUBET A

ALME

VITI

STELLA

NITHARD x

FLORA

NICCE

CANTUS

CALETTO I

MONOLINE

AUDI'S JIKKE

CONCORDE

SURPRISE
▶ License : SF, Kwpn, Old, BWP
▶ X-ray score : more than 15 years - WFFS : Génotyp N / N

Grades for breeding (from 1 for a few to 5 for a lot) :
SIZE : 3 LENGTH : 3 CHIC : 4
BLOOD : 4 SCOPE: 4 BONES : 3

THE SIRE'S CHARACTERIZATION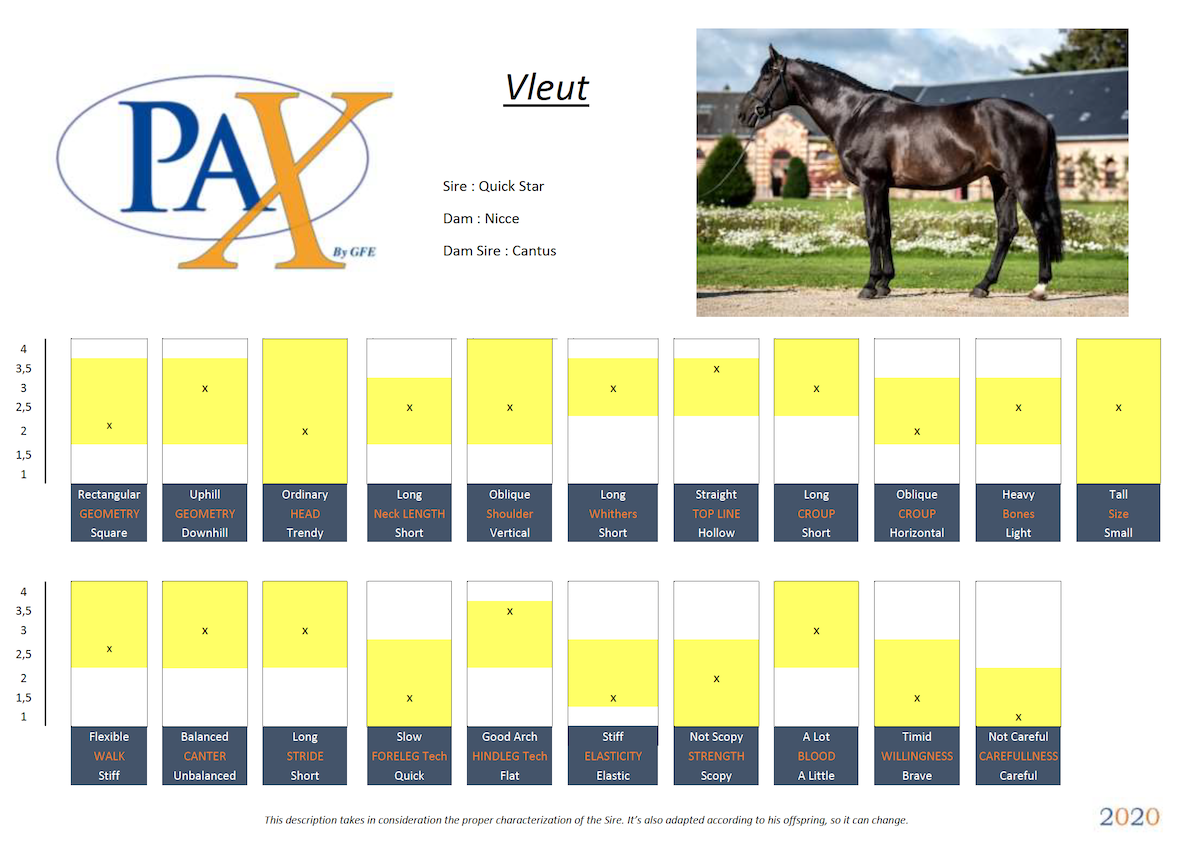 Click here in order to refine your selection with the PAX Graphique

Zijn succes bij fokkers is nog steeds groot en hij behoort tot de meest gewilde hengsten in Frankrijk. Naast de kwaliteiten in de sport die zijn eerste nakomelingen laten zien, onderscheidt hij zich door het exterieur, elegantie en prachtige gangen die hij aan zijn nakomelingen doorgeeft.


Origins
▶Quick Star, approved in 21 stud-books, one of the best sires of current winners in Europe, is classified 63th best Sire of international winners in Stallion Ranking WBFSH 2018. It in particular produced the Sire Olympic champion of Rio 2016, Big Star, with N. Skelton, also gold medal by team and 5th ex-aequo individual at the Olympic Games of London in 2012, winner of GP CSIO of Rome and Aix la Chapelle, 2nd WBFSH world performer 2012 and 4th in 2013; Quatrin de la Roque, winner of the GP World cup of Bordeaux in 2017 with J. Epaillard, Champion of France Pro 1 Elite in 2012 with M. Hécart, CSI5*, ISO 173(17); Orient Express*HDC, Sire, 6 year old Champion, Champion 2010, winner of the GP CSI-W of Helsinki, CSIO of La Baule and Rotterdam with P. Delaveau, double silver medal-holder at the 2014 World equestrian games, ranked 35th WBFSH 2014, ISO 176(14); Sprehe Stella, European Champion by team with Hickstead and 6th at the finale World cup in Gothenburg with M. Michaels Beerbaum; Quick Study ex Lutin de Semilly, ISO 186(11), 25th best world performer 2011 with L. Hough, winner of the GP CSIO4* of Wellington, CSI5* of Hamburg, Dublin; Power star, 84th best world performer 2014 with Ian Millar; Nokia de Brekka, winner of the derby CSIO5* of La Baule in 2014, ISO 176(14)… and Ishd Dual, Star, Red Star d'Argent ISO 168(16), Orlando de Roy ISO 160(15), Pop Lady d'Elle ISO 165(14), Tea Star d' Oyale ISO 166(17), Ryanair de Riverland ISO 162(18), Turquoise d'Ivraie ISO 155(18)… all good winners in CSI.
He sired many stallions: Popstar Lozonais ISO 161(13), Ninio de Rox ISO 154(10), Niagara d'Elle ISO 158(11), Notrestar dela Nutria ISO 171(13), Untouchable M ISO 150(10), Qantar des Etisses, ISO 162(14)...
▶Nicce has 7 other products as Genius (Baloubet du Rouet sf), KWPN Sire
His second Dam Line Jikke is twice world cup finalist with E. Van Der Vleuten

Performances
▶2007 at 2009: Champion of Holland at 5 years, finalist of the young horses World championships at Lanaken as 6 and 7 years with Maikel van der Vleuten
▶2010 at 2011: winner at the GP CSI2* of Neeroeteren, 3rd of the GP of Roggel, 8th of the GP CSI5* of Valkenswaard, then with Edwina Tops Alexander, winner of Equita' Master CSI5*-W of Lyon.
▶2012: 3rd at the World cup of Donetsk, 2nd of a 1,60m CSI4* of Coruña, 6th of a 1,50m at the CSI5*-W of Zurich and of a 1,55m at the CSI5* GCT of Vienna.
▶2013 at 2015: Placed 3rd GP CSI5* of Monaco, 3rd of 1,50m at the CSI5* of Hong Kong, CSI5*-W of Leipzig, 7th at the CSI5* of Chantilly… Continuaing his career with A. Alsharbatly, winner and 7th of tests 1,45m CSI3* of Ciekocinko, 2nd at the CSI3 of Mostaganem, 5th at the CSI3*-W of Riyadh, 6th of a 1m55 at the CSI5*GCT of Shangai…
Production
▶His offspring are 11 years old in 2019; many are already good international winners:
Edinburgh, 5th of the GP 1,50m of the Sires of the World, 6th and 8th of GP CSI2* of Kronenberg at 9 years with K. Houwen; Victoria, 3rd of GP CSI2* of Beervelde with P. Moloney in 2018, CSI5* GCT of Mexico City, Miami, 7th at the CSI5* of St Moritz in 2017 with M. Fuchs; Doryane HDH, 7th of the GP 1,45m CSI2* of Lyon, 5th of GP CSI2* of Kronenberg with P. Andersson; Emo, twice 2nd on 1,45m CSIO5* of Rome with G. Garofalo; Charming Forces B, 6th on 1,50m in Calgary, 9th of the GP 1,60m in Rockwood with K. White and K. Karlager. And also E Vivamunde, Daron, Camona, Colombus, Dowan, Estoril, Dylano, Fergus…
▶Vleut has already 7 approved sons: De Vleut (BWP), Chagall (AES), Edinburg (KWPN), Huro's Fantastic Color R (AES), Fire (KWPN), G-Force (AES), Vincent (OS, Holst) et Emo (AES).
▶Among his aproved products in France: Dora ISO 130(18), Early April d'Harvest IPO 124(18)...
▶Ithyl Myr is 3rd of the French Championship of the old female foals in 2018.

He passes his elegancy and blood with more size than we could think and enough bone. He suits perfectly small and heavy mares.
We advise to avoid the too compact mares and the too sensitive and delicate ones.