PETRUS DE BRANDEGEM*GFE
Belgian warmblood, Dark bay, 1m70, 7 years
---
Stud fees
Breeding guide program
Pedigree
UP TO YOU

CALVARO

CALETTO

RIXA

OLISCA

OLISCO

JE TE DONNE II

ISETTA

GUIDAM ex ADAGIO IV

QUIDAM DE REVEL

FOUGERE

TOPALINE

MAJOR DE LA COUR

OPALINE DES PINS
▶ Entered in the stud in 2020
▶ BSO :
▶ Licensed Stud-books :
▶ X-Ray status : 4* - WFFS : en attente
SON PREDIGREE : en attente
SON PALMARES : en attente
CE QU'IL FAUT RETENIR : en attente
CE QU'IL TRANSMET : en attente

à définir

Notes de croisements (de 1 pour peu à 5 pour beaucoup) :
TAILLE : 5 ETENDUE : 5 DISTINCTION : 4
SANG : 4 FORCE : 5 SQUELETTE : 4

THE SIRE'S CHARACTERIZATION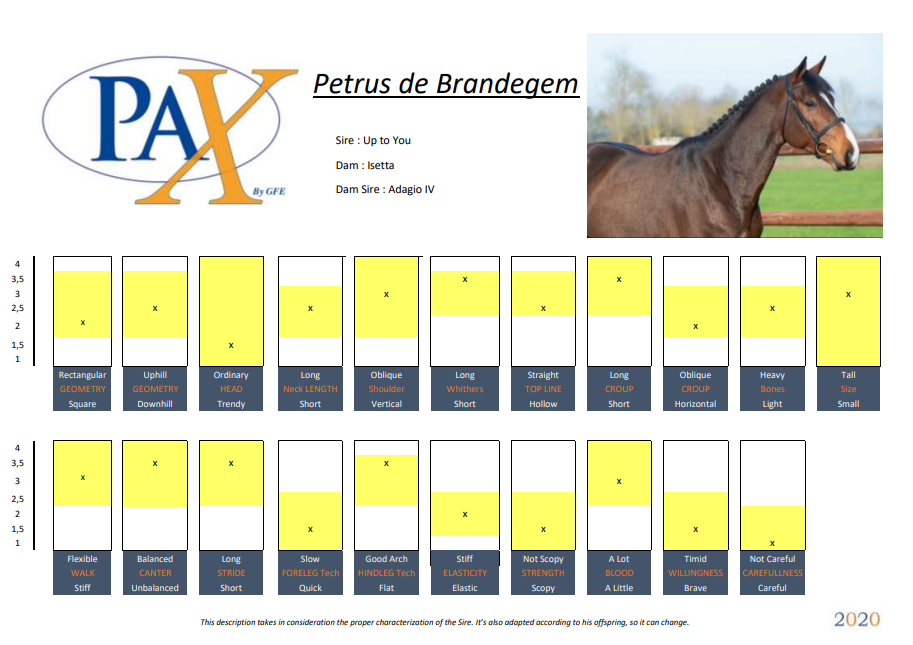 Ces informations doivent vous aider pour un premier tri et être complétées par le PAX Graphique

Pedigree
▶ UP TO YOU is a son of CALVARO that is one of the most famous sire in the history: J.O. Sydney , World and European Championships, 19th best father of CSO winners on the WBFSH World Plan in 2018 and sire of many winners in CSIO.
Up To You is increasingly present on the sports scene and has numerous rankings in CSI 2 and 3*: it has a total of over 60,000 euros of earnings: The winner of the Grand National GP 150 in Montfort/Meu, the GP CSI2* of Le Mans, 5th of the GP 150 Grand National in Lorient, another GP CSI2* in Le Mans, 2nd of the GP 145 in Saint-Lô AEC, 4th of the GP 145 CSI2* in Fontainebleau...
▶ Isetta has 2 offspring including Petrus de Brandegem.
▶ Topaline, CSI 140 with S. Marissen is the dam of:
・Brindine, CSO 130
・Calder, sire, CSO 140
・Maestro de Brandegem,CSO 140
▶ Opaline des Pins, an exceptional dam of:
● Jus de pomme, OLYMPIC CHAMPION in 1996 under the US saddle. Kirchhoff
● Magister, winner in CSI with F. Mathy Jr.
● Richebourg, winner in CSIO with J-C. van Geenbergue, ISO 158(01)
● Shogoun II, winner in CSIO with Eric Navet, ISO 184(97)
・ Tresor d'Opaline (Major de la Cour sf), "Elite" BWP Sire, CSIO with J-C. van Geenbergue and J.O. Beijing 2008 with S. Lam.
● QUINTUS, a very large international winner under the saddle of J.-C. van Geenberghe and 10th in individual at the 2008 Olympic Games in Beijing

Performances
▶ Petrus is the 3-year BWP champion at the free jumping competition in Aalter, he then made some 4-year test in Belgium and will be ridden by Valentin Besnard in the 5 years old classical cycles.

Production
▶He starts covering in 2020