MYLORD CARTHAGO
Selle Français, Grey, 1m71, 23 years
A former superstar in the show-jumping arena, he is now also acknowledged as a star in the breeding world. Not only is he ranked 10th in the WBFSH ranking, he also comes 2nd in the Horsetelex ranking of sires of winners aged less than 15 years.

---
Stud fees
Breeding guide program
Frozen semen - Chilled semen (available in Belgium, Holland and Germany) :
Booking fee : 350 €
Pregnancy fee : 2 500 €
Prices above do not included VAT 10%

Pedigree
CARTHAGO HOLST

CAPITOL I HOLST

CAPITANO HOLST

FOLIA HOLST

PERRA HOLST

CALANDO I HOLST

KERRIN HOLST

FRAGANCE DE CHALUS SFA

JALISCO B SFA

ALME SFA

TANAGRA SFA

NIFRANE SFA

FURY DE LA CENSE SFA

IFRANE *AC*
▶ License : SF
▶ X-ray score : more than 15 years - WFFS : Génotyp N / N


Grades for breeding (from 1 for a few to 5 for a lot) :
SIZE : 4 LENGTH : 5 CHIC : 4
BLOOD : 3 SCOPE: 5 BONES : 3

THE SIRE'S CHARACTERIZATION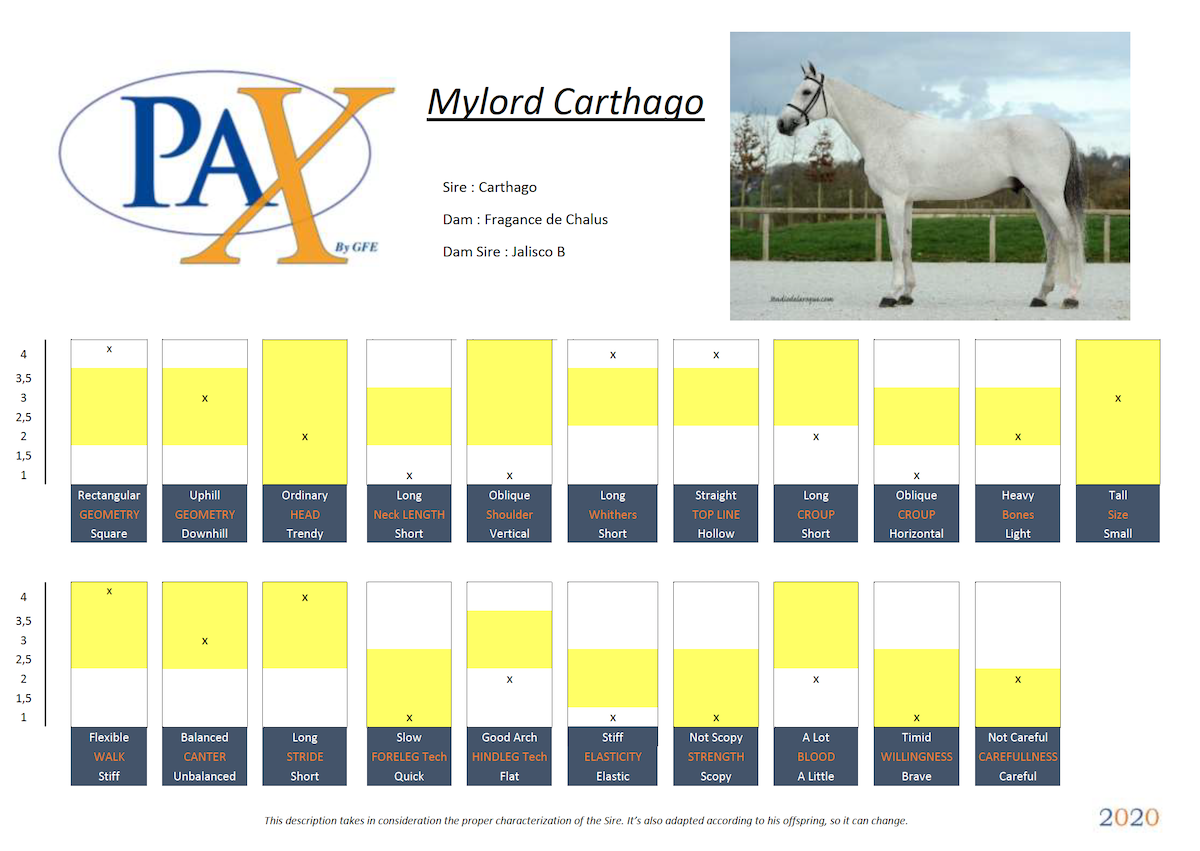 Click here in order to refine your selection with the PAX Graphique


Een voormalige superster in de springsport, wordt nu ook erkend als een ster in de fokkerij wereld. Niet alleen staat hij 10e in de WBFSH- Sire ranglijst, hij wordt ook 2e in de Horsetelexranglijst van vader van winnaars jonger dan 15 jaar.


Origins
▶ Carthago, international performer with Jos Lansink: winner of the GP of la Baule, 11th of the Olympic Games of Atlanta, 20th at the Olimpic Games of Sydney, 8th of the European Championships of Hickstead and finalist of the World Cup of Göteborg, winner of Nations Cup. Placed 60th best sire of winners on the WBSHF rankings in 2016.
Among around fifty products in CSIO and Nations Cup rankings, Cash 63, 7e world ranking in 2010 ; VDL Groep Cannelina, Cicero Van Paemel, Carmena Z, Coltaire Z;; Monodie H, CSI5* under German colors; Cordano Sitte Z, CSI5* with Abdelkebir Ouaddar; Catwalk Z, 2nd of the GP CSI3* of Eindhoven, 82th world performer, CSI5* with P. Bucci; Cobra, Colman, Crown Z, Cartani, Codex, or Castleforbes Cicely ISO 133(15)…
He also produced: Teldame de la Nutria, 11th of GP CSI2* of Barbizon in 2016 with O. Perreau, CSI3*, ISO 146(16); Panama Tame, 3rd of GP CSIO3* of Samorin, 5th of GP CSI3* of Arezzo, finalist at 4 years "Excellent", 5 years and 6 years "very good", CSIO5* with E. Angot, ISO 160(16); Old Chap Tame, CSIO, 83th world performer 2014, ISO 175(14); Nouma d' Auzay, finalist at 4 and 5 years, ISO 160(09); Milano de Flore, winner in CSI2*-W under Argentinian saddle, ISO 156(13); Matahari Mail, Pro2 championship in 2009, 7 years championship, world championship and finalist at 6 years with P. Delaveau, ISO 153(06); Magicienne de Gree, 2nd to GP CSI2* of Challans in 2010, finalist with 4-5-6 years, ISO 147(08); Moon Mail, 2nd of finale CSIO5*-NC of Barcelona in 2010, 4th of GP CSI2* of Santander, finalist at 6 years, ISO 164(10); Castronom Z, 3rd of the GP CSI3* of Caen in 2008 with K. Staut, winner of a 1m55 at the CSI5* of Madrid, ISO 161(08); La Vie du Fraigneau, 4th of the GP CSI2* of San Sebastian in 2009, ISO 161(09); Looping d'Elle, placed in 2016 in CSI2* and CSI3*, winner in CSIO4*-NC, 6th of the GP CSI2* of le Mans, 2nd of the GP CSI3* of Royan, finalist at 4-5-6 years, ISO 172(12), Cycarlos L Z, ISO 164(08); Love Love Jac, finalist with 4-5-6 years "Excellent", ISO 155(06), Chauvinist Z, ISO 137(16); Cuarthago Bel Z, ISO 114(16).
▶Fragrance de Chalus
Many international sires and performers; Bamako de Muze, sire and performer in CSI5*; Norton d'Eole, sire, winner of many CSI2 and 3* with Eric Dewulf; Arc en Ciel de Muze, sire, CSI5*; Jolly Mome, CSI5*
Performances
▶With Pénélope Leprevost: Olympic Games of London 2012; World Vice-champion by Team in WEG Lexington in 2010; European Vice-champion by Team in Madrid in 2011; 1st of GP CSI5* of Paris, Helsinki and Vienna; 2nd of GP CSI5* in Chantilly, La Baule and Gijon; Winner of the Nations Cup of Aix la chapelle, Rome, La Baule, Gijon

Production
MYLORD continues his rise among the best Jumping Sire in the world with this year a 25th rank in WBFSH. In the category of the Sire of horses of 13 years and less, he is 5th! (according to the ranking 2018 IPV of Horsetelex)
▶Timon d'Aure WEG Tryon 2019: 9th in individual; 2nd GP CSIO5* in Dublin, 6th GP CSIO5* in Rotterdam, 2nd of the GP 5* of Dublin, winner of the GP 4* in La Coruña and Bourg en Bresse. He confirms in 2018, his rank at the highest level by carrying out the best French performance at the WEG of TRYON: 9th into individual. In 2019, winner of the GP 5* of Dinard, 8th of World Cup of Lyon, ISO 178; Tino la Chapelle, in 2019 winner of Nation Cup of Wellington and 4th of Nation Cup of Vancouver. CSI5* in America with J.J. Saldago winning in CSI5* and 3rd stage World cup of Vancouver with Juan Jose Zendejas Saldago 2018. Valmy de la Lande 4th GP CSI5*-W in London after being in young horses tests with Axelle Lagoubie: "Excellent" at 5 years and "Elite" at 6 years, he is now at the international with Michael Whitaker: Winner of a 1m50 CSI5* GCT in Monte Carlo, classified at the CSI5* of Knokke, Malignant and London in 2017 then Zurich, Doha, Shangai, Gothenburg in 2018, ISO 170. Utopie Villelongue 6th GP CSI4* in Valence, 2nd of a test at the CSI5* of Dinard in 2017, 3rd of the GP CSI3* in Béthune, placed in GP CSI4* of Valence and Rouen in 2018, 3rd of Nation Cup CSIO5* of Gijon in 2019, ISO 170 ; Mano Negra van de Bucxtale, 3rd at the 6 years old World championship in Lanaken. In 2019 winner of CSIYH1* of Lier, Kronenberg, Hickstead and Spangenberg.
▶ Twenty Two des Biches ended 2nd of the Final World Cup in Omaha, 2nd CSIO in St Gallen, Winner in CSI5* and bronze medal at the European Championships with Romain DUGUET, in 2019 he was 5th of a 1m50 CSI5* in Paris, ISO 173 ; Uhlan Okkomut, ISO 163, placed in CSI5*; Utahmano Aluminium, ISO 161, placed in CSI4*; Atome des Etisses, ISO 162, winner of the GP CSI3* at the Normandy Horse Show in Lô Saint in 2018 and 3nd of Nation Cup of Gijon in 2019; Ambre Platière, after a 2nd rank at the 7 years Belgium Championship in CSI3* under Irish colors, ISO 139 ; Vertigo du Desert 2nd of Nation Cup of Athens,2nd of World Cup of Oslo in 2019 ISO 172 ; Tolede de Mescam placed in CSI5* ISO 154.
▶His products are present on the international scene in Jumping but also in Eventing, which give him a 35th rank in WBFSH Sire of winner in Eventing!
Totem de Brecey, ICC 158, 2nd of the CICO3* of Strzegom and CIC2* of Jardy in 2018 with Christopher Six and 4th of European Championships Eventing of Luhmühlen in 2019 ; Tim de la Lande, ICC 151, winner of the CIC3* of Le Pouget and CCI2* of Cluny with François Lemiere in 2016 then with Umberto Riva he won the CIC3* of Sopot; Babylon de Gamma, ICC 155, bronze medal-holder of the 7 years World championship with Nicolas Astier and winner of CCI4* of Blair Castle
MYLORD is always at the top of the rankings of young horses SHF classes, he is 5th Sire by the total earnings and 1st by the average earnings of the Sire having at least 30 horses in classical cycle.
▶Among his products at the 2018 French Championships in Fontainebleau: Dana de Kerglenn, 5 year old females champion, labeled "Elite", ISO 142; Bellini Dufaur de L, 4th of the 7 year old French Championship, ISO 148; Calisco de Terlong, 13th of the 7 years old male championship, 6th of the 6 years male Championship, labeled "Excellent", ISO 142; Chammann Has, "Very Good" at the 6 years finale, ISO 147; Erewan de Flusel, which was already 4th of the 3 years old France championship last year, placed at the 4 years finale male and labeled "Excellent".
▶At the 2019 French Championships in Fontainebleau : Ekhina K, 10th of 5 years old females championship free cycle, ISO 112; Delendacarthago Salam 11th of 6 years old male championship free cycle ISO 113.