KRAQUE BOOM
Selle Français, Bay, 1m66, 25 years
The production of our 2009 European champion is confidential but his first products show frame, strength and a really good temperament: all the ingredient for competition!
Elasticity - Respect - Willingness
---
Stud fees
Breeding guide program
Frozen semen :

Booking fee : 350 €
Pregnancy fee : 850 €
Prices above do not included VAT 10%

Pedigree
OLISCO

JALISCO B

ALME

TANAGRA

STELLA

NITHARD xx

FLORA

BABY BOOM IV

JOYAU D'OR A

ALME

FABULATION

KERMIRANDE

TURNER xx

EAST ORANGE
▶ License : SF, BWP, ISH, CS
▶ WFFS : Génotyp N / N

What to remember : A European Champion and winner in Aachen, he started his career as a stallion late and has already 1 son license by the KWPN.
What he passes : He passes bone and frame, with rather compact silhouette.
Crossing grades (from 1 for a little to 5 for a lot):
SIZE : 3 LENGTH : 3 CHIC : 3
BLOOD : 3 SCOPE: 4 BONES : 4

PAX Characterization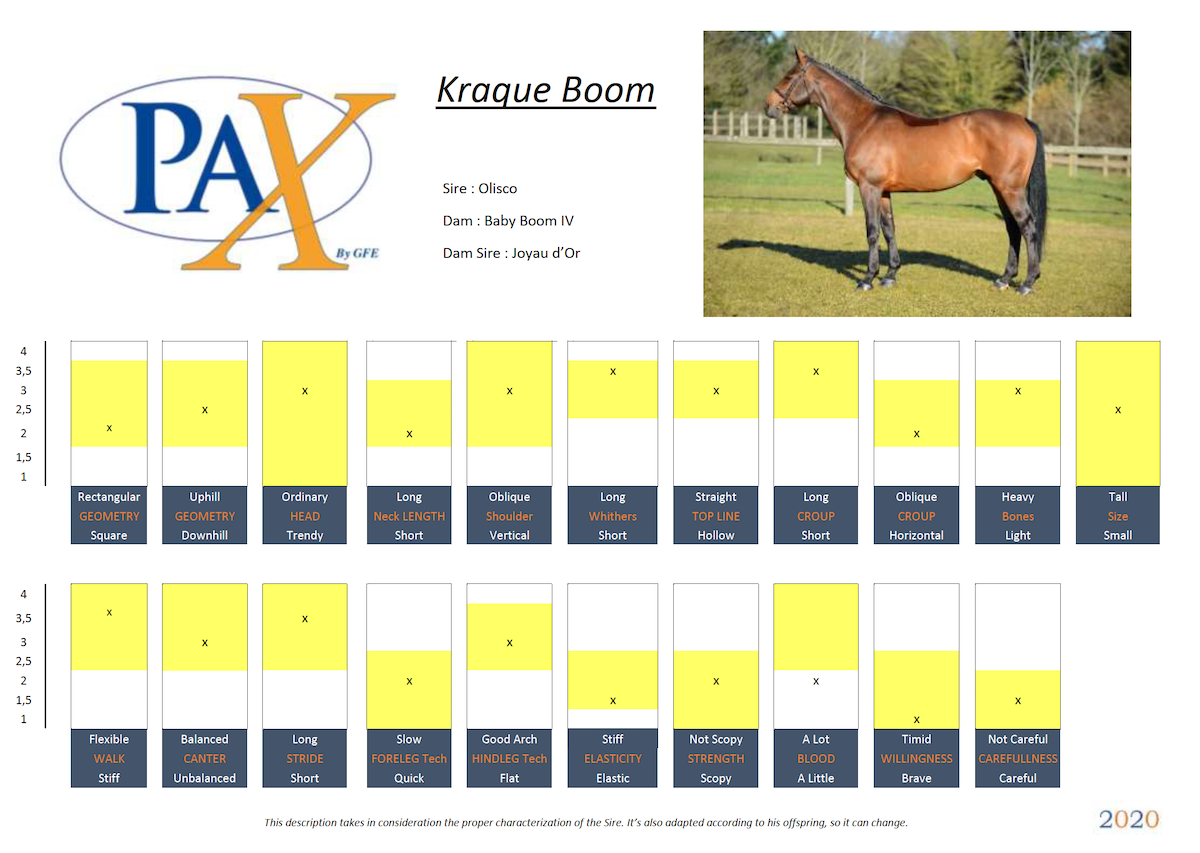 Those information should help you to a first sort and then should be completed by the PAX Graphique


Zijn nafok is nog niet zo gekend maar dat gaat zeker veranderen wanneer zijn eerste nakomelingen in de sport gaan uitkomen ! Zijn zoon 'Envole Moi' is goedgekeurd in Nederland !.


Pedigree
▶ Olisco, international jumper in USA and Quick Star uterine's brother, World Cup finalist, 2nd in the American selection for the Olympic games in Barcelona…
He has produced the Iolisco de Quinhon, CSI4*, Hello Pierville, CSI5*, Labrador de Brekka, CSI4*, Hemec d'Oda alias Nolisco, CSI5*, Illico de Rêve CSI4*, Gribouille d'Elle CSI-W in Argentina, Galisco d'Or, CSI 3*, Goodbye du Tertre, Gold du Talus, CSI4*, Gotha Brécourt CSI3*, Hollywood IV, CSI3*, Hispide de Semilly CSI4*, Irielle de Lichecourt Kancrisco CSI5*…
▶ Baby Boom IV dam of:
• Fresh Wind CSI2*
• Je Te Donne II dam of Olisca (by Olisco) and dam of:
• Taliska, 12th in the 5 years old French championship and finalist at the World championship in Lanaken
• UP TO YOU*GFE, CSI3*
• Lady In Blue CSI5*
• On Ira CSI4*
• Babycomeback CSI3*
▶ Kermirande dam of :
• Premier Violon, CSI2*
▶ East Orange dam of :
• Quick du Midour, CSI2*
It's the damline of Quo Vadis B, Olympic Games in Montreal with Marcel Rozier.
Performances
▶ ISO 188
▶ Finalist at 4, 5 and 6 yo in Fontainebleau, CSI at 7 years old with Kevin Staut.
▶ Winner in the Nations Cup:
• 1st CSIO5* in Sint Gallen and La Baule
• 1st CSIO5* in Aachen, Rotterdam, Lummen and 2nd in Hickstead, Roma…
• 4th in the Nations Cup final in Barcelona
▶ Winner in CSI:
2nd GP CSIO5* in Dublin, 3rd GP CSI5*in Oslo, 4th GP CSI5* Saut Hermès…
▶ World Equestrian Games in Mannheim and European Champion into Individual in Windsor.

Offspring
▶ Kraque Boom didn't cover during his sport career and so, started late in breeding.
From his first offspring, Galireine du Plant and Gazellon Duverie have been selected at 3 yo.
Envole Moi, who was sold foal at fences auctions, is licensed KWPN.