HERALD III*GFE
Holsteiner, Dark bay, 1m66, 24 years
As popular in France as in the Benelux, our "almost thoroughbred" represents a great opportunity for jumping for bringing back blood in showjumping horses without losing the aptitude, and he also seduces breeders of Eventing horses.

Blood - Locomotion - Respect
---
Stud fees
Breeding guide program
Frozen semen :

Booking fee : 350 €
Pregnancy fee : 850 €
Prices above do not included VAT 10%

Pedigree
HERALDIK xx

CARAMEL xx

WIESENKLEE xx

CRANORA xx

HERALDIKA xx

CALE xx

HELGA xx

ALASSIA

LORENZ

LADYKILLER xx

BABUSA

SASSKIA

MIDAS

JACKY
▶ License : SF, KWPN, Holst, Bwp, Swb
▶ WFFS : Génotyp N / N

What to remember: All the qualities of thoroughbred and a proven ability for the jumping: CSI5* and World Equestrian Games of Lexington ! He is one of the rare almost thoroughbred offered as sire after a very high level sports record, including participation in Lexington World Equestrian Games. It is the perfect sire for bringing blood and locomotion.
What he passes: He transmits his chic and a very beautiful locomotion. It is an ideal sire for producing Eventing horses.
Crossing grades (from 1 for a few to 5 for a lot) :
SIZE : 3 LENGTH : 3 CHIC : 4
BLOOD : 5 SCOPE: 4 BONES : 2
PAX Characterization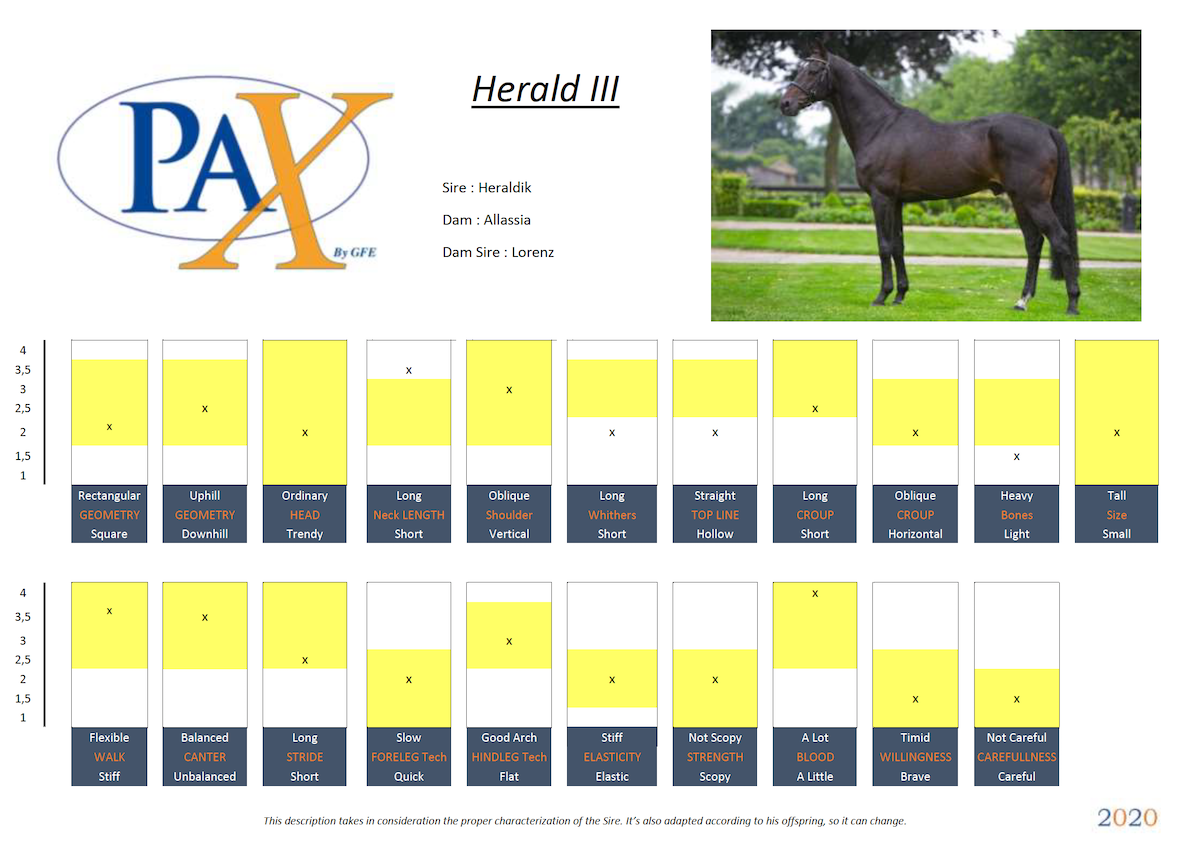 Those information should help you to a first sort and then should be completed by the PAX Graphique


Herald III is in Frankrijk net zo populair als in de Beneluxlanden. Hij is de ideale hengst om bloed toe te voegen aan onze springpaarden zonder aan vermogen in te boeten. Ook voor
de fokkers van eventing paarden is hij de perfecte keuze !


Pedigree
▶ Heraldik, winner of Jumping on the S level in Germany, 6th World Best Sire in Eventing WBFSH ranking 2017. World N°1 during 6 years, he has been in world TOP 10 for more than 10 years!
Sire of FRH Butts Avedon, Gold medal by team at the European Championships with A. Dibowski, 14th world performer in Eventing in 2016, victorious CIC2* of Barroca d' Alva and CIC3* of Arville, 2nd of the CIC3* of Barroca d' Alva and CCIO3* of Boekelo, CCI4*; Halunke FBW, individual Gold medal and by team with the Championships of Europe 2013 with M. Jung, winner of the CIC3* of Marbach, 2nd of the CCI3* of Strzegom; Hamilton 24,48th world performer in Eventing in 2017, 4th CCI3* of Strzegom, winner of the CIC2* of Langenhagen, Bad Harzburg, Luhmülen with J. Sommer; Hans Dampf, winner of the CICO3* of Malmö and the CIC2* of Fairburn, 2nd of the CIC3* of Leesburg, 2nd at the CICO3* of Waregem in 2014 with A. Dibowski, 79th world performer 2016; RF Tobasco 70, 16th world performer in Eventing 2013 with I. Klimke; TSF Karascada M, European Championship CIC3* in 2011 in Luhmühlen and 2009 in Fontainebleau, CCI4* with K-S. Meier; FRH ButtsAbraxxas; Helena XII, 143 world performer in Eventing in 2014, Happy Times, Haytom, 87th world performer 2016, FRH Butts Leon… all big winners in Eventing at the highest level.
He is also the Sire of good winners in CSI : Herbert ; Herzblatt CSI3*; High Spirit, Junior European Championship with J-S. Gulliksen ; Hitchcock, finalist at the 5 years old World Championship in Lanaken ; Hoyo de Monterey, 2011 European Championship with S. Endreisen ; Noance, Highlight, Heraldicus, Heraldo...
▶ Alassia dam of:
Coolman (Calando I), good winner in 1m35 level
Coolman V (Calando I), CSI-W and CSIO with P. Schwizer, winner of GP CSI4* of Buenos Aires
Merlin (Mytens PS), CSI3* with P. Wylde
▶ Sasskia dam of :
•Falke, CSI 1m60
•Elmira dam of : Kacifant, CSI3* with A. Tecsy, Agropoint Casino, CSI2
Concerto, CSI 1,40m and dressage
▶ Jacky has produced only Sasskia
Performances
▶2005: He begins his international career in CSI at 7 years with M. Beerbaum.
▶2006 at 2007: 8th in 1,50m tests at the CSI-W of Verona and CSI4* of Bremen, 9th of the GP CSI3* in Mannheim.
▶ From 2008: Spanish vice-Champion with P. Lucrecia Cordon Milo, Winner GP CSI3* in Vejer de la Frontera, GP CSI3* in St-Lô, Nations Cup CSIO5* in Barcelona, 3rd Nations Cup CSIO5* in Roma, 4th GP CSI5*-W in Mechelen, 4th Nations Cup CSIO5* in Lumen, 10th GP CSI5*-W in Vigo, 7th GP CSI4* in Gijon…
▶ 2010: World Equestrian Games in Lexington with P. Lucrecia Cordon Milo
▶ Sold to US rider Caitlin Ziegler, he was ranked 3rd GP CSI2* in Valencia, 6th in a 1m50 class CSI5* in Calgary. Herald was ridden also by Eric Lamaze, ranked 3rd in a 1m60m class CSI5* in Geneva, GP CSI4*-W in Toronto…

Offspring
▶ Djinn Tonic Semilly was finalist at 5 and 6 years old French Championship in Fontainebleau.
▶ Que Si Que Non van't Meulenhof was BWP licensed in 2019 and sold 44 000 € at the BWP auctions.

▶ King Champion is 3 years old Champion in Ireland in 2019.
▶ Difda du Very was finalist in the French Championship in Pompadour at 5 and 6 years old, ICC 134
▶ Herald du Castel was 6th of the Normandy Foal Championship
▶ Galaad de Ballac is 9th in the 3 yo stallion selection in Britanny in 2019.