FALKO DE HUS*GFE
Selle Français, Chestnut, 1m70, 8 years
We had a crush on FALKO when he was 2 years old and since he is even getting better every year! He trully looks like his father with a modern type. He has a lot of scope, with an amazing canter, and plenty of blood.
Strength - Blood - Chic
---
Stud fees
Breeding guide program
Frozen semen :
Booking fee : 350 €
Pregnancy fee : 500 €
Prices above do not included VAT 10%

Pedigree
BALOUBET DU ROUET

GALOUBET A

ALME

VITI

MESANGE DU ROUET

STARTER

BADINE

VENISE DE HUS

VIVALDI DU SEIGNEUR

CHELLANO Z

PANAMA DU SEIGNEUR

BANDA

ARGENTINUS

BLANKONETTE III
▶ Licensed Stud-book(s) : SF, Z
▶ WFFS : Genotype N/N

What to remember: In the same stamp as his father, he combines frame, blood, canter, scope with a very modern look. He convinced the judges during his testage at 3yo getting among the best evalutation and was shining at 4 and 5yo in the young classes! He has a very good character and we see him as a sire that we will see in the future.
What he passes: He starts to breed in 2019 and his first foals have a good type, long lines and blood.

Crossing grades (from 1 for a little to 5 for a lot):
SIZE : 4 LENGTH : 5 CHIC : 4
BLOOD : 5 STRENGTH : 5 BONES : 4
PAX Characterization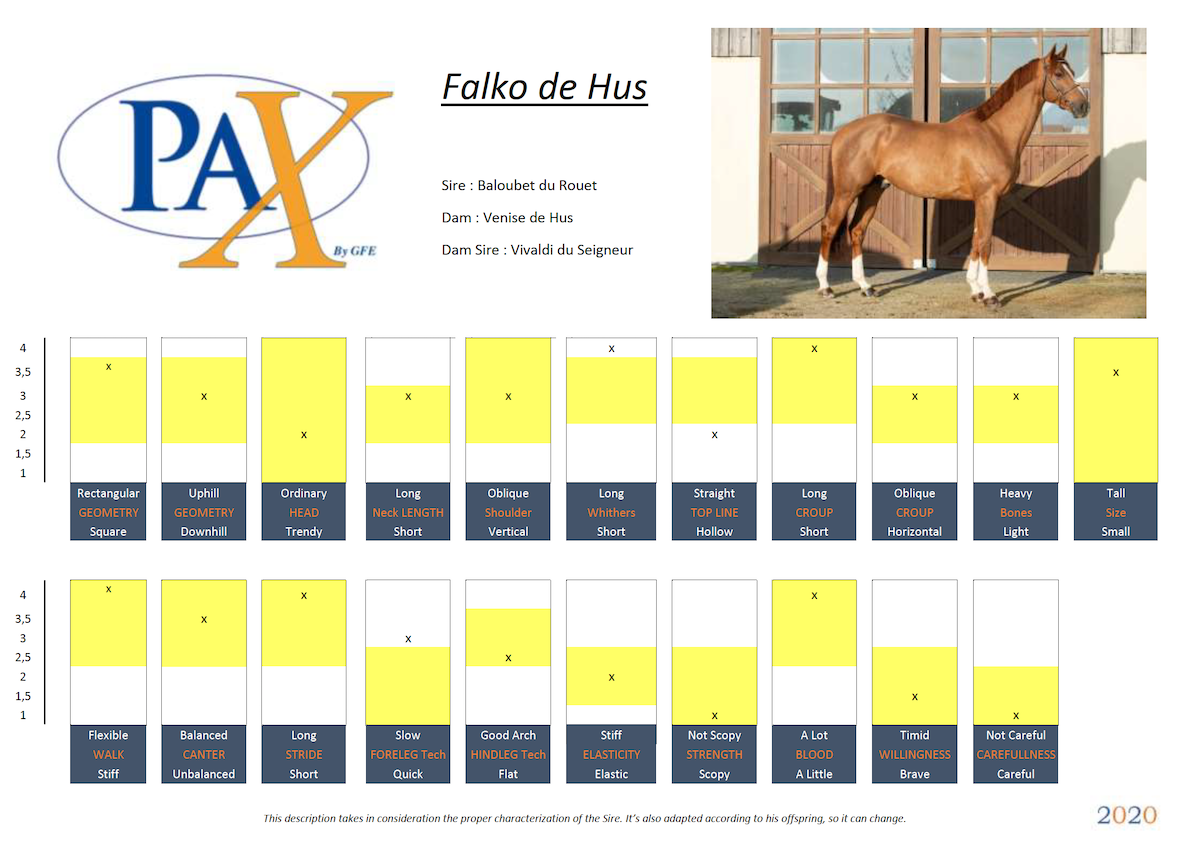 Those information should help you to a first sort and then should be completed by the PAX Graphique
Pedigree
▶ Baloubet du Rouet, triple final World Cup Champion from 1998 to 2000 and 2nd in 2001 under the saddle of Rodrigo Pessoa, Gold Olympic Medal into individual in Athens and Bronze Olympic Medal by team in Sydney. Best WBFSH world sire in 2012 and 2013, he is amont the best for 11 years !
Sire of Sydney Un Prince, Gold Olympic Madal by team in Rio 2016 with Roger-Yves Bost, G & C Arrayan, CSIO5* with S. Alvarez Moya, 4th world best jumper in 2017, 1st GP CSI5* in Cannes, European Championships, Barnetta, CSI5* with S. Wordley, 2nd GP CSI5* in Saugerties, Ulena, CSI5*, Bonne Chance CW, CSI5* Napoli du Ry, CSI5*, Diablesse de Muze, CSI5*, Palloubet d'Halong, CSI5*, AD Rahmannshof's Bogeno, CSI5*, and B Once Z, West Side Van de Meerputhoeve, Murat de Rêve, QH Baloudarc LF, Stella de Preuilly, Belo Horizonte…
He is the sire of Balou du Rouet, Chaman, Querlybet Hero, VDL Bubalu, Number One d'Iso, Rahmannshof's Baluga, Billy King, AD Babouche, RMF Bella Baloubet, Todt Un Prince, BALOUSSINI.
▶ Venise de Hus is a daughter of Vivaldi du Seigneur who gather the bloodline of Chellano Z, Darco and Heartbreaker with Panama du Seigneur who jump at 160 level and is uterine sister of Rexar du Houssoit, 160 level. It the dam line of Boyfriend du Seigneur CSI3*, Tic Tac du Seigneur CSI5*... Vivaldi jumped himself at CSI4* level and is the sire of the French champions ASB Valencia de Hus Z and Volnay de Choc Z.
FALKO is the older offspring of Venise de Hus.
▶ Banda de Hus by Argentinus was a super jumper in GP 5* with Grégory Wathelet and Kévin Staut : 9th World Cup final in Helsinki in 2010… Dam of :
• Colisée de Hus CSI2*
• Farouk de Hus CSI3*
• Thorus, CSI2*
• France de Hus, dam of Brooklyn de Hus - CSI3* and winning at 8yo the GP CSI3* in Megeve with A. Ouaddar
• Uranhus CSI2*
▶ Blankonette III dam of:
• Apero de Hus, CSI 2*
• Cool Down 7, CSI 5* with Ludger Beerbaum
• Lima 47, CSI 2*

Performances
▶ Licensed Selle Français at 3 years old and awarded "premium" after his testage.
▶ Qualified for the 4 yo final in Fontainebleau, he did not participate.
▶ 4th in the 5 yo Selle Français Stallion Masters in 2020
Offspring
▶ His first offpsring will born in 2020.