EXOCET DU HOUSSOIT*GFE
belgian warmblood, Grey, 1m69, 13 years
Exocet boasts the same pedigree as Excalibur Dela Tour Vidal and his dam and grand-dam are the sisters of super international winners. He himself has achieved more than 60% of rankings at level 140 / 145 and will start to jump 150-155 classes.


Technique - Mental - Respect

---
Stud fees
Breeding guide program
Frozen semen :

Booking fee : 350 €
Pregnancy fee : 500 €
Prices above do not included VAT 10%
Pedigree
UGANO SITTE

CLINTON

CORRADO I

URTE

IALTA SITTE

AVONTUUR

INSEL SITTE

VEGAS DU HOUSSOIT

OGANO SITTE

DARCO

IALTA SITTE

CORDARONE HOUSSOIT Z

CARTHAGO

NARCOTIQUE DU HOUSSOIT
▶ License : SF
▶ WFFS : Génotyp N / N
What to remember: He has a top pedigree with international winners in each generation and has a fantastic ratio of clear rounds !
What he passes: His few products have strength and bones, with strong top lines. He suits mare with blood and elegancy. He will bring his jumping quality, his aptitude and his incredible respect.
Crossing grades (from 1 for a little to 5 for a lot):
SIZE : 4 LENGTH : 3 CHIC : 3
BLOOD : 3 SCOPE : 4 BONES : 4
PAX Characterization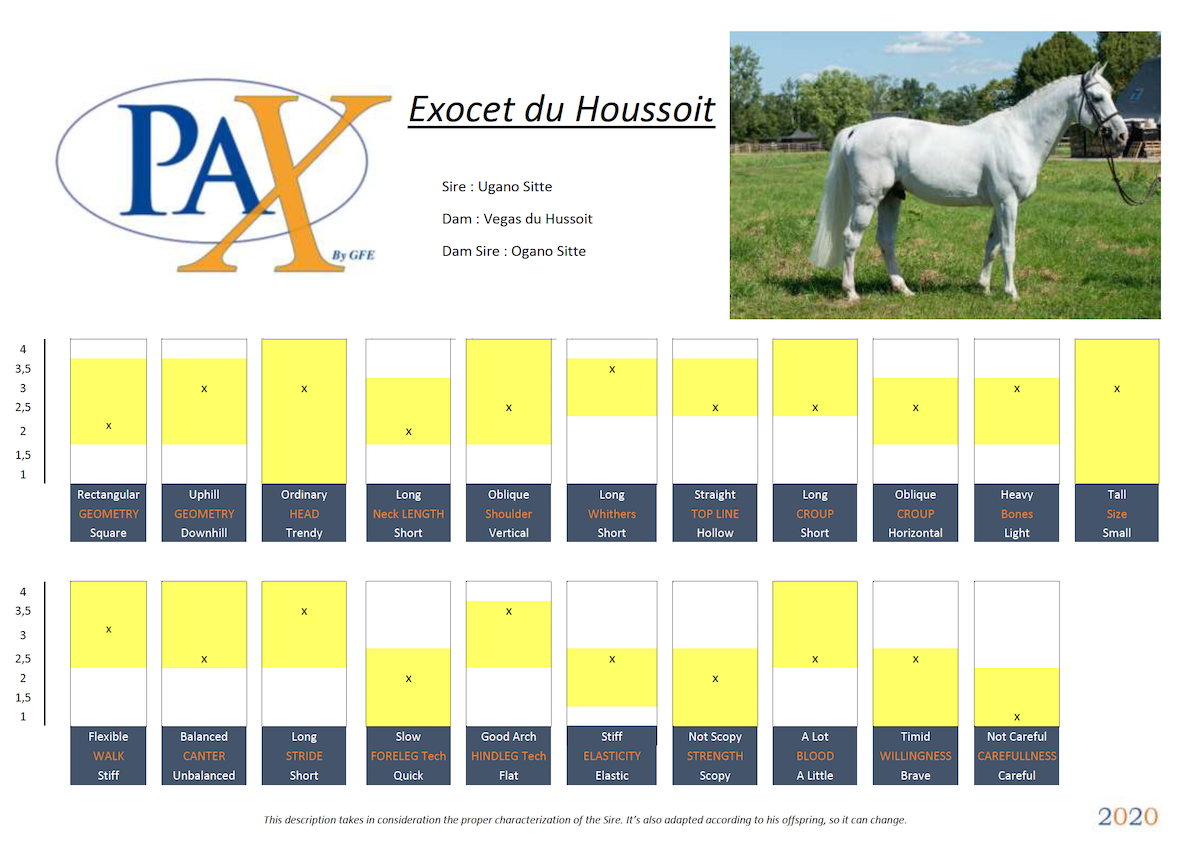 Those information should help you to a first sort and then should be completed by the PAX Graphique


Exocet beschikt over een vergelijkbaar pedigree als Excalibur DelaTour Vidal. Zijn moeder en grootmoeder zijn zussen van verschillende goede internationale paarden. Hij wist zelf ook reeds meerdere overwinningen te behalen in 2018 onder het zadel van Thomas Rousseau en is klaar om dit jaar op een hoger niveau deel te nemen.

Pedigree
▶Ugano Sitte, 49th World best Sire in the jumping WBFSH ranking.
Phenomenon during his young class, he died prematurely at the beginning of 8 yo after winning the young Sire Masters in Gesves in Belgium, 6th in 2010 in the 6yo Finale Belgium Championships with Dirk Demeersman.
Among his offspring, Dinky toy van de Kranenburg 3rd GP CSIO5* in Dublin with L. De Luca, Casanova de l'Herse CSI5* with F. Mathy Jr, Clouzot de Lassus, 6th GP CSI5* in Geneva with B. Balsiger, EXCALIBUR DELA TOUR VIDAL*GFE 3rd GP CSI5* in Paris, Calgary des Gy CSI4*, Champagne du Ry Ternel...
▶ Vegas du Houssoit, CSI5* in the US with Todd Minikus
▶Cordarone du Houssoit, CSI in USA and sister of 3 international horses
▶ Narcotique du Houssoit, CSI2*
▶ Nanou des Gerbaux great international winner with T. Fuchs
Performances
▶ Among the best of its generation in the young horses classes at 4, 5 and 6 yo.
▶ He started in CSI 2 and 3* with Thomas Rousseau and had more than 60% of ranking at level 140 / 145. Winner in a 145 class CSI3* in St Lô, 2nd CSI3* in Dinard, 4th CSI2* in Knokke.
▶ ISO 149(19)

Offspring
▶ His first offspring were born in France in 2018.