EXCALIBUR DL TOUR VIDAL*GFE
Belgian Sport Horse, Grey, 1m73, 12 years
He started in 2019 to be successfull at 5* GP level with Penelope Leprevost and he should confirm this year his unlimited potential ! He gives size and movements to his progeny. He is sold in priority to GFE shareholders.
---
Stud fees
Breeding guide program
On request and in our partner AI centers : stock limited.
Frozen semen :

Booking fee : 350 €
Pregnancy fee : 1 000 €
Prices above do not included VAT 10%

Pedigree
UGANO SITTE

CLINTON

CORRADO

URTE I

IALTA SITTE

AVONTUUR

INSEL SITTE

THELMA LA TOUR VIDAL

OGANO SITTE

DARCO

IALTA SITTE

LADY CALVARO

CALVARO

FIDJI DES CHAMPS
▶ License : SF
▶ X-ray score : 3* - WFFS : Génotyp N / N

Grades for breeding (from 1 for a few to 5 for a lot) :
SIZE : 5 LENGTH : 5 CHIC : 4
BLOOD : 4 SCOPE: 5 BONES : 5

THE SIRE'S CHARACTERIZATION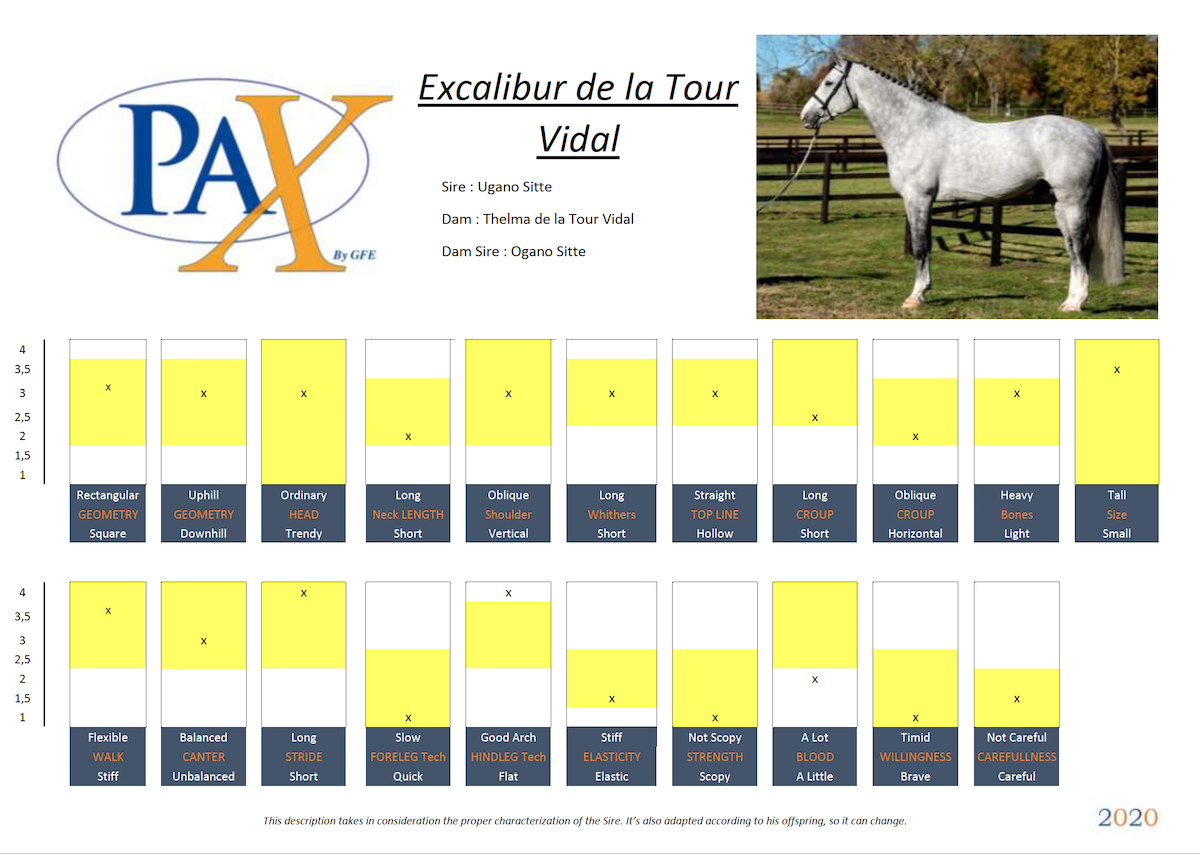 Click here in order to refine your selection with the PAX Graphique

Hij begon in 2019 succesvol te zijn op 5 * GP-niveau met Penelope Leprevost en hij zou dit jaar zijn onbegrensd potentieel moeten bevestigen! Hij geeft maat en beweging door aan zijn nakomelingen. Hij wordt met voorrang verkocht aan aandeelhouders van GFE.

Origins
▶Ugano Sitte, Best Sire of young horses in 2016 according to the ranking percentage qualified/births in France.
▶Telma la Tour Vidal, ISO 129(13), classified in CSI2* with Carmen Christiaansen. She has only Excalibur de la Tour Vidal as product.
▶Ugano Sitte, best Sire of young horses in 2016 according to the ranking percentage qualified/births in France. Phenomenon during his youths, he died prematurely at the beginning of 8 years after winning of the Master of Sires 2011 in Gesves in Belgium, 6th in 2010 of the Finale of the6 years old Championships in Belgium with Dirk Demeersman. He is the Sire of Curtis Sitte, Winner at 2 years of the foals Open Championship of Wallonia in 2010, Exocet du Houssoit*GFE, among the bests of his generation from 4 to 6 years in Belgium and arrived in France in 2017 with Thomas Rousseau. In 2011, 6 products of Ugano Sitte were classified in the 10 firsts of this Championship: 1st Diamant du Fremis ISO 131(14), 2nd Danton du Houssoit, 4th Diamant de Biez, 7th ex-aequo Janco vd Mollenberg and Dollar de Fremis, and 10th Dora.
▶Among his aproved products in France:
-Dumpy des Flagues ISO 142(15), finalist at 5 and 6 years; Utine MGN Z ISO 144(15);
-Corica les Hauts ISO 144(15), finalist at 5 and 6 years, classified in CSI2*;
-Charly de Lagnival ISO 133(16), CSI3*;
-Baboun des Flagues, finalist cycles classical 5 and 6 years in Fontainebleau, 16th of the Championship in 2017,
-Brasilia de l'Abbaye, 2nd the 6 years females in 2017,
-Bugano de Brekka is 2nd the 6 years males 2017.
-Dingo Louvo is 21th, classified as "Very good" in 2017 in the 4 years;
-Buenosaire, finalist classical cycles 5 years in Fontainebleau 2016, ISO 130(16);
-Beluga de Folie qualified for the final, 15 /17 faultless tests, ISO 131(16);
-California du Gast finalist classical cycles in Fontainebleau 4 years with 11 /13 faultless tests, ISO 118 (16).

Performances
▶In 2014, 10 / 12 clear rounds and qualified for the 4 years final.
▶ In 2015, 12/ 14 clear rounds with Sandrine Damman.
▶In 2016, finalist of the French Championship of the 6-year-old, 7th of the ASB Championship with D. Romao.
▶In 2017, 5th at the French Championship of the 7 years old with Pénélope Leprevost.
▶ISO 146(16)

Strength, elasticity in the air and its respect. It looks to transmit enough bones.