EIFFEL DE HUS*GFE
Selle Français, Bay, 1m70, 9 years
His sire and his dam were both international top winners and have already produced some international top winners! His main characteristics are his mentality, his balance and technique.
Balance - Technique - Temperament
---
Stud fees
Breeding guide program
Frozen semen :
Booking fee : 350 €
Pregnancy fee : 500 €
Prices above do not included VAT 10%
Pedigree
CON AIR

CONTENDER

CALYPSO II

GOFINE

FAIR LADY IX

CAROLUS

BONNI

BANDA

ARGENTINUS

ARGENTAN

DORLE

BLANKONETTE III

LEFEVRE

BLANKONETTE
▶ Licensed Stud-books: SF
▶ WFFS: Genotype N / N
What to remember: 5* pedigree with a good conformation and ability, he has it all to become a good performer and a good stallion!
What he passes: He will start to breed in 2020 and we hope that he will pass his super natural balance, technique and good conformation. We will prefer to use mares near the blood, even a little "electric".
Crossing grades (from 1 for a little to 5 for a lot):
SIZE : 4 LENGTH : 3 CHIC : 4
BLOOD : 3 STRENGTH : 4 BONES : 4
PAX Characterization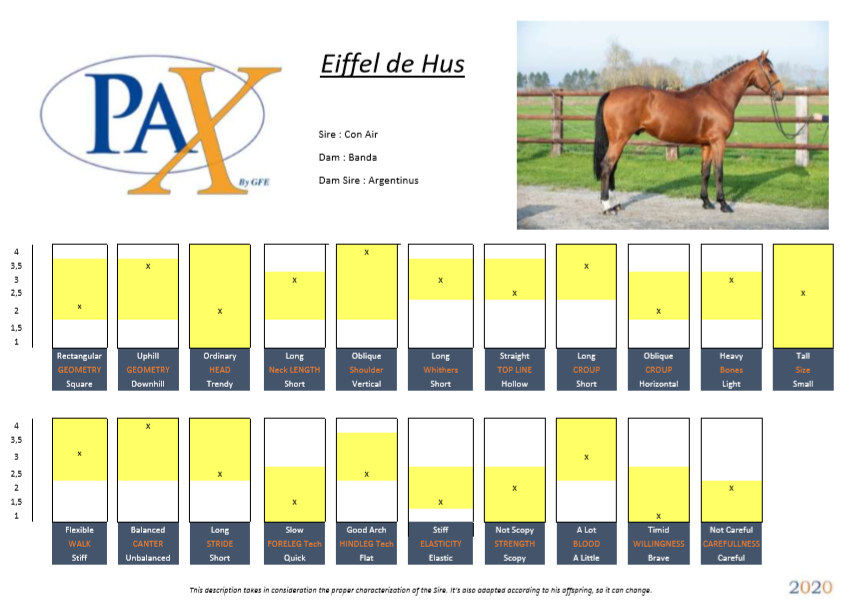 Those information should help you to a first sort and then should be completed by the PAX Graphique
Pedigree
▶ Con Air who brings the blood of Contender, was a really good winner at high level with Otto Becker - winning the Nations Cup Final in Barcelona. Sold to José Larocca he jumped the GP CSI5* and the World Equestrian Games in Lexington 2010 for Argentina.
He is Sire of champions such as Conrad de Hus : European Vice Champion with G. Wathelet and top international 5* jumpers with Q. Judge, Coach, who won more than 750 000 Euros of prize money with E. Madden in GP CSIO 5*, Cornwall BH - winner in GP 5* in the USA with A. Derbyshire, and also 20 other winners at the level 160.
In France, his first generation are turning 9yo in 2020 and is among the best young horses sire.
▶ Banda de Hus by Argentinus was a super jumper in GP 5* with Grégory Wathelet and Kévin Staut : 9th World Cup final in Helsinki in 2010… Dam of :
Colisée de Hus CSI2*
Farouk de Hus CSI3*
Thorus, CSI2*
France de Hus, dam of Brooklyn de Hus by Con Air - CSI3* and winning at 8yo the GP CSI3* in Megeve with A. Ouaddar
Uranhus CSI2*
Venise de Hus, dam of FALKO DE HUS*GFE
▶ Blankonette III dam of:
•Apero de Hus, CSI 2*
•Cool Down 7, CSI 5* with Ludger Beerbaum
•Lima 47, CSI 2*
Performances
▶ 4 and 5 years old finalist in the French Championship with 26 clear rounds in the two first training year!
▶ ISO 128(19)
Offspring
▶ He is starting at the Stud in 2020.