EDEN DU ROUET*GFE
Selle Français, Bay, 1m70, 9 years
A son of Chacco Blue and a grandson of Baloubet du Rouet with whom he shares the same maternal lineage. He was triple clear round in the five year old French Championship and shown his qualities, namely blood, scope and respect.

---
Stud fees
Breeding guide program
Frozen semen :
Booking fee : 350 €
Pregnancy fee : 500 €
Prices above do not included VAT 10%

Pedigree
CHACCO BLUE

CHAMBERTIN

CAMBRIDGE

DESIREE VII

CONTARA

CONTENDER

GODAHRA II

SAGA DU ROUET

BALOUBET DU ROUET

GALOUBET A

MESANGE DU ROUET

BELFLEUR DU ROUET

GRAND VENEUR

MILADY DU ROUET
▶ License : SF
▶ X-ray score : 5* - WFFS : Génotyp N / N▶ Stud-book of approval : SF
Resulting from Chacco Blue and Baloubet du Rouet crossing, he showed on the 4 years old tests that it will be necessary to count on him for the years to come.

Grades for breeding (from 1 for a few to 5 for a lot) :
SIZE : 4 LENGTH : 3 CHIC : 4
BLOOD : 5 SCOPE: 4 BONES : 4

THE SIRE'S CHARACTERIZATION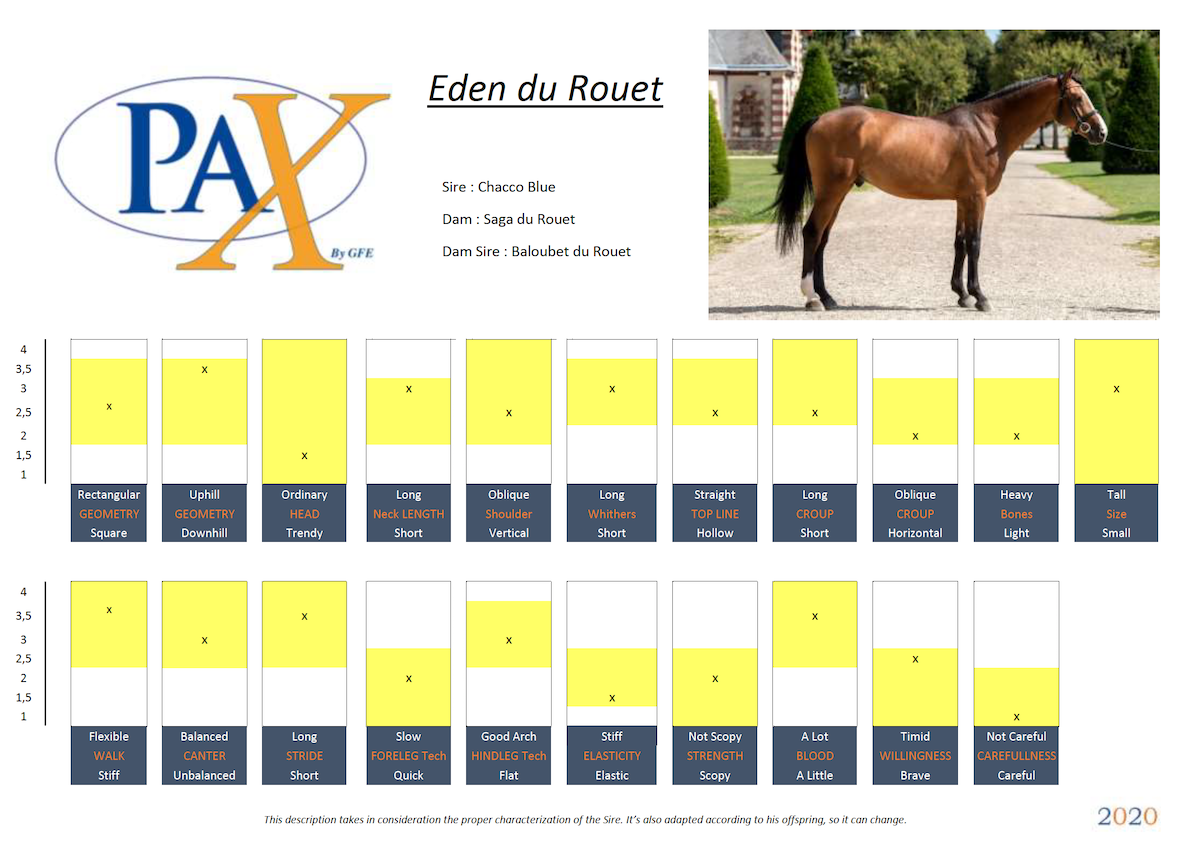 Click here in order to refine your selection with the PAX Graphique

Zoon van Chacco Blue en kleinzoon van Baloubet du Rouet met wie hij dezelfde moederlijn deelt. Hij had drie foutloze rondes tijdens de Franse kampioenschappen voor vijfjarigen en
toonde daar: bloed, vermogen en voorzichtigheid.

Pedigree
▶Chacco Blue, Mecklenburg Stallion born in 1998, finalist of the 6 years old World championship in Lanaken, international performer under the saddle of A. Pollman-Schweckhorst, 3rd of the Nations Cup of La Baule and Lummen, 3rd in the GP 5* of Aachen, victorious of the GP of the CSI3* of Neumunster under the saddle of A. Kreuzer.
He is classified WORLD N°1 WBFSH in 2017 and 2018 of the sires of winners in CSO.
Sire of Explosion W, mother by Baloubet du Rouet, ranked 5th 2018 WBFSH with B. Maher, winner of GP CSI5* GCT of Rome, Madrid and 2nd in Shangai in 2018; Chacna, 3rd world performer in 2018 with E. Gonzalez, World Equestrian Game of Tryon, winner of GP CSI4* of Samorin, 2nd of the GP CSI5* of Calgary, 3rd of the GP CSIO5* of Coapexpan and 4th of the CSI5* of Wellington; Chacclana, ranked 44th in 2018 with J. Skrzyczynski, 3rd of the GP CSIO5* of Sopot; Chacco Kid, winner of the GP CSI5* of Rome with E. Lamaze, World Equestrian games of Tryon; VDL Groep Miss Untouchable, winner of CSI5* GCT, 34th world performer 2017 with L. Van Asten; Chadino, World Equestrian games 2014 under the Ukrainian saddle, 3rd of the GP CSI5* of Lausanne with S. Delestre; Chapilot, winner of CSI5* with S. Lambre; Chacanno, 6th of the GP CSI5* of Aix la Chapelle with E. Von Eckermann; Chalou, World Equestrian Games of Tryon with E. Gaudiano, 2nd of the GP CSIO5* of Budapest; Chacon 2, 4th of the GP CSI5* of Berlin with L. Beerbaum; Star Connection, 6 year old World champion in Eventing in 2014, CCI3* with M. Jung… and Blue Movie, Chaccorina, Crazy Quick, Chacco boy, Chaventyno, Chataga, Chacciana, Citizen Mezz… all good winners in CSI4* and 5*.
Sire of the international stallion performers Chaccomo, Chaqui Z, Gold medal by team at the European Championships with S. Sweetnam; Cohiba VDL, Chacito, Tannenhof' S Chacco Chacco, Chacco' s son, Diablo Blanco, Chapilot, Chacco Rouge ISO 159(18), Dollar du Rouet ISO 131(18), Indigo Blue Biolley ISO 158(18)…
▶ Saga du Rouet, has 6 other products:
-Aurore du Rouet (Ogano Sitte sf), finalist at 5 years, ISO 128(15) ;
-Caen du Rouet (Tresor bwp) ;
-Dali du Rouet (Ok du Rozel sf)
-French Dam line n°122 of the world n°1 Baloubet du Rouet, triples World cup winner with Rodrigo Pessoa, and in which one we find the performers Unadore du Rouet ISO 171(95), Haliday du Rouet ISO 161(04), Leader de la Croix ISO 161(10), Caloubet du Rouet, Quatoubet du Rouet…
Performances
▶ 2017: Qualified for the national final of Selle Francais Stallions in St-Lô
▶2018: With Tony Cadet starting from June 2018, 11/12 clear rounds and qualified for Fontainebleau where he was approved by the Selle Francais.
▶ Well graded at the model: he obtains the mark of 16,20/20 at the CIR of Lion d'Angers.