DIABEAU VAN DE HEFFINCK*GFE
belgian warmblood, Grey, 1m68, 20 years
Clinton' son, with Galoubet and Ugano's bloodline, 6 and 7 years old Belgian Champion. Among his first offspring, Impressario vd Heffinck is 2017 French Champion.
---
Stud fees
Breeding guide program
Frozen semen :

Booking fee : 350 €
Pregnancy fee : 750€
Prices above do not included VAT 10%

Pedigree
CLINTON

CORRADO I

COR DE LA BRYERE

SOLEIL

URTE I

MASETTO

OHRA

ULRIEKE VD MISPELAERE

SKIPPY II

GALOUBET A

GASCOGNE

HEIDIE VH SPARRENHOF

LUGANO VAN LA ROCHE

VALENTINA
▶ License : SF, BWP
▶ X-ray score : BWP - WFFS : Génotyp N / N

Grades for breeding (from 1 for a few to 5 for a lot) :
SIZE : 4 LENGTH : 4 CHIC : 4
BLOOD : 4 SCOPE: 4 BONES : 4

THE SIRE'S CHARACTERIZATION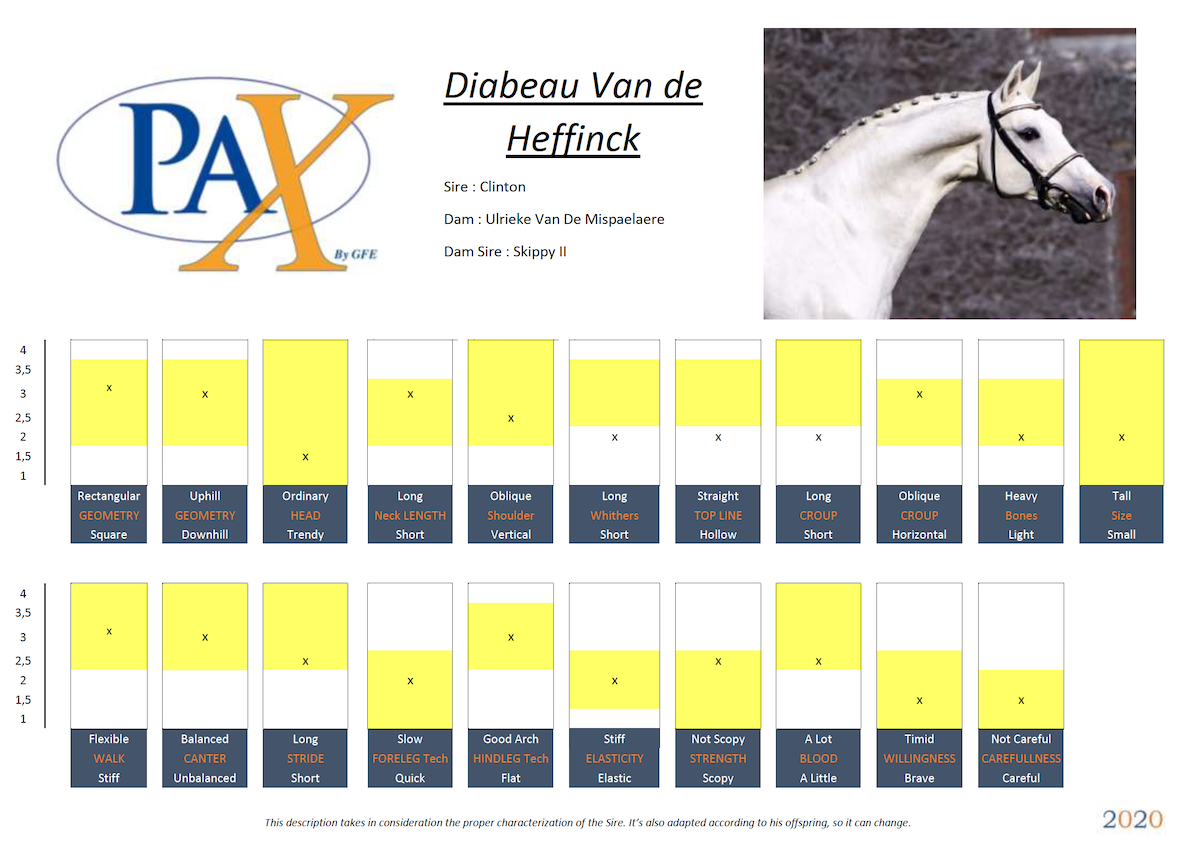 Click here in order to refine your selection with the PAX Graphique

Origins
▶Clinton, holsteiner Sire, international performer in CSIO with D. Demeersman : 2nd of the GP CSIO5* in Aix la-Chapelle, 3rd of the Olympic Games in Athènes and 4th of the GP CSIO5* in Rome... He is 18th best Sire of winner of Jumping at the international level WBFSH 2018 with more than 150 international winners as Cornet Obolensky , 4th best Sire of the winners in CSO according to ranking WBFSH 2018, Olympic Games of Hong Kong, twice finalist at the World cup in 2009 and 2012; Clinta, 13th internationl world perfomer in 2018 with McLain Ward, Gold medal by team and 4th into individual at the World Equestrian games of Tryon, winner of GP CSI5* of Dinard, New York ; Suspens Floreval, 83th world class performer 2018 with V. Tuganov, World Equestrian games of Tryon, 4th of a 1,60m CSIO5* of Calgary in 2017, ISO 169(18); Dame Blanche Van Arenberg, winner at the CSIO5* of Calgary in 2013, winner of the Nations Cup of La Baule, 2nd of the Nations Cup of Lumen, 4th of the GP of La Baule with P. Leprevost, ISO 169(13); Coral Reef Via Volo, winner of the CSIO5* of Calgary, 2nd at the Pan-American Games with B. Madden; Bagni di Luca, Olympic Games of London with E. Patton; Danny Boy, twice winner of Aix la Chapelle with B. Madden; Ustina Sitte, CSI5* with N. Philippaerts; Cliffton Belesbat, CSIO5* with M. Dilasser, 2nd of the Nations Cup of Dublin, winner of the GP 1,50m of Le Touquet in 2017, ISO 166(17); Darlon Van Groenhove, 2nd of the Pan-American Games of Toronto in 2015, winner of the CSI5* of Calgary with A. Rodriguez, About A Dream…
Among his approved products in France: Vitesse Greenfield, CSI with M. Hécart, ISO 156(07); Vivaldo van het Costersveld, ISO 181(13) with R.Y. Bost; Wiltana Vd Ruitershoeve, CSI with M. Billot, ISO 147(08); Special ISO 153(09); Ellington JSX ISO 150(15); Clannad Future ISO 152(15)…
He has also more than 40 approved sons such as President; Elton Vd Krekebeke ISO 157(16); Consul DL Vie Z, CSI3* with T. Cadet, ISO 153(16); Ensor Vd Heffinck ISO 147(10); Tobago Chevrier ISO 150(14); Uitlanders du Ter ISO 162(18); Hoover ISO 150(18); Cigaret JVH Z, 2nd of the Sires of the World in Lanaken in 2018
▶Ulrieke van de Mispelaere has 10 other products, among them:
•Unteam de la Cense, 2nd of the CIC1* in Langenhagen, 4th of those in Marbach and Immenhausen with D. Schrade, ICC 139(17)
•Viagra de la Cense, placed in CSIYH with C. Müller, 4 years old finalist, ISO 123(16)
•Atlanta de la Cense, 4 years old finalist then exported to Switzerland, ISO 116(14)
•Cayenne de la Cense, ISO 126(17)

Performances
▶ 2007: He finishes 3rd of the 4-5 years old test in Hasselt. He was also the first 4 years old in the same test at Mechelen.
▶ 2008: 5 years old Champion and finalist at the 5 years old World Championship with D. Demeersman. He was the best Sire during the Roosendaal test.
▶ 2009: 43rd of the Sire championship in Moorsele and 6 years old champion. He won the Sire test in Mechelen.
▶ 2010 :He won the Sire test in Hulsterlo and also won the BWP Sire Championship ; He was also 7 years old Champion that year.
▶ 2012: He ends 2nd of a 1,40m test at the CSI3* of Sint Katelijne Waver , 4th of 1,40m and 1,45m tests at the CSI3* of Beervelde.

Stopped from 2012 to 2015, he restarted competition under the saddle of Vincent Lambrecht and accumulate victories and rankings in 1,40m in CSI 2* and 3*.
Production
▶ His first offspring have 12 years old in 2019. Among them:
•Impressario Vd Heffick, ISO 160(17), winner of the GP CSI3* in Lanaken, twice victorious of the GP CSI2* at Le Touquet with R. Potin
•Jack van't Kattenheye, won the CSIO5* of Gijon, 2nd and 3rd in two GP's CSI3* in Vilamoura, 3rd of the GP CSI2* in Opglabeek with E. Whitaker in 2018
•Deville, 3rd of the Nations Cup of Budapest, CSI5*-W of Lyon in 2018 with V. Gulliksen, 3rd of the Nations Cup in Drammen in 2019
•Ciabeau, winner in CSI 1,45m with C. Kläsener
•Juicy vd Waeterehoeve, CSI 1,45m
•Calito de Thieusies, CSI2* with T. Ryan
•Emre, CSI2* with P. Rifelj...
▶ Among his licensed products in France :
•Inquisidor Vd Donkhoeve, 3rd of the GP CSI1* in Rouen with T. Martin, ISO 132(16)
•Unaprima Choisie, ISO 119(13)
•Edie de Prefontaine, ISO 120(18)
•Kiabeau vd Heffinck, ISO 125(18)
•Livius van het Dravershof, ISO 119(18)
▶ Sire of the stallions Jessien du B & A approved BWP, winner in 1,45m; Cortino 1287, approved in Sweden, winner in 1,40m; Livano approved BWP; Hermès Van Heiste, approved in Wesphalia
▶ CC Stud's Key to Success was sold 62 000 € at the 2018 Fences auctions.

He passes Chic and good gaits. He brings blood and good techniques. We advise to put him mares with strength.