CONTENDRO I*GFE
Holsteiner, Dark bay, 1m68, 26 years
For the fifth year in a row, he is the world's No. 1 sire of winners in Eventing and has ranked among the world's top 25 sires in show-jumping for the past eight years! His first offspring in France are the best in their generation in all fields: foals, three-year-old championships, stallion licensing shows, auctions ! He is definitely a safe bet!
Locomotion - Suppleness - Performance

---
Stud fees
Breeding guide program
Chilled and Frozen semen :

Booking fee : 350 €
Pregnancy fee : 1 500 €
Prices above do not included VAT 10%

Pedigree
CONTENDER

CALYPSO II

COR DE LA BRYERE

TABELLE

GOFINE

RAMIRO

CITA

BRAVO

REICHSGRAF

RINALDO

OPHELIA

OFARIM

RASPUTIN

HOLLE
▶ License : SF, Kwpn, Holst, Hann, SI, Old, Bayern, SWB
▶ WFFS : Génotyp N / N

What to remember : He deserves all the superlatives for the quality of his production in all disciplines: 5 times World N°1 in Eventing, 6 times in the top 25 in Jumping and was also ranked in the top 100 dressage.
What he passes : He transmits his chic, a beautiful neck orientation and fantastic locomotion. He passes mostly technique, respect and his ability to jump.
Crossing grades (from 1 for a little to 5 for a lot):
SIZE : 3 LENGTH : 3 CHIC : 5
BLOOD : 4 SCOPE: 3 BONES : 3
PAX Characterization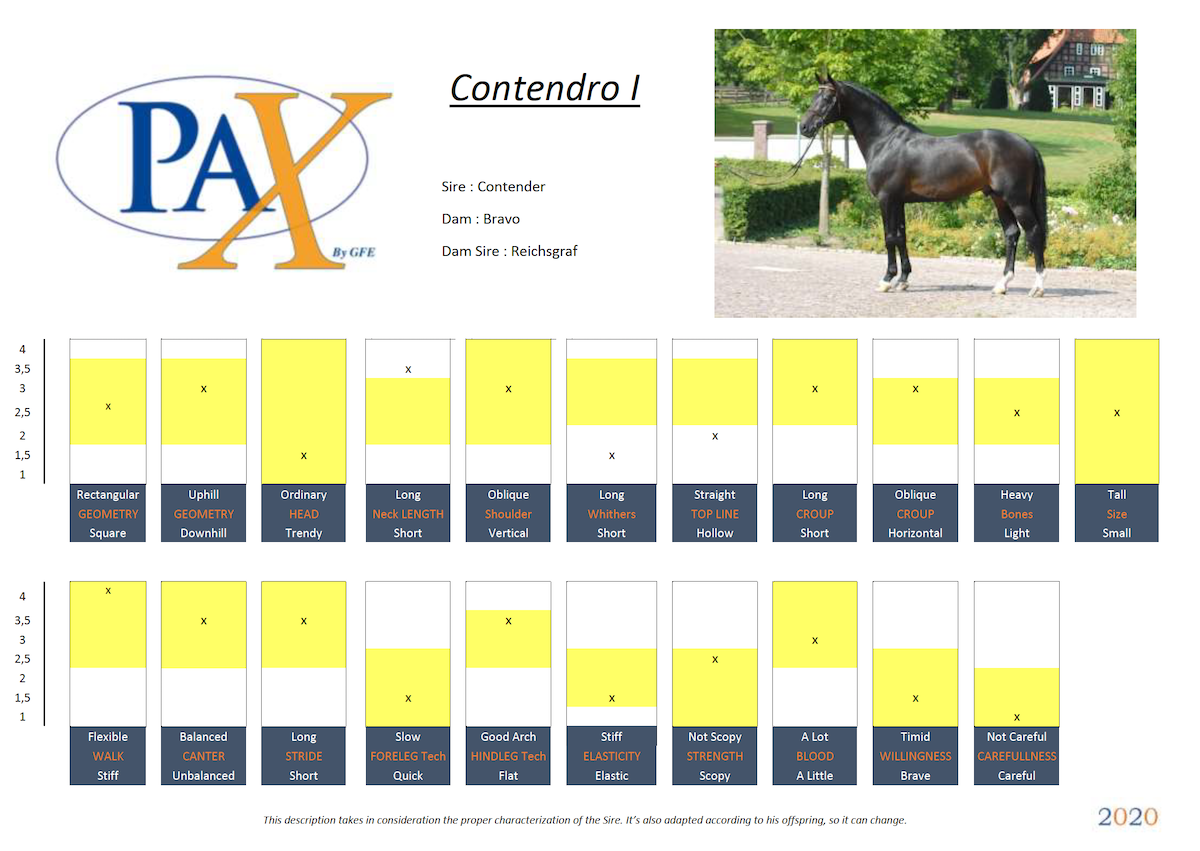 Those information should help you to a first sort and then should be completed by the PAX Graphique

Voor het vijfde jaar op rij 's werelds nummer 1 in de Eventing ranking en hij behoort de laatste acht jaar tevens tot de top 25 van de WBFSH ranking voor springhengsten! Zijn eerste nakomelingen in Frankrijk behoren tot de beste van hun generatie: zowel bij de veulens, kampioenschappen voor 3 jarigen, hengstenkeuringen, veilingen ! Hij is de gok zeker waard!


Pedigree
▶ Contender is a true foundation Sire in Germany. Ranked among the best Sire of winners in jumping and eventing WBFSH Sire rankings with such a lot of winners as Chiara 222, Team Silver Medal at the 2013 European Championship, 3rd GP finale World cup in Omaha, 4th GP CSI5* in Paris… with L. Beerbaum, Casper CSI5* with S. Wordley, Carlo 273, 1st GP CSI5* in Estoril, Berlin, 2nd in Valkenswward, Olympic Games in Rio, Cool and Easy 1st GP CSIO5* in St Gallen and 2nd GP Rolex in s-Hertogenbosch with H-D. Dreher, Checkmate, World championship, European Championship and World cup with M. Michaels-Beerbaum, Dillinger, CSI5* with D. Coyle… He also produced the good performers in Eventing as Under Suspection, CCI4* with D. Schrade, Vitali, CIC3* with J. Avery and RF Eloquence, Contessa, Continuity, Celeste…
Sire of performers as Montender, Bronze medal by team and 4th into individual at the Olympic Games in Athens, Team European Champion in 2005, Controe, World cup finalist, and Chellano Z, Contango, Colore, Concerto I and II, Con Air, Continue, Conterno Grande, Cannabis Z, Corisco, Castellini, Catwalk van of Helle…
▶ Bravo dam of:
•Caretano (Caretino), 7 yo World Champion in Lanaken, World Cup finalist with J. Lansink
•N-Caretana (Caretino), CSIO5* with N. Schurtenberger
•Casello BB (Carvallo BB), CSI 5*
•Contendro II (Contender), CSI3* and sire of Brighton, 4th GP CSI4* in Valencia with T. Foster,
▶ Ofarim dam of :
•Walessa, CSO 1,30m
•Catania VI dam of Cortland, CSI2*, Candiro, CSI3*
•Rainman, good winner in dressage
•Evita XII dam of Caballo, CSI5*
•Ofarim I, dam of Villigsekers, CSI3

Its the holsteiner dam line 104a

Performances
▶ Licensed at 2 years old in Holstein, he won his testage at 3 years old. During the 100 days test in Adelheidsdorf, he obtained the best grades: general grade 144,70 (1st rank), jumping aptitude 147,29 (1st rank), dressage 131,09 (4th rank).
▶ After a few show at 4 yo and his qualification for the Bundeschampionat in Warendorf, he devoted himself only to breeding.
Offspring
▶ 25th World Sire in the jumping WBFSH ranking. For 9 years in the world TOP 30 with more than 350 winners in CSI, GCT, World Cup, CSIO :
•Cold Play, Silver medal by team and 8th into individual at the World Equestrian Games in Tryon, winner Nations Cup CSIO5* in Falsterbo, Hickstead, Roma…
•Cinsey, 3rd GP CSI4*-W in Al Rayyansous with A. Zorzi
•Borsato, 5th GP CSI5* GCT in Berlin with H. Charles
•Contendros 2, 1st GP CSI3* with A. Azcarraga
•Hunters Conlypso II, 5th GP CSI4* in Wellington with L. Gallagher
•Cool Hand Luke 4, 2nd Nations Cup in Rotterdam, Winner GP CSI4* in Hagen... with M. Beerbaum
•Conthendrix, winner GP CSI5* at 1 million $ in New York with A. Thieme, 6th Sires of the World in Lanaken in 2019
•Codex One, 1st GP CSI5* in Aachen, GP CSI5* in Berlin, 2nd in Valkenswaard with C. Ahlmann
•Cosby, 5th GP CSI4* in Munchen with W. Muff
•Queen Mary 10, 6th GP CSI3* in Offenburg with J. Wernke...
▶ World N°1 in Eventing WBFSH ranking for the 5th time in a row!
•Fischer Chipmunk FRH, 2019 world best performer, European champion by team and Vice Champion into individual with M. Jung
•FRH Corrida, 23th world performer in 2019, World Equestrian Games of Tryon with A. Dibowski, European Champion by team in 2019, winner of the CCI4* in Baborowko, Marbach and CCIO4* of Aachen
•Chatwin, US champion, 1st CCI3* in Elkton with F. Thieriot
•Cato 60, CCI4* with C-H. Romeike, Candy Girl, CCI3*, Gateway, CIC3* with D. Payne, Choclat, CCI3* with P. Grandis, Commitment, CCI3* with P. Münker, NZB Campino, 4th at the CCI4* of Badminton with M.Todd and Diva de Vision, Conqequent Pia, Revitavet, Capato, Contendro Lady...
▶ In the young classes : Goodly Star was auctionned 58 000 €, Guapa du Shamrock sold 42 000 € at the Fences Auctions, Chiara O 39 000 € at the Oldenburg sales...
Hypnose de l'Etre is 2 years old Selle Français Champion, Joyce de Grande Haie is Selle Francais foal vice champion.
Hangover des Forets 1st in the stallion selection in Saint-Lô and Herisson'Quill was 4th.
Fléole de la Roque, Felicie d'Argouges, Fal'bala d'Aury "very good"... Fly High St Simeon, Correct S was 15th in the 5 years old German championship in 2019.