CONSUL DL VIE Z*GFE
Zangersheide, Dark bay, 1m66, 19 years
Born from the Clinton-Heartbreaker crossing with the blood of Ramiro, like Cornet Obolensky, he holds a very good sporting record, which he continues in CSI with his new junior rider.
Elegancy - Blood - Suppleness
---
Stud fees
Breeding guide program
Frozen semen :

Booking fee : 350 €
Pregnancy fee : 700 €

Prices above do not included VAT 10%

Pedigree
CLINTON

CORRADO

COR DE LA BRYERE

SOLEIL

URTE I

MASETTO

OHRA

TUUT TUUT

HEARTBREAKER

NIMMERDOR

BACAROLE

KHARMETA

RAMIRO

CHARMETA
▶ License : SF, Z
What to remember: Good international jumper with T. Cadet, he was sold to a Junior rider: R. Ouedraogo for the European Championship. Badly injured, he came back on the international ground up to GP CSI2*. Meanwhile, his offspring continue to strengthen his reputation for their results and make his price/quality ratio extremely interesting.
What he passes: He is homozygous bay and transmits his elegant and well-oriented conformation. His foals have blood, are respectful, balanced and flexible. It suits well mares with enough frame and strength.
Crossing grades (from 1 for a little to 5 for a lot):
SIZE : 3 LENGTH : 4 CHIC : 5
BLOOD : 4 SCOPE : 3 BONES : 3
PAX Characterization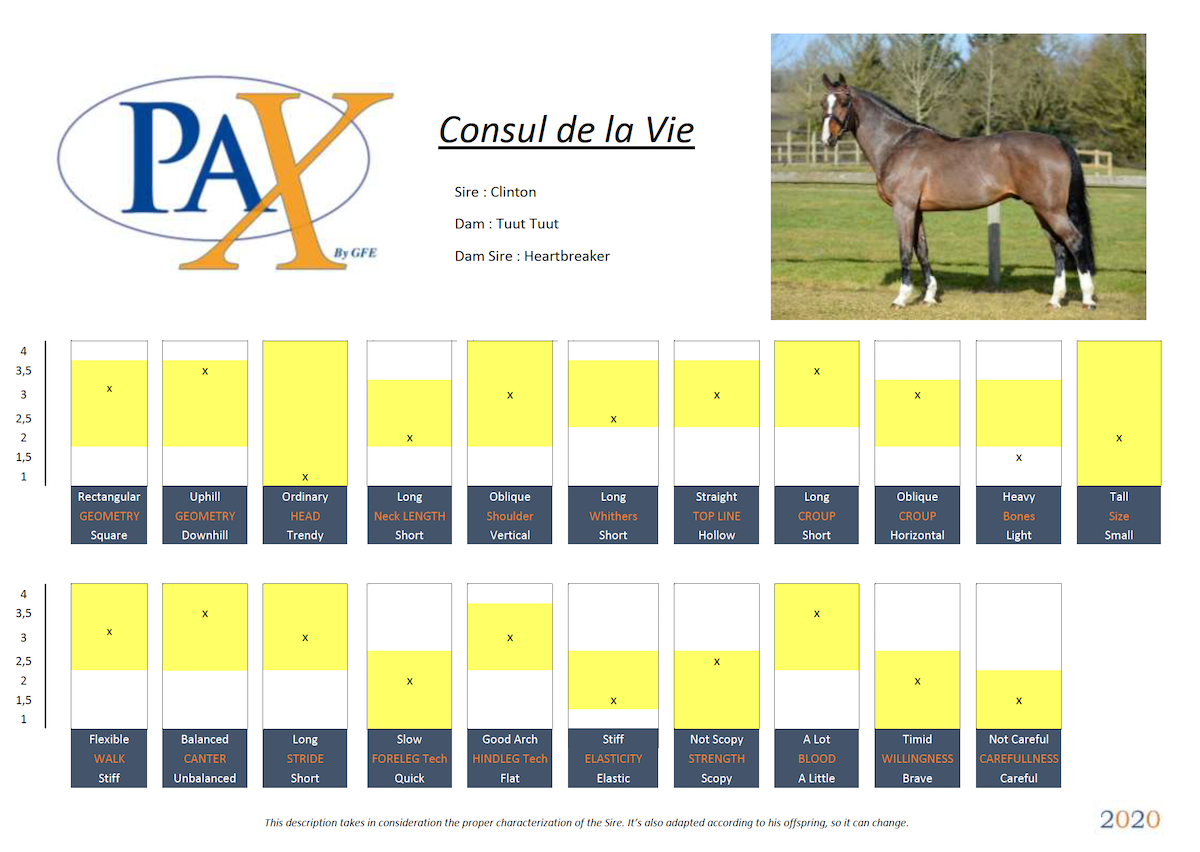 Those information should help you to a first sort and then should be completed by the PAX Graphique

Hij presteerde zelf op hoog niveau geplaceerd in 3* Grand Prix !
Hij geeft zijn elegantie, bloed, balans en voorzichtigheid door aan zijn nakomelingen, zij zijn dan ook zijn beste reclame ! Hij past perfect bij grote sterke merries.

Pedigree
▶Clinton, great international performer in CSIO with D. Demeersman: 2nd GP CSIO5* in Aachen, 3rd of the Olympic Games in Athens and 4th of the GP CSIO5* in Rome...
Ranked among the best Sire in the WBFSH ranking with more than 150 international winners such as CORNET OBOLENSKY, European Champion by Team and among the best Sire in the WBFSH ranking, Clinta, Gold medal by team and 4th into individual at the World Equestrian games of Tryon with McLain Ward, Suspens Floreval, World Equestrian games of Tryon, Dame Blanche Van Arenberg, Coral Reef Via Volo, Bagni di Luca, Danny Boy, Ustina Sitte, Cliffton Belesbat, Darlon Van Groenhove, About A Dream, Vitesse Greenfield, Vivaldo van het Costersvel, all top performer at CSI5* level.
He has also more than 40 licensed son such as PRESIDENT*GFE, Cigaret JVH Z, 2nd of the DIABEAU VD HEFFINCK*GFEor even CONQUISTADOR*GFE
▶ Tuut Tuut, has 8 products :
- Dione de la Vie CSI2*
- Antigone de la Vie CSI3*
- Hinde de la Vie sold foal for 30 000 € at the Prinsjedag sales in the Netherlands
- Cantor de la Vie Z stallion approved in Denmark
▶ Kharmeta, dam of :
- Rharmeta, CSI3*
- Sharmeta, CSI2*
- Lamiro W, CSI3*
▶Charmette is the grand dam of the international horses : Nirmette (Markus Fuchs) and Calisto (Jill Eendelwood).
The foundation mare of this line is Obalia (x Commandeur) who is the grandmother of Pybalia, CSIO with Philippe Guerdat.
Performances
▶ ISO 153, 6th GP CSI3* in St Lô, 5th GP 150 in Saint-Lô, 7th GP 1,50m in le Mans… He has more than 40 rankings in GP 140 - 145 with Tony Cadet. Sold to the junior rider in 2018 : Ramatou Ouedraogo, Consul dl Vie was 4th GP CSI2* in Monte Carlo, 4th GP CSI2* in Cannes, 7h GP CSIO Juniors in Gorla Minore…

Offspring
▶ His has only a few offspring and among them : Hello Vincent - ex Coquin de Coquerie, very good winner in CSI 5* with Scott Brash, recently winner of the GP 160 CSI5W* in London and 3rd of a 155 class CSI5* in Geneva.
Déesse de Coquerie, 8th in the 6 years old final in Fontainebleau, Amos de St Siméon - CSI 2* with R. Potin, Byzance de Menge, ISO 134, Coquerie.com, ISO 132, Ce Velours Royal Z, Cerena de Preuilly Z all winners in CSI2*.