COMME IL FAUT - étalon/stallion -
WESTFALEN RIDING HORSE, Bay, 1m65, 18 years
He combines a dream pedigree with a top-level record and his world-class reputation gives to his offspring a great market value.
Pedigree - Notoriety - Scarcity
---
Stud fees
Breeding guide program
Frozen semen :
750 € per straw
Guarantee can be allowed, please ask us for any question.
Prices above do not included VAT 10%

Pedigree
CORNET OBOLENSKY

CLINTON

CORRADO I

URTE I

RABANNA VAN COSTERSVELD

HEARTBREAKER

HOLIVEA VAN COSTERSVELD

RATINA Z

RAMIRO

RAIMOND

VALINE

ARGENTINA

ALME

HEUREKA Z
▶ License : SF
▶ X-ray score : more than 15 years - WFFS : Génotyp N / N

What to remember : It associates the genes of two cracks and it jumps like it! His first products, which were 9 years old in 2019, show that he passes his jumping aptitude. The small number of his descendants explains the fact that they are wanted in auctions!
What he passes : He usually produces with more frame than you might think when you see him. He passes energy, well oriented neck, a nice model and bone.
Crossing grades (from 1 for a little to 5 for a lot):
SIZE : 3 LENGTH : 3 CHIC : 3
BLOOD : 4 SCOPE: 4 BONES : 4

PAX Characterization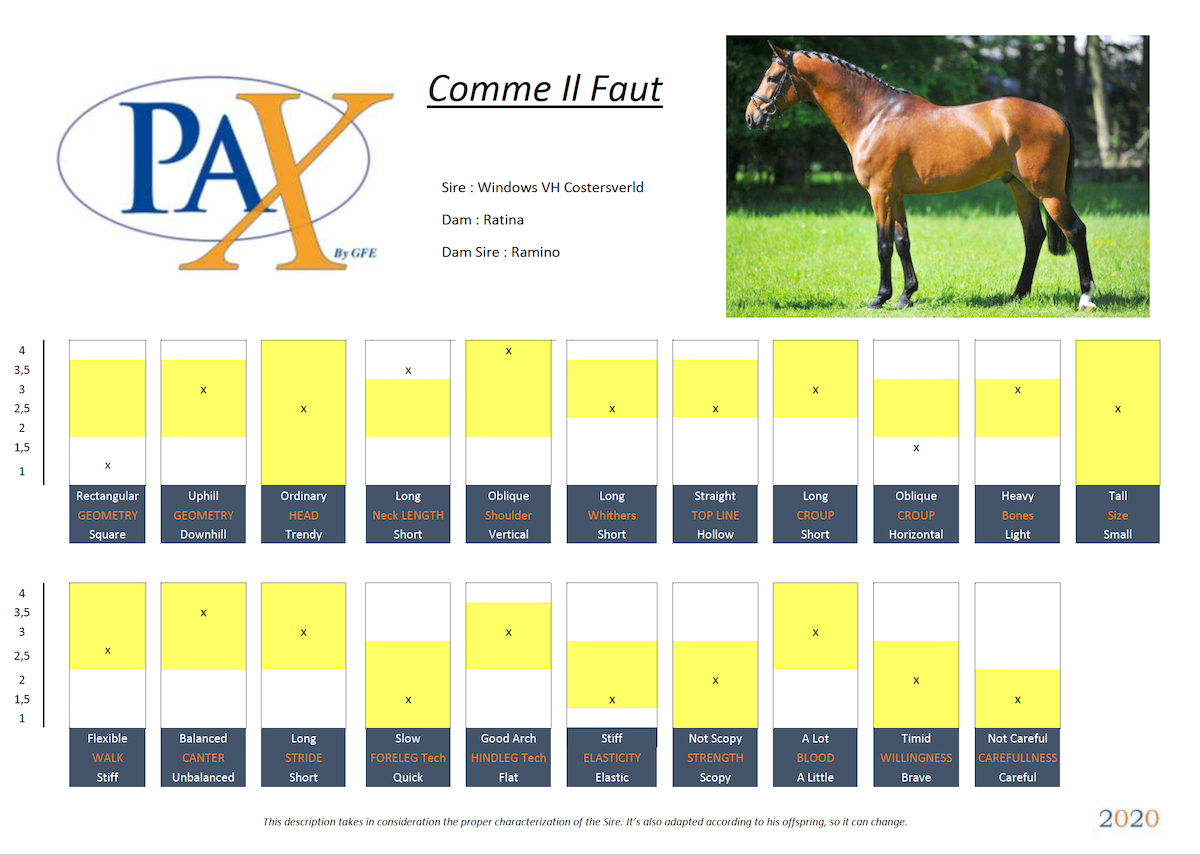 Those information should help you to a first sort and then should be completed by the PAX Graphique


Een droomafstamming in combinatie met een palmares op het allerhoogste niveau. Zijn wereldreputatie garandeert een hoge marktwaarde van zijn afstammelingen. Aangeboden door GFE, met drachtgarantie van een andere GFE hengst, indien 3 mislukte inseminaties.


Pedigree
▶ CORNET OBOLENSKY: top international winner with Marco Kutscher, European Champion by Team, 1st GP CSI5*-W in Zurich, 1st Nations Cup final in Barcelona, 2nd GP CSI5* in Doha, Bordeaux… and Nations Cup winner in Roma, La Baule, Rotterdam…
He is for the 7th year in a row in the Top 5 of the best sire WBFSH ranking according to more than 200 winners in CSI, GCT, World Cup, CSIO :
Clooney 51, Individual European Champion in Rotterdam, 1st GP CSIW5* in Lyon, 1st GP CSI5* in Geneva with M. Fuchs, Balou du Reventon ex Cornet's Balou, 1st GP 160 CSI5* GCT in Chantilly, 1st GP CSI5* in Knokke with D. Kenny, Moon Ray, 33th world performer 2019, Vangog du Mas Garnier, 6th GP CSIO5* in La Baule, Cornado, 2nd GP CSI5* GCT in New York, 4th GP CSIW5* in London, Cornet Kalua, Cornet 39, Cornetto K, Coree, 1st GP CSI5* in Aachen…
Best Sire at the Selle Français stallion selection final with 5 approved stallions, Sire of the Holsteiner Champion
▶ Ratina Z, Gold Medal by Team and Silver Medal in individual at the Olympic Games in Barcelona with P. Raijmakers, Gold Medal by Team at the Olymic Games in Atlanta, European Champion by Team and Individual, 1st GP CSI5* in Aachen with L. Beerbaum.
She is the mare of Rex Z, CSI 150 and sire of Regina Z, CSI5* with H. Smolders, Crown Z, CSI3*, Treasure Z, CSI3*
▶ Argentina Z, dam of the stallions Rebel I, II and III Z, Rock Z and Renommee Z, great international winner, Olympic Games in Atlanta
▶ Heureka, great international winner, 1st GP CSI5* in Aachen with H. Schridde, dam of the stallion Ahorn Z, Goliath.
Performances
▶World vice- champion in Lanaken at 5yo, German vice-champion at 6yo, he started at international level and was ranked 3rd GP CSIO5* in Rotterdam, 3rd GP GCT in Roma, 4th GP CSI5*-W in Oslo, 6th GP CSI5*-W in Helsinki, 9th GP CSI5*-W in London.
▶ Since, he is a Top international performer : 1st GP GP CSI5*-W in Madrid, 1st GP GCT in Vienna, 1st GP CSI5* in Brussels, 2nd GP CSI5* GCT in Prague, 7th GP CSI5*-W in London, 4th GP CSI5*-W in Leipzig...
▶ Silver medal by Team and 5th in individual at the European Championship in Rotterdam

Offspring
▶ He is already among the best Sires of winner in CSI regarding his Horsetelex IPV ranking.
▶ His first products started to shine on the international scene as : Comme On Jumper (8 years old) 3rd GP CSI2* in Lyon, 3rd GP CSI2* in Roma with M. Martin, Corsari van de Helle 3rd GP CSI2* in Wierden, 4th GP CSI2* in Auvers with M. van den Broek, Checker 47 6th GP CSI2* in Oliva with F Troschke, Luettinghofs Charlie Harper, Cap 4, Commissaire S, Cape Coral.
▶ Chao Lee is 6 years old World Champion in Lanaken with K. Eckermann, Oak Grove's Commander Bond finished 20th in the same final. Daddy's Destiny is ranked 6th in the 7yo World Championship final, Carla 229 is 6th of the 6 years old German young horses Championship.
▶ Comme il faut was the best sire at the KWPN stallion selection in 2020 with 4 son approved.
▶In France, Flore du Borget is 2nd of the 2 years old female Championship in Fontainebleau and King Diamond MS was sold 70 000 euros at the Fences Elites Auctions.