CICAVE DU TALUS*GFE
Selle Français, Bay, 1m69, 11 years
Following his very good track-record in the young-horse classes with FX Boudant, he shown in Lanaken you will see him at high level! He brings strength and scope to his first offspring.
Respect - Strength - Balance
---
Stud fees
Breeding guide program
Frozen semen :

Booking fee : 350 €
Pregnancy fee : 800 €
Prices above do not included VAT 10%

Pedigree
UNTOUCHABLE M

QUICK STAR

GALOUBET A

STELLA

CORONDA

CORRADO I

BALONDA

NEIKA DU TALUS

VOLTAIRE

FURIOSO II EX VERTUOSO

GOGO MOEVE

IDOLE DU TALUS

NARCOS II

CARLA D'INCONVILLE
▶ License : SF, Z, AES
▶ WFFS : Génotyp N / N

What to remember: Since his beginnings in sport, he has shown his respect and effectiveness with an impressive proportion of clear rounds.
What he passes: He seems to pass his balance, his canter quality and his very good sense of the jump. His first products have respect and hit the ground as him! He particularly suits mares with blood.
Crossing grades (from 1 for a little to 5 for a lot):
SIZE : 4 LENGTH : 4 CHIC : 4
BLOOD : 3 SCOPE: 5 BONES : 4

PAX Characterization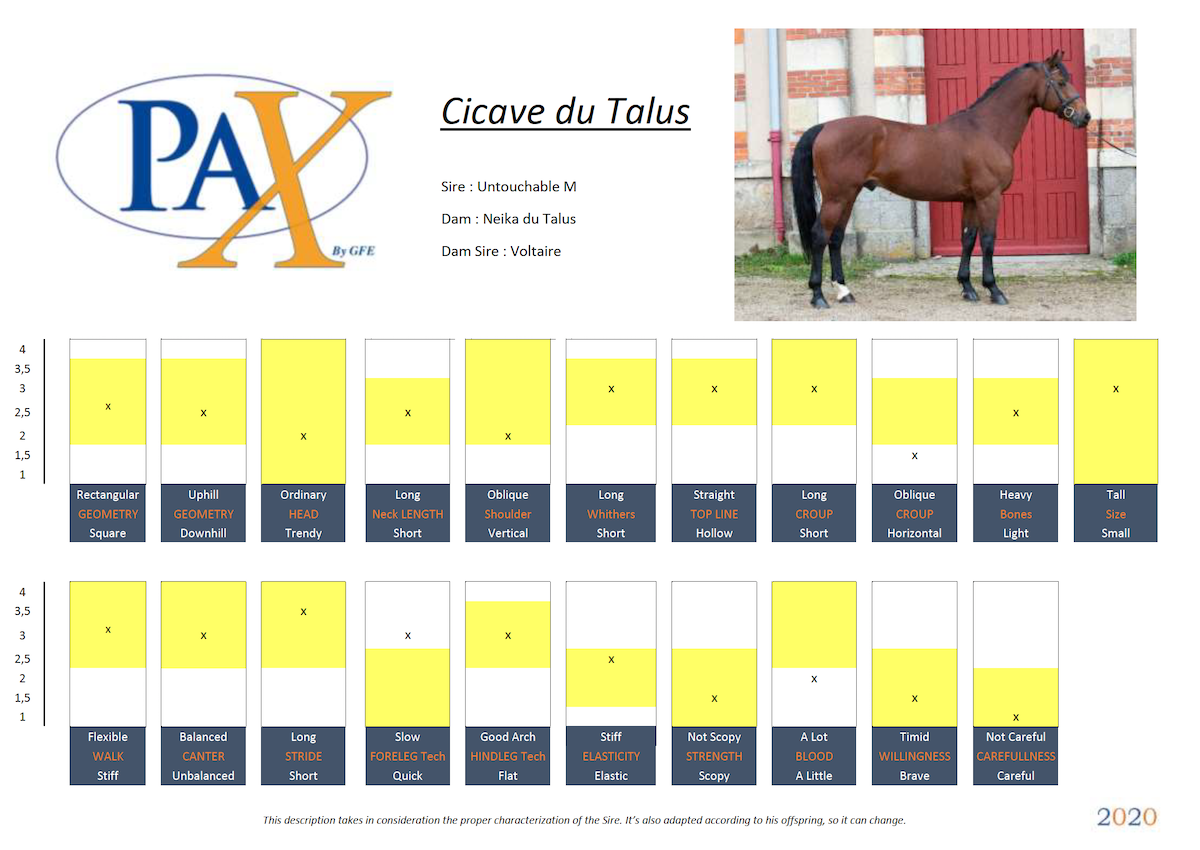 Those information should help you to a first sort and then should be completed by the PAX Graphique


Volgend op zijn goede resultaten in de proeven voor jonge paarden onder het zadel van FX Boudant in Lanaken zal u hem op hoog niveau gaan zien. Zijn eerste nakomelingen tonen veel kracht en vermogen.


Pedigree
▶ Untouchable M, CSI 3* with Olivier Guillon, ISO 150.
Classified 8th best Sire of young horses in Fontainebleau. Among his first products: Tampa Alia, CSI2* with G. Foutrier, ISO 147, Top Teqilla, CSI2* with C. Mordasini, ISO 141, Artiste du Guerpre, CSI2* with J. Carlos Garcia, ISO 142, Ufano du Plessis, CSI2* ISO 142, Ariana Dream, CSI2* with R. Bourdoncle, Big Star des Forets, CSI3* with P. Leprevost, ISO 148… Dorado de Riverland, 5 year old Champion in Fontainebleau in 2018…
▶ Neika du Talus, dam of :
•Saphir du Talus (Diamant de Semilly), CSI5*
•True Blue ex Talita du Talus (Mr. Blue), CSI3*
•Maral Mnm ex Unique du Talus (Mr. Blue), CSI2*
▶ Idole du Talus, dam of :
•Olympic du Talus, CSI2* with F. David
•Paloma du Talus, dam of Aloma de Grandcamp, CSI2*
▶ Carla d'Inconville, dam of :
•Kina du Talus, 4 and 5 yo young horses finalist
•Quarco du Talus, 5 and 6 yo young horses finalist
Performances
▶ 4 yo French Vice Champion and Winner of the Selle Français Stallion Masters in Saint-Lo.
▶ 3rd in the 5yo French Championship and finalist in Lanaken World championship
▶ 6 yo French Championship finalist with the index ISO 142
▶ 2nd of the 7 yo GP in Notre Dame d'Estrées, 5th in Maubeuge, 5th in Auvers, 7th in Hardelot...
Finalist of the 7 yo World Championship in Lanaken, ranked 5th of the 2nd qualification class.

Offspring
▶ His first products are turning 3 years old in 2020 with 2 of them Selle Français licensed : Hendrick and Hunter des Forets, who was sold 40 000€ in the auction.