CATOKI - étalon/stallion -
Holsteiner, Bay, 1m69, 25 years
He is still climbing in the rankings and now counts among the world's top 30 stallions in all progeny-based rankings. He brings elegance and beautiful gaits as well as a great mindset.
Chic - Technique - Character
---
Stud fees
Breeding guide program
Frozen semen :
750 € per straw
Prices above do not included VAT 10%

Pedigree
CAMBRIDGE

CALETTO

COR DE LA BRYERE

DEKA

HILGUNDE

MARLON xx

DIETLINDE

BILDA

SILVESTER

SILBERSEE

HALLIG

VORDULA

COR DE LA BRYERE

LIMBURG
▶ License : SF, Holst, Kwpn, Swb…
▶ WFFS : Génotyp N / N

What to remember: Performer up to 18 years old, he is the 27th world's top Sire in the WBFSH rankings in 2019. His offspring are rare and much appreciated.
What he passes: He produces with a modern type, a good technique and a top character.
Crossing grades (from 1 for a little to 5 for a lot):
SIZE : 3 LENGTH : 4 CHIC : 5
BLOOD : 4 SCOPE: 4 BONES : 3

PAX Characterization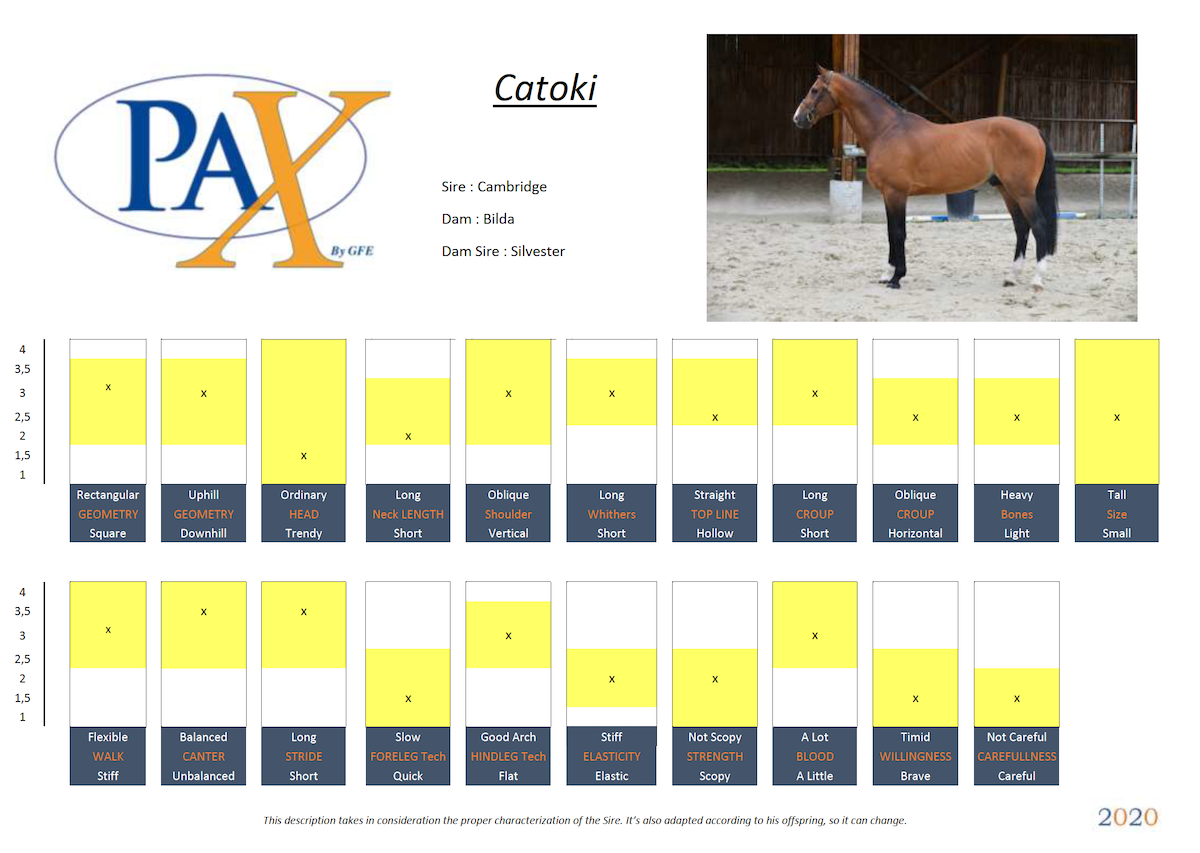 Those information should help you to a first sort and then should be completed by the PAX Graphique


Catoki klimt omhoog in de WBFSH wereldranglijst en hoort ondertussen, in alle ranglijsten die zich op de prestaties van de nakomelingen baseren, in de top 30. Hij geeft elegantie, goede bewegingen en een zeer goede instelling aan zijn nakomelingen.

Pedigree
▶ Cambridge, Holstein Sire, son of Caletto I, bronze medal by team at the European championships in Hickstead in 1983 with Dr. Michael Ruping. German Vice-Champion with Ludger Beerbaum at 5 years old, 5th at 6, he is then winning in CSI.
Sire of many international winners: Nemo CSI5* with N. Skelton then L. Davis; Calista-Ninette CSI4*, Curius 6th GP CSIO5* in Barcelona, Calypsa, Camelita, Chico von Kielsluck, Colina, No Doubt…
In Dressage, Cinque Cento, Olympic Games in 2008 with his Korean rider J-S Choi.
He is also the Sire of Cherub Vd Helle, Cheval de Blanc 5th of the Derby CSI4* of Hickstead or Chambertin, sire of Chacco Blue.
▶ Bilda, Dam of Casco Z and LB Calvano, both international jumper CSI5*
▶ Vordula dam of the license stallions Lago and Laurenz, and several premium mares.
▶ Limburg dam of Ticona grand dam of Canarias CSIO4* and the stallion Rocadero, sire of good performer in Dressage and Jumping.
▶ Gilda dam of Can Do, Olympic Games in Beijing under chinese colors - CSI5*, Chiron S, CSI5*, Chalan CSI4*-W, Con Spirit 7 CSI3
Its the Holstein damline n°4705 which stallions come from as Chalan, Levantos I and Levantos II.

Performances
▶ German championship finalist at 5 and 6 years old.
▶ With P. Weishaup, Cataoki was winner GP CSI5*-W in Bordeaux and CSI5* in Vigo, 2nd GP CSI5*-W in Helsinki, 3rd GP CSI5*-W in Oslo, 6th GP CSI5*-W in Stuttgart and 6th in Leipzig.
Winner Nations Cup in Hickstead, 7th GP CSI5* in Valkenswaard and CSIO5* in Calgary, 7th in Hickstead and 10th GP CSI5* in Doha, 8th GP CSIO5* in Aachen, 9th GP CSIO5* in La Baule…
▶Since 2013, ridden by a young Danish rider, Emil Hallundbaek and ranked in international classes: 2nd GP CSI2* in Wien, finalist Junior European Championships.

Offspring
▶ N°27 World Best Sire in WBFSH ranking 2019
▶ He is Sire of several international winners as:
• Cath Me If You Can: Bronze medal by team World Equestrian Games in Tryon, Winner Nations Cup in Aachen with L. Klaphake.
• Cool Down, CSI5* with L. Beerbaum
• Contanga 3, 2nd GP CSI5* Longines Masters in Paris, 3rd GP CSI5* in Chantilly and in Mexico with A. Zorzi
• Amsterdam 27, 2nd Nations Cup CSIO5* in Calgary with Mario Deslauriers
• Catypso, 2nd GP CSI-W in Del Mar, 1st GP CSI4* in Tryon with E. Navet
• Keoki, 4th GP 160 CSI4* in Wellington, 3rd GP world cup CSIW4* in Lexington, 9th GP 150 CSI3* in Wellington with David Blake
• Catover, 9th GP CSIW4* of Guadalajara with Rodrigo Lambre
• Castor vh Molenhof, CSI4* with Dominique Hendrickx
• Gucci, CSI3* with Jefferson Martins Maquieira
• Catoki's Son, CSIW4* with Erynn Ballard
• Clueso, 6th GP CSI2* in Sammorin with Jörne Sprehe
• Luigi d'Eclipse, CSI2* with Marlon Modolo Zanotelli
• HHS Fortune CSIW4* with Michael Pender