CANDY DE NANTUEL*GFE
Selle Français, Chestnut, 1m68, 10 years
His first offspring are turning three and appeared successfully in sales and stallion shows. Meanwhile, Candy de Nantuel will surely carry on demonstrating his talent. We already know that he transmits elasticity, a super canter and a great jumping quality.


Elasticity - Canter - Temperament

---
Stud fees
Breeding guide program
Frozen semen :
Booking fee : 350 €
Pregnancy fee : 800 €
Prices above do not included VAT 10%

Pedigree
LUIDAM

GUIDAM

QUIDAM DE REVEL

FOUGERE

ELJENOHVE

AKTEUR

POLINE

THARA NANTUEL

DIAMANT DE SEMILLY

LE TOT DE SEMILLY

VENISE DES CRESLES

KARMA DE NANTUEL

QUIDAM DE REVEL

ROYALTIE III
▶ License : SF, DWB, Old, SI, SWB, Z
▶ WFFS : Génotyp N / N

What to remember: His young classes ended with a very beautiful final in the 7-year-old World Championship and he is beginning now a new cycle that should lead him to the high level. His first offspring are turning 3 yo and showing themselves in the stallion selection.
What he passes: His flexibility and canter are part of his qualities he is giving to his offspring. He produces better with mares with size and frame.
Crossing grades (from 1 for a little to 5 for a lot):
SIZE : 4 LENGTH : 3 CHIC : 4
BLOOD : 4 SCOPE: 4 BONES : 3

PAX Characterization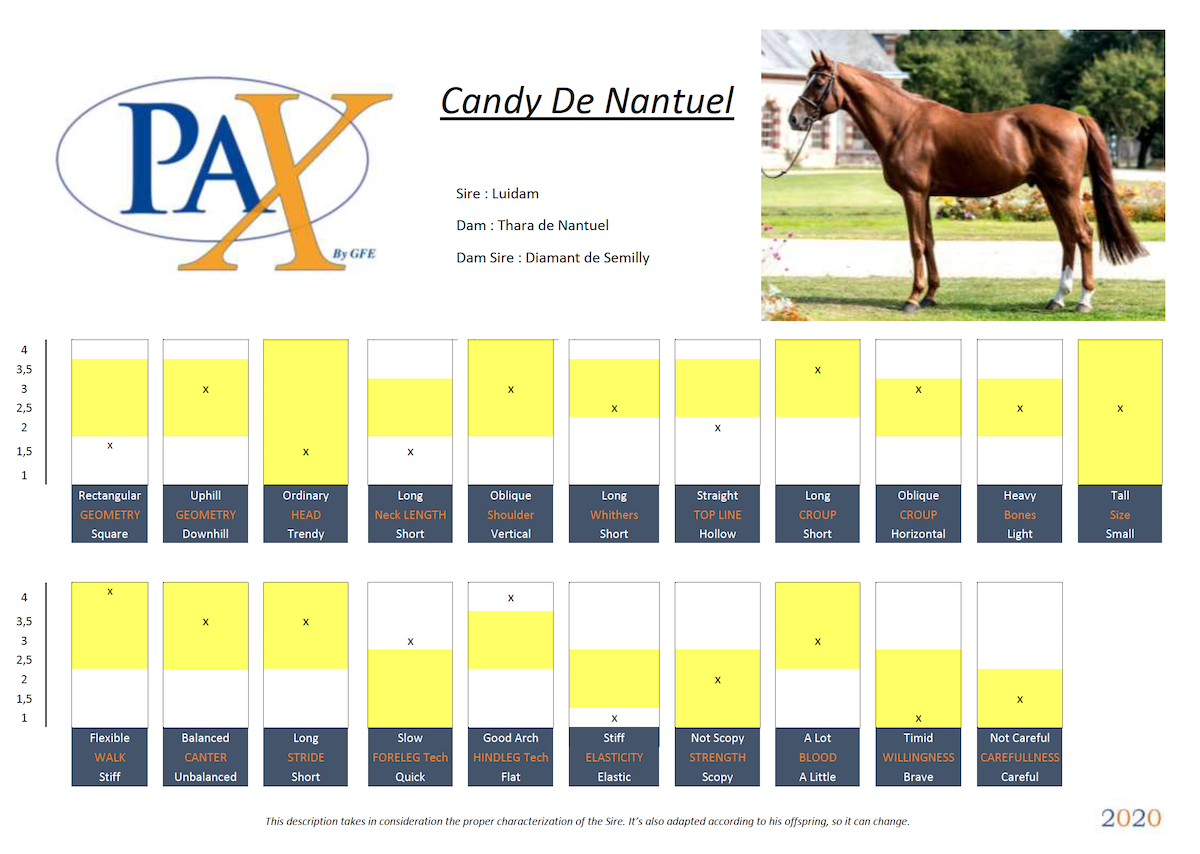 Those information should help you to a first sort and then should be completed by the PAX Graphique


Zijn eerste producten worden drie jaar en waren al succesvol tijdens veilingen en hengstenkeuringen. Ondertussen zal Candy de Nantuel zijn uitstekende talent verder blijven tonen. Hij geeft zijn bloed, elegantie en elasticiteit door aan zijn nakomelingen..

Pedigree
▶ Luidam, is a son of Guidam, sire of 35 Grand Prix and International Showjumpers including Authentic, Olympic Gold Medalist in Beijing and Bronze medal into individual with B. Madden when Ninja la Silla was Silver medal into individual at the Olympic games in Beijing with R.G. Bengtsson. In London Olympic Games, Vindicat ridden by Peter Charles won the Gold medal by Team!
Luidam was an international performer with B. Twomey, jumping the European Championships in Donaueschingen in 2003, World championship in Aachen in 2006, winner Nations Cup CSIO5* in Dublin, St Gall, Aachen and winner GP CSIO5* in La Baule, 2nd CSIO5* in St Gallen and Dublin, 3rd Nations Cup in Hickstead...
Sire of several international performers such as Rendam CSIO5* with C. Liebherr, VDL Groep Amelie, winner of CSI5*, CSIW with L. Van Asten, Simon, CSIO5* with M. Whitaker, Luibanta BH, Tryon WEG with A. Derbyshire, Luikka, CSI5-W with N. Ehrnrooth and D. Deusser, Blue Angel CSI5* with K. Farrington, Alfie, CSI5* with E. Sanchez Navarro, Lady Luidam, Sassy, April Love, Tiger Lilly III, Ashdale Luxara, Indigo Loughnavatta…
▶Thara de Nantuel, CSI3* and European Junior Championship in Samorin with A. Deuquet dam of Cobalt of Nantuel - ISO 138 who is his first offpring with Candy.
▶ Karma de Nantuel, CSI3* - ISO 162 is dam of :
•Océane de Nantuel CSI5* with C. Swail and dam of Uthope de la Roque (KANNAN) CSI3* - ISO 161, Viceversa de la Roque, CSI4* with A. Zorzi, Atlantique de la Roque, CSI2* - ISO 145
•Orphée de Nantuel, CSI3*
▶ Royaltie III dam of :
Boston de Nantuel, CSI2* - ISO 151
Dandy de Nantuel, CSI 2* - ISO 146
Esquisse Nantuel, CSI2* and dam of Oralie de Nantuel, CSI2*, Quinta de Nantuel, dam of Capuccino de Nantuel CSI3*, Shiva de Nantuel, CSI2* and dam of Oak's Grove Darshan ex Boreal de Nantuel, 2nd World Championship for 6yo
Jiky de Nantuel, CSI3* - ISO 150
Kaydora de Nantuel, dam of Pacha de Nantuel, CSI5* avec R. Kessler, Quenotte de Nantuel, CSI3* - ISO 150
His dam line is one of the best Selle Français dam line and has produced top jumpers and eventers such as Tatchou, CCI4* with N. Touzaint.

Performances
▶ He obtained the historical grade of 19/20 at the jumping test during its approval in Saint-Lo and was licensed Premium during his testage.
▶ Finalist in Fontainebleau at 4, 5 and 6 year old, 2nd GP 7yo in Knokke, 5th in Saint Lô.
Finalist at the 7 years old World Championship in Lanaken – ranked 25th.
▶ ISO 142

Offspring
▶ His first products are 3 years old in 2020.
Harmonie Chic, Hollywood de Frenay, Happy Paluelle, Hanouman EDB, Hold Up d'Edmond are finalist in the French Championship
Hello de Chalusse was sold 70 000 € at the Nash auctions, Happy de l'Aumone is 2 yo Normandy Champion, Hitech de Canteloup is 5th.
Hop Mouche is 3rd at the SF stallion selection in Brittany, Hot Savoie and Highland de Riverland are licensed in Saint Lô Championship for 3 yo.