CABDULA DU TILLARD
Selle Francais, Dark chestnut, 1m72, 33 years
He comes out from champions in each generation and that's a line of precious blood in breeding. Balance and respect are two of the main qualities of his products. His offspring speak for him!
---
Stud fees
Breeding guide program
Frozen semen :

Booking fee : 350 €
Pregnancy fee : 750 €
Prices above do not included VAT 10%

Pedigree
ABDULLAH

DONAUWIND

PREGEL

DONAULIED VOM SCHIMMELHOF

ABIZA

MAHARASCHA

ABENDROT

QUANAGRA

GALOUBET A

ALME

VITI

TANAGRA

FURIOSO

DELICIEUSE
▶ License : SF
Crossing grades (from 1 for a little to 5 for a lot):
SIZE : 4 LENGTH : 4 CHIC : 4
BLOOD : 4 STRENGTH : 4 BONES : 4

PAX Characterization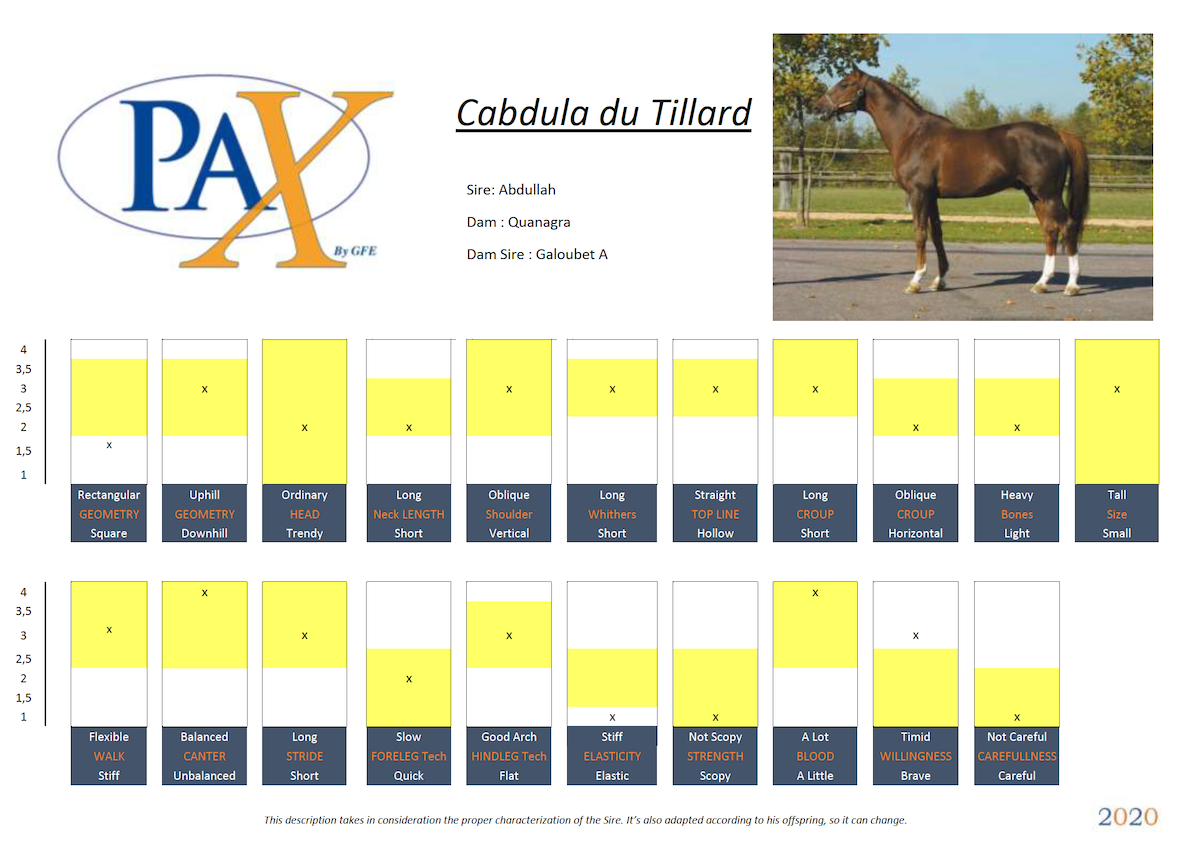 Those information should help you to a first sort and then should be completed by the PAX Graphique
Pedigree
▶Abdullah, great international winner, took part in the 1975 National Dressage Final in the USA. He was 10th in the 1979 US eventing Championship and in jumping : Silver Medal into Individual and Gold Medal by Team at the Olympic Games of Los Angeles in 1984, winner of the Berlin World Cup and the Aachen GP. He has produced several international jumpers such as Airborne Montecillo, Diams du Grasset, Efendis, Corlay de Labarde, Ermont des Salines, Special Memories...
▶ Quanagra, Jalisco B's uterine sister, has produced :
Viking du Tillard, CSIO
Baladin du Tillard, winner in CSI
Fée du Tillard dam of L'Espoir du Tillard, CSI and Matrix du Tillard CSI
Ianagra du Tillard, dam of Querido du Tillard CSI
Jis'sous du Tillard dam of Quilebo du Tillard CSI, Reggae du Tillard CSI and Mic Mac du Tillard, great winner in CSI and CSI-W.
▶ Tanagra has produced :
- Danoso, CSIO
- Escurial, CSI
- Geisha N, CSI and dam of Ephèbe For Ever CSIO, Apsara du Defey CSI- Jalisco B, CSIO and sire of Olisco, Quidam de Revel, Quito de Baussy, Papillon Rouge...- Icone dam of Thoas du Theillet, stallion and Valéro du Theillet CSI
▶ Délicieuse C a 4 produits dont Phébus, 10ème des 5 ans et gagnant en CSI. C'est la famille maternelle française n°1.
Performances
▶ ISO 174
▶ 4, 5 and 6 years old finalist in the young horses Championship.
▶ 7th in the 7 yo French Championship
▶ Cabdula du Tillars has more than 20 international wins and 130 rankings with Edouard Couperie: 2nd GP in Lyon, winner GP in Alençon, 6th GP CSI-W in Mechelen…
Offspring
▶ Among his offspring : Istom, CSI, ISO 154, Idylle du Thot, CSI, ISO 153, Icar de l'Ossière ISO 148, Ismène du Temple, great international eventer : 6th at the 2008 Olympics Games in Beijing and at the European Championship of Fontainebleau in 2009, Illinoise de Cabdula, CSI with Ronald Mc Laudy, Jabdula d'Helby ISO 140(10) ; Kimsky de Batilly ISO 143(07) ; Lucky de Gree ISO146(08) ; Loutis des Etisses ISO 155, Latina de Batilly ISO 140, Lanson de Courcel ISO 143, Leader Love, ISO 142, Made In Tillard, ISO 143, Metropolitan, 2nd of the Nations Cup in Buenos Aires, Muskateer, CSI with Anna Trent, World Cup finalist in Las Vegas, Quiet Love ISO 151 and very good winner in CSI with A. Ledermann, Ruby de la Fosse ISO 154, very good international winner, Sparco de Verchisy ISO 156 – CSI, Umba de la Violle ISO 152…