BALOUSSINI
Oldenburger, Grey, 1m69, 18 years
His pedigree offers the best blood lines between the Selle Français and the Holstein with Galoubet, Rantzau, Furioso, Cassini, Caletto I...
He passes energy and respect.
Canter - Balance - Suppleness
---
Stud fees
Breeding guide program
Frozen semen :
Booking fee : 350 €
Pregnancy fee : 1 000 €
Prices above do not included VAT 10%
Pedigree
BALOUBET DU ROUET

GALOUBET A

ALME

VITI

MESANGE DU ROUET

STARTER

BADINE

CLEAR MIND

CASSINI I

CAPITOL I

WISMA

A CANDINA

CANTUS

JEAN
▶ Licensed Stud-books: SF, Old, OS, Bavar, Westf
What to remember: Baloussini has in his pedigree some of the best blood of the Selle Français and Holsteiner stud-books.
Brilliant on the international sporting ground, he is making a place among the good Sire of winners. The scarcity of his first products should give them additional commercial value.
What he passes: He passes power, very good canter quality as well as high respect. He brings scope and balance.
Crossing grades (from 1 for a little to 5 for a lot):
SIZE : 5 LENGTH : 4 CHIC : 3
BLOOD : 4 STRENGTH : 5 BONES : 4

PAX Characterization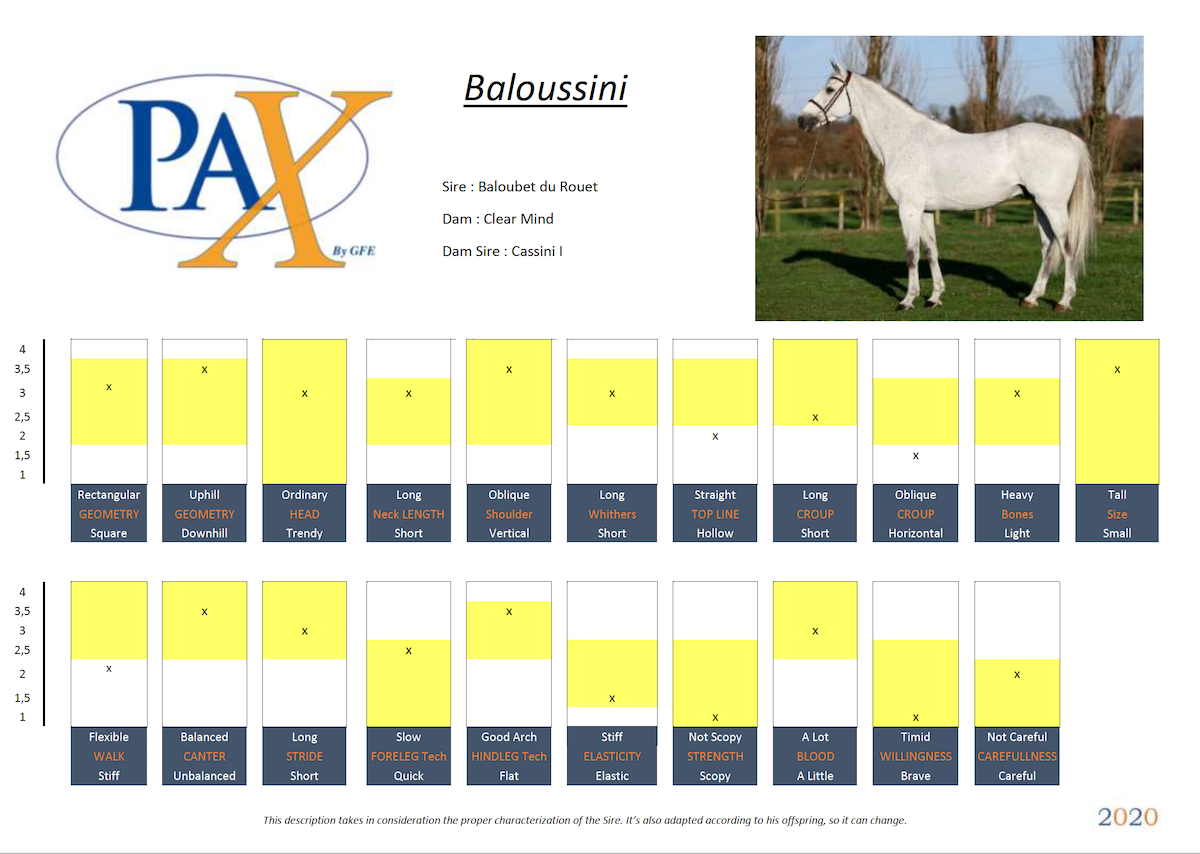 Those information should help you to a first sort and then should be completed by the PAX Graphique
Pedigree
▶ Baloubet du Rouet, 3 times word champion with Rodrigo Pessoa, Bronze medal by team at the Olympic Games in Sydney, Gold medal into individual at the Olympic games in Athens... World best sire in 2012 and 2013, 4th in 2014, 5th in 2015 !
He is the Sire of Sydney Une Prince, Gold medal by team at the Olympic Games in Rio with Roger-Yves Bost, G & C Arrayan, Barnetta, Ulena, Bonne Chance CW, Chaman, VDL Bubalu, Napoli du Ry, Diablesse de Muze, Palloubet d'Halong AD Rahmannshof's Bogeno, Bella Baloubet, Murat de Rêve... all Top winner in CSIO and CSI5* !
He is the sire of FALKO DE HUS*GFE, graded Premium Stallion in 2018...
▶ Clear Mind, winner in CSI under italian colors, has one offspring:
• Aurion (Amour holst)
▶ A-Candina dam of :
• Liatos, holst approved stallion
• Capino, CSI
• Acasella, dam of Lydia CR, CSI3*
• Mandina, dam of Loxley 73, CSI5* with F. Franco, Pretty des Etains, CSI with N. Van Turnhout, Oreal des Etains Z, CSI5* with F. Tillman, Candino des Etains, CSI-YH
• Corrada, dam of HH Carotino, CSI5* with A. Baker, P & F Cordillo Z, CSI2* with P. Jordan,
• Conley 4, CSI4* with Kerin Ersting
• Corantus 2, CSI2*
▶ He is from the holsteiner 1155 dam line which produce Dieu Merci van T&L, Quicerot van T&L, Let's Go U, Chocco 18...
Performances
▶ 2012 : He started his international carreer with Steve Guerdat, 3rd and 8th of the 7years old, winning the Youngster Tour final at the CSI5* in San Patrignano and class himself 5th of the Youngster Tour final at the CSI5* in Wiesbaden...
▶ 2013 : With Steve Guerdat then Frédéric David, he ended 2nd of the GP 1,45m at the CSI2* in Arnas, 2nd of the 7/8 years old at the CSI5* in Lipsia, 9th of the Youngster Tour final at the CSI-W in Leipzig
▶From 2014 to 2018 : 4th of the GP at the CSI3* in Mâcon Chaintré, 5th at the CSI5*-W of Dubai, 9th GP CSI3* in Omen, 3rd CSI3* in Béthune, 4th GP CSI3* in Vichy, 6th CSI5* in Knokke, 7th CSI4* in Doha, 9th CSI4* in Geesteren...
In 2017, He was Bronze medal in the French rider championship.
▶ ISO 163
Offspring
▶ His offspring are rare and qualitative:
•Baldur 75, winner of a 1,50m class at the CSI4* of Samorin, 3rd in Opglabbeek, 5th at the CSIO5* of Gijon with J. Clayton.
•Bao Loi, 5th GP CSI3* of Redefin, CSI4* of Münster in 2019 with T. Rieskamp-Gödeking
•Baloussini, 2nd and 6th in GP CSI2* of Damascus with A. Hamcho
•Burja, CSI 1,40m with C. Lyra
•Be Bounty, CSI-YH at 7 years old with L. Greene and Cipriani, Gloria FH, Oak Grove's Bachelor, Baron H, Balouwin, Uraca II, Gloria FH... all good winners in CSI.
▶ Among his first products in France: Fascinante Courcelle was sold 49 000 € at the Fences Elite auction.