AMANT DU CHATEAU*GFE
Selle Français, Bay, 1m68, 13 years
He scored his first points in the Ranking List at 9 years of age and is getting ready for entering high level competition from 2020. His first products account for his ability to transmit scope and blood.

Strength - Energy - Respect
---
Stud fees
Breeding guide program
Frozen semen :

Booking fee : 350 €
Pregnancy fee : 800€
Prices above do not included VAT 10%

Pedigree
DIAMANT DE SEMILLY

LE TOT DE SEMILLY

GRAND VENEUR

VENUE DU TOT

VENISE DES CRESLES

ELF III

MISS DES CRESLES

QUOKINE DU CHATEAU

ROBIN II Z

RAMIRO

ALPHA

SOPHIE DU CHATEAU

GALOUBET A

JAVOTTE D
▶ Licensed Stud-books : SF, BWP, Old, SWB
▶ WFFS : Génotyp N / N
What to remember : The son of Diamant de Semilly and the uterine sister of Itot du Chateau is confirming the value of his pedigree and starting to compete at the highest level.
What he passes: he passes frame with a very good top line. His products generally have a lot of power and plenty of blooc. It is better to give him flexible and long mares.

Crossing grades (from 1 for a few to 5 for a lot) :
SIZE : 4 LENGTH : 3 CHIC : 3
BLOOD : 4 SCOPE: 5 BONES : 5

PAX Characterization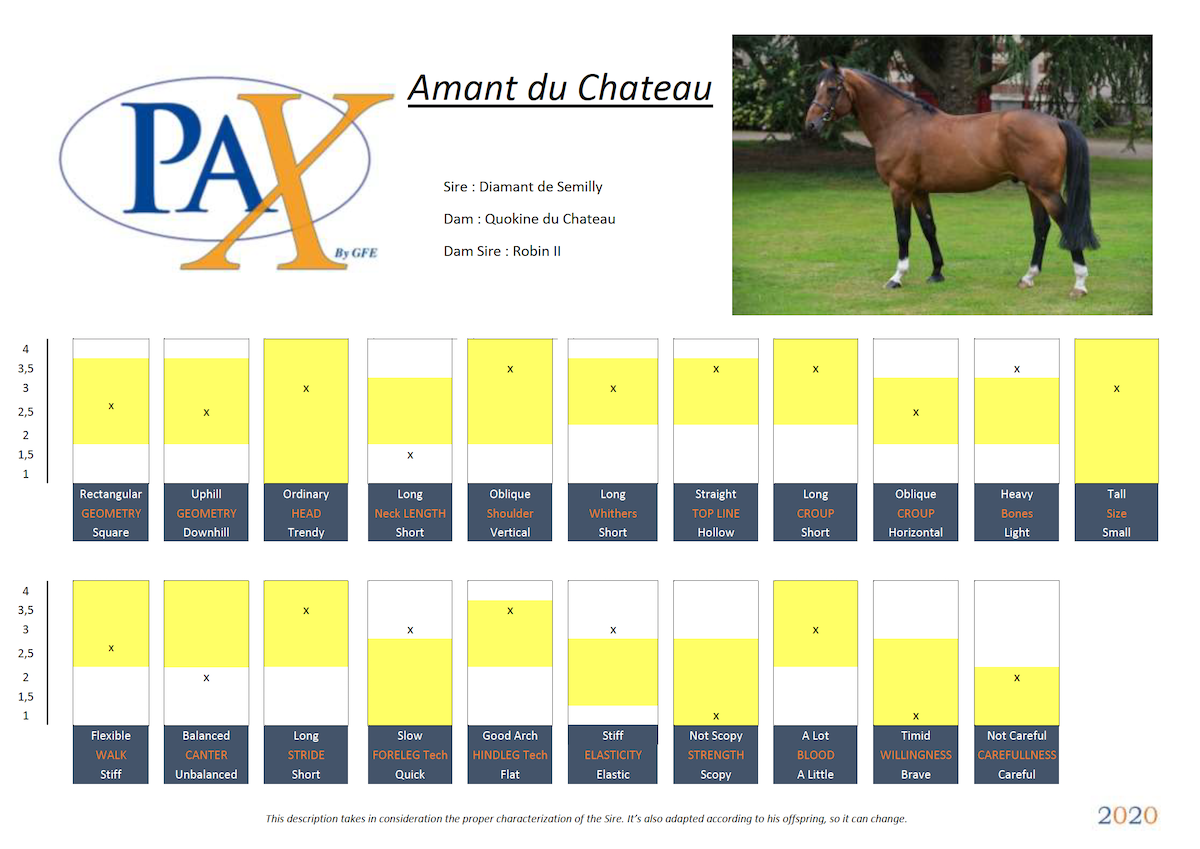 Those information should help you to a first sort and then should be completed by the PAX Graphique


Hij scoorde zijn eerste punten in de ranglijst op 9-jarige leeftijd en maakt zich op voor deelname aan wedstrijden op hoog niveau vanaf 2020. Zijn eerste nakomelingen tonen zijn vermogen om een correct fundament over te brengen en een goede maat.


Pedigree
▶Diamant of Semilly, ISO 184, Team World champion in 2002, France Champion with Eric Levallois… 2nd best sire of winners in CSO on WBFSH ranking in 2019. He is sire of Don VHP Z, Silver Medal at the European Championships in 2017, Emerald N.O.P, Olympic Games of Rio, Ilex VP, World Equestrian games of Tryon; Quickly de Kreisker, World Equestrian Games of Caen, Olympic Games in Rio, Prunella d'Ariel, World Equestrian Games of Caen in 2014, Niack de l'Abbaye, WEG in Lexington, Olympic Games in London, Sunshine, World cup finalist, CSIO5*, Safari d'Auge ISO 162, Utamaro d'Ecaussines, Muscaris d'Ariel, Rock' N Roll Semilly, Pacific des Essarts, Kalaska de Semilly, Urano de Cartigny, UN DIAMANT DES FORETS*GFE CSI5*...
▶ Quokine du Château, dam of Uno du Chateau - ISO 142
▶ Sophie du Château, ISO 147, dam of :
•ITOT DU CHÂTEAU, CSIO and CSI-W with E. Tops Alexander
•Hermine du Château, dam of Quito du Vilpion - ISO 155, CSI
•Image du Château II, dam of Vital Chance - ISO 157, CSI3*
•Koléa du Château, Bronze medal by team in the Junior European Championship, dam of Aléa de la Marque - ISO 157, CSI
•Létoile du Château - ISO 152, CSI
•Oui M'Sieu du Château - ISO 151, CSI with T. Hassmann
•Qualine du Château - ISO 151, dam of Vendome d'Anchat - ISO 160, CSI5* with K. Staut,
•Rimbo du Château - ISO 147, CSI
•Sultan du Château - ISO 168, CSI5*
•Signora - ISO 146 dam of Vitot du Château - ISO 165, CSI4*, Best of Iscla – ISO 152
▶ Javotte D, dam of :
•Amande du Château - ISO 168, CSIO
•Carole du Château - ISO 152, CSI
•Manuela du Château - ISO 149, CSI
•Etoile du Château - ISO 157, CSI, dam of :
- Komedie de Montsec - ISO 149, CSI
- Qapitol de Montsec - ISO 150, CSI
- Régent de Montsec - ISO 150, CSI

Performances
▶2016: 3rd in the 6 years old French Championship in Fontainebleau,
▶ 2017: 7th in the 7 years old French Championship, winner GP TOP 7 in Deauville, 2nd in Arnas, 6th in le Pin…
▶ 2018: He ended 4th GP Young Horses CSI5*-W in Bordeaux ; 7th GP 145 in Saint-Lô, 5th GP 145 CSI3* in le Touquet
▶ 2019: His sporting career is rented to the Italian rider Giuseppe Rolli with whom he is ranked in the GP CSI4* in Salzbourg.
▶ ISO 148
Offspring
▶ He has 1 product born in 2016, 17 in 2017, and his most important generations were born in 2018 and 2019.