AIR JORDAN Z*GFE
Oldenburger, Dark bay, 1m70, 27 years
He is simultaneously ranked among the best sires of young horses in France and among the best sires of Top performers in the world !
He brings strength and propulsion.
Don't miss out on his last straws.

Strength - Propulsion - Mental
---
Stud fees
Breeding guide program
Frozen semen :

500 € per straw

Prices above do not included VAT 10%
Pedigree
ARGENTINUS

ARGENTAN

ABSATZ

WORMS

DORLE

DUDEN II

WINTERROSE

MANDOLINE

MATADOR

MATROSE

CICERONE

WINZERIN

WEINSTERN

CZARDASFURSTIN
▶ Licensed stud-books : SF, Z, Old, Hann, Swb...
What to remember: 57th in the world rankings for the second consecutive year. He is one of the best Sire for young horses France.
2nd in the World Cup final in Las Vegas and the big winner in CSI5*, he belongs to a very good Hanoverian family of winners.
What he passes: He passes his strength and propulsion as well as a very good mind. Prefer chic mares near the blood. Avoid heavy or common mares and tied in shoulders.
Crossing grades (from 1 for a few to 5 for a lot) :
SIZE : 4 LENGTH : 4 CHIC : 3
BLOOD : 3 SCOPE: 5 BONES : 5

PAX Characterization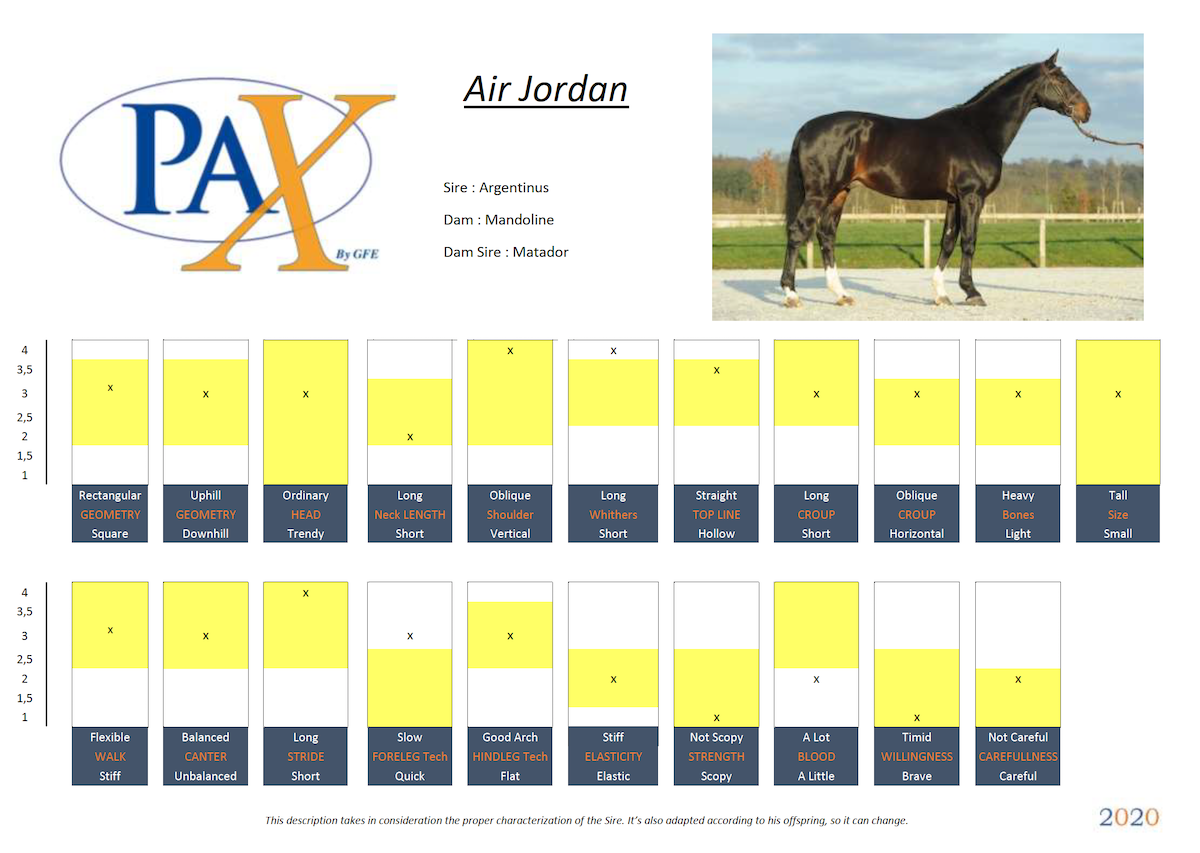 Those information should help you to a first sort and then should be completed by the PAX Graphique


Zijn eerste nakomelingen geboren in Frankrijk sprongen zich vorig jaar in de kijker en zullen we zeker terugzien op internationaal niveau. We hebben nog maar enkele rietjes
beschikbaar.

Pedigree
▶ Argentinus, N°1 WBFSH Sire Ranking in 2005 and 2006, Sire of international performers like Arko III, winner with Nick Skelton, 10th Olympic Games in Athens, twice finalist of the European Championships and the World Cup final, winner GP CSIO in Calgary, Dublin, Lucerne, Rome, Anka, winner World Cup final in 2003 with M. Ehning, All Star 5, 24th world performer WBFSH 2015 with D. Lynch, Annabella, Athos, Banda de Hus CSI5* - ISO 163, Anastasia III, Adrienne, Athos, Special ED, Grace Argentina, As Good As It Gets…
He is also sire of winners in Dressage with A Jungle Prince, Albano, Aquilino, Athos M, Justin Tyme, Rafalca 61th WBFSH world ranking in 2012 and in the eveinting : Twizzl, 52th WBFSH world ranking in 2012…
▶ Mandoline, is also the dam of Oak's Grove Bachelor (Baloussini) CSI2* with R. Oseenberg-Engels and Air Jordan Alfa Z (Argentinus), clone of AIR JORDAN, 13th at the 5 years World Championship with C. Ahlmann.
▶ Winzerin, daughter of the Hanoverian stallion Weinstern, good sire for jumper and dressage horses.
▶ Czardasfurstin is a daughter of the thoroughbred Cher and Einglas, premium mare and sister of the licensed stallion Graveur and Sigfrid.

Its the n°844 hanoverian family which produced the good performers Nobby, Aquavit, Wembley... and the stallions Armstrong, Black Tie, Dominus, Egostern, Falkenflug...


Performances
▶ 20th world best performer in 2008 :
1st GP CSI5* in Deauville
1st GP CSI5* in Valkenswaard
1st GP King Cup CSI5* in Madrid
1st GP CSI4* in Brunswick
1st GP CSI3* in Arrezo
2nd in the world cup final in Las Vegas
4th GP CSI5*-W in Amsterdam
5th GP CSI5*-W in Helsinki
4th GP CSI4* in A Coruna
4th GP CSI5* in Monte Carlo
5th GP CSI5* in Estoril,
7th GP CSI5* in Sao Paulo
8th GP CSI4* in Anvers
and many others !
▶ He died in 2013.

Offspring
▶ He is ranked 57th world best Sire in the WBFSH ranking in 2019. He is for the 4th time in the world TOP 100.
▶His first offspring are shining at the international level such as : Identity Vitseroel, 5th GP CSI5* GCT in Chantilly, 6th GP CSI5* in Villach Treffen with C.Vanderhasselt, Alfa Jordan 2nd of a 160 class at the CSIO5* in Calgary, double clear round Nations Cup CSIO5* in Falsterbo with Max Kühner, Am'ice Z 3rd GP 160 CSI5* in Saugerties, 5th GP CSI-W in Colombus with Charlie Jayne, Australia ISO 163 - CSI4* with T. Anciaume, Volupte de la Jarthe ISO 156 - CSI4* with Clément Boulanger, Velair de la Nutria, CSI 3* with Alberto Sanchez, Atlantic Z – CSI4* with Kevin Gonzalez de Zarate Fernandez, Uneven Sunheup – CSI5* with B. Briand Chevalier, Uschka du Tassier ISO 150 - CSI4* with Paul Delforge, Udaipur Ennemel ISO 142, Airforce Sbk Z is finalist of the 5 years old Belgium Championship in Gesves with Jan Vermeiren, Amadeus De L'Eau in the 7 years old with Sam Polleunis.
▶9th Best Sire of young horses in Fontainebleau in 2019.
Among his products : Darkhorse Brimbelles ISO 137, winner of the 6 years old Selle Français Masters, Diego Tame ISO 140 - 14th of the 6 years old French championship, Dairzel Duverie ISO 132, Dynamite de Riverland ISO 125, Douglas du Gué ISO 136, Darshan de Tatihou ISO136, Djordania du Tillard ISO 136, Delph de Denat ISO 136, Dandy de Fuyssieux ISO 133, Don Juan du Bois ISO 127, Dakota La Hubert ISO 129, Delice de B'Neville ISO 129, Decade de Longa ISO 126, Dragann des Loges ISO 126… In the 5 years old : Exquise Peguignon ISO 129 -13th of the 5 years old French Championship, Elvinea Dorcel ISO 129, Emir du Chanu ISO 130, Email de la Chapelle ISO 126, Endiablo de Hus ISO 130, Elixir des Rondets ISO126, Everest du Milon ISO 126, Elodie de Boisy ISO 122...

AIR JORDAN was awarded best Sire of the 3 years old Selle Français Championship in 2017.