One more great week end for GFE Stallion's offspring!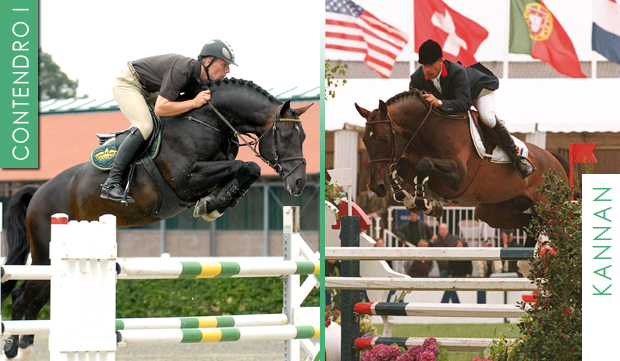 Stallions' quality can be checked with the results of their progeny and the international ground is a good view to see the quality.
This past week end, several CSI were be held at Antwerpen, Hagen, Sandillon, Sancourt and Eschwiler. They offered 98 classes from 1 to 5* level and GFE Stallion'offspring were ranked 102 times whose 13 victories.
At the top of the charts is KANNAN with 17 representative and 20 success whom 4 victories.
- Olivia de Nantuel with O. Lazarus & Rosana du Park with C. Anthony at Antwerpen
- Kanako with S. Franks at Sancourt
- Quamikaze d'Albain with E. Mathi at Sandillon
CONTENDRO I follows with 19 success obtained thanks to 14 offspring whose 1 victory at Hagen by Casana M riding by E Sander.

Then CALVARO, with 8 prizes whose 2 victories out of 6 progeny, is just before INDOCTRO: 2 victories and 4 rankings for 4 progeny and NUMERO UNO: 2 victories and 3 prizes for 4 progeny. AIR JORDAN has 5 prizes for 4 offspring.
With 4 success, come LANDOR S, OPIUM DE TALMA and LUX Z.CABDULA DU TILLARD, MR BLUE, ORLANDO, QUITE CAPITOL and MOZART DES HAYETTES have 3 winners.

They are two for PRESIDENT, LAUTERBACH, SARANTOS, and IDEAL DE LA LOGE and we can see one prize-winner for OK DU ROZEL, EMILION, USTINOV and ULTIMO V.T MOUDE.

More than one international class out of 8 and 1 prize out of 10 were won by GFE Stallion' offspring.

An amazing week end who adds the others to carry the GFE catalog to the top of the European Show Jumping!