NEWS FROM JULY 8TH TO 12TH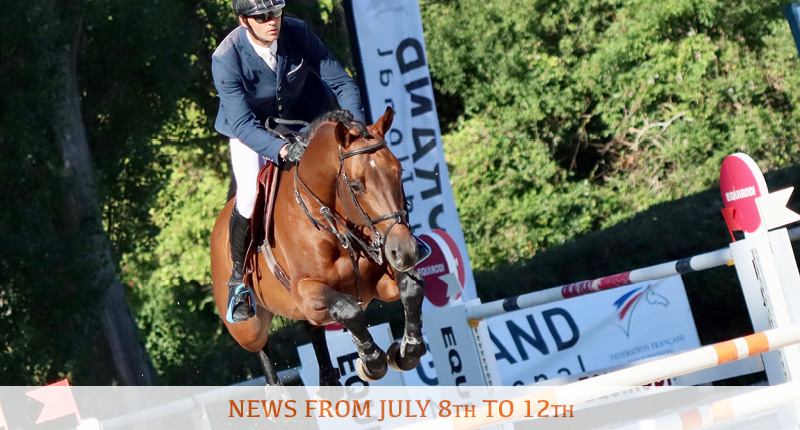 Great beginning of the season for CICAVE DU TALUS and François-Xavier Boudant !
After a nice 8th place in Auvers, they were ranked 3rd in the 1m40 Grand Prix in Notre Dame d'Estrées, with more than 95 couples at the start
CICAVE DU TALUS
CONSUL DL VIE and Ramatou Ouedraogo were clear in the 1m40 on friday, clear in the 145 on saturday, and clear again in the 1m45 Grand Prix in San Giovanni CSI2*.

CONSUL DELA VIE
AIR JORDAN
Elios de la Lie and Antoine Ermann won a CSIYH 6yo class in Sainte Cécile CSI2*
CALVARO
Valou du Lys and Julien Gonin won the 1m45 Grand Prix in Sainte Cécile CSI2*, after winning the 1m50 Grand Prix the week-end before !
CONTENDRO
Comma and Jose Antonio Garcia Diana were ranked 8th in the 1m45 Grand Prix in Vilamoura CSI2*
Hunter Conlypso II and Shane Sweetnam won a 1m45 in Traverse City
CORNET OBOLENSKY
Arqana de Riverland and Juliette Faligot were ranked 7th in a 1m45 class in Opglabeek CSI2*
Cornetta Une Prince (CORNET OBOLENSKY x Dollar dela Pierre) won the filly class in Deauville foals Z-Festival
FLIPPER D'ELLE
Fairness Hero and Guillaume Foutrier were ranked 9th in the 1m45 Grand Prix in St Tropez Grimaud CSI2*
KANNAN
Vintadge de la Roque and Dominique Hendrickx won a 1m45 class in Opglabeek CSI2*
Kingsborough Kasper and Louise Saywell won a CSIYH 7yo class in Royan

LAUTERBACH
Vahinée et Marie Hécart were ranked 6th in the 1m45 Grand Prix in Royan CSI2*
MYLORD CARTHAGO
Atome des Etisses and Laurent Goffinet were ranked 10th in the 1m55 Grand Prix in St Tropez-Grimaud CSI4*
Tolède de Mescam and Kevin Staut were ranked 5th in a 1m50 class in St Tropez Grimaud CSI4*
Valmy de la Lande and Jack Whitaker were ranked 4th in the 1m45 Grand Pix in Royan CSI2*

NINTENDER
Ninyon and Jasmine Chen were ranked 5th in a 1m45 class in Opglebeek CSI2*
POPSTAR LOZONAIS
Bigstar Derick and Eoin Gallagher were ranked 2nd in a 1m45 class in Bonheideen CSI2*
Valou du Lys
Check all the news of our Sires and their offspring on: www.facebook.com/gfeinternational