PRESIDENT - étalon/stallion -
KWPN, Grey, 1m73, 26 years
He still counts among the best sires of winners worldwide and boasts one of the best price/quality ratio within this world ranking. He greatly improves his offspring's conformation and is better suited to large-framed mares. He usually produces easy and stylish horses.
---
Stud fees
Breeding guide program
Frozen and Chilled semen :

Booking fee : 350 €
Pregnancy fee : 850 €
Prices above do not included VAT 10%

Pedigree
CLINTON,

CORRADO,

COR DE LA BRYERE,

RANTZAU xx,

QUENOTTE,

SOLEIL,

CAPITOL I,

KUERETTE,

URTE I,

MASETTO,

MONTANUS,

EMITA,

OHRA,

LANDGRAF I,

BRISCHKA,

GUDRUN,

VOLTAIRE,

FURIOSO II,

FURIOSO,

DAME DE RANVILLE,

GOGO MOEVE,

GOTTHARD,

MOSAIK,

ADRIANA,

LE MEXICO,

MEXICO,

PECHE MELBA,

SUNIA,

MARCO POLO,

INEKE,
▶ License : SF, Old, BWP, Hann, Rhein, Westph, Meckl, ISH
▶ X-ray score : more than 15 years - WFFS : Génotyp N / N

Grades for breeding (from 1 for a few to 5 for a lot) :
SIZE : 3 LENGTH : 3 CHIC : 5
BLOOD : 3 SCOPE : 4 BONES : 3

THE SIRE'S CHARACTERIZATION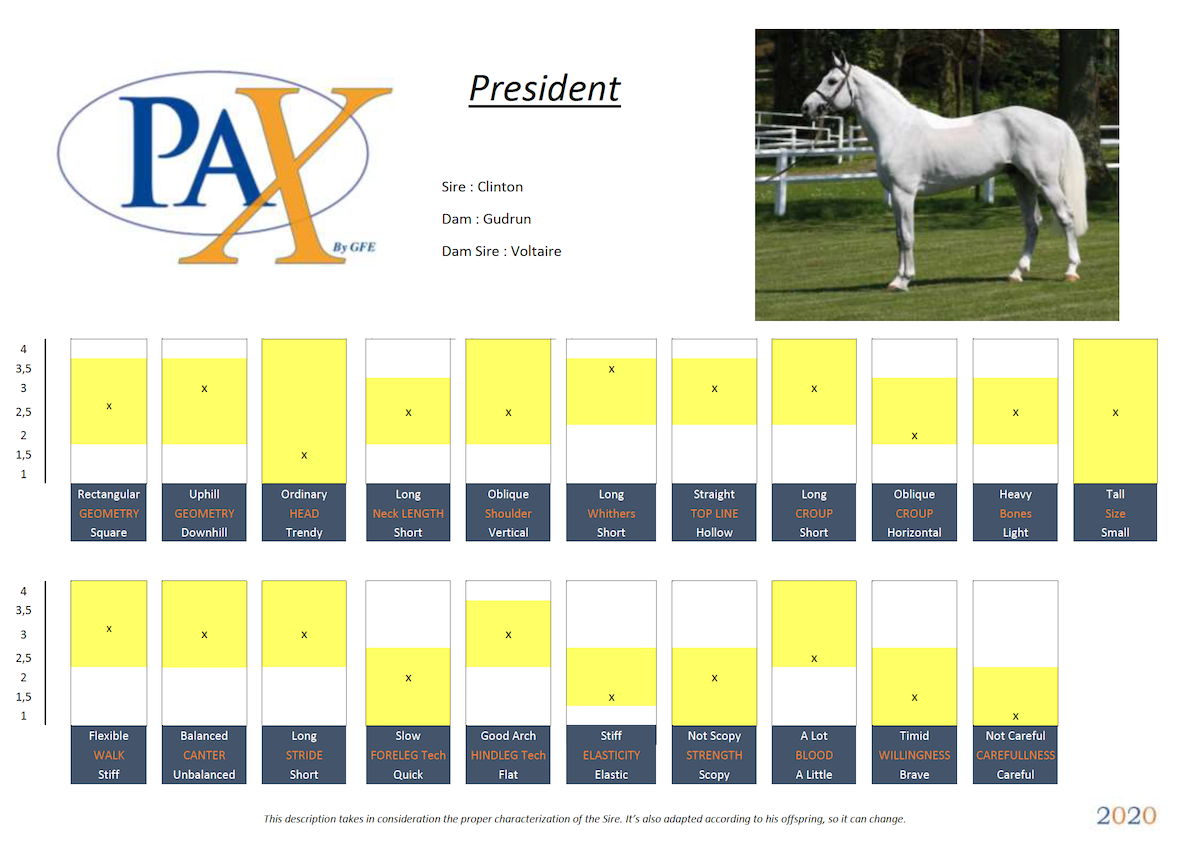 Click here in order to refine your selection with the PAX Graphique

Hij klimt op in de wereld top 100 ranking en is uit deze ranking waarschijnlijk de goedkoopste dekhengst. Zijn nakomelingen combineren elegantie, springvermogen en een goed karakter. Ze zijn zeer populair in veilingen en fokkerij wedstrijden.


Origins
►Clinton, holsteiner Sire, international performer in CSIO with D. Demeersman: 2nd of the GP CSIO5* of Aix la Chapelle, 3rd of the Olympic Games of Athens and 4th of the GP CSIO5* of Rome… 18th best sire of winners in CSO on WBFSH 2018 with more than 150 international winners: Cornet Obolensky, 4th sire of the winners in CSO according to the 2018 WBFSH ranking, Olympic Games of Hong Kong, twice finalist at the World cup in 2009 and 2012; Clinta, 13th world performer in 2018 with McLain Ward, Gold medal by team and 4th into individual at the World equestrian games of Tryon, winner of the GP CSI5* of Dinard, New York… ; Floreval Suspens, 83th 2018 world performer with V. Tuganov, Worldwide games of Tryon, 4th of a 1,60m CSIO5* of Calgary in 2017, ISO 169(18); Dame Blanche Van Arenberg, winner CSIO5* of Calgary in 2013, winner of the Nations Cup of La Baule, 2nd of the Nations Cup of Lumen, 4th of the GP in la Baule with P. Leprevost, ISO 169(13); Coral Reef Via Volo, winner CSIO5* of Calgary, 2nd at the Pan-American Games with B. Madden; Bagni di Luca, Olympic Games of London with E. Patton; Danny Boy, twice winner of Aix la Chapelle with B. Madden; Ustina Sitte, CSI5* with N. Philippaerts; Cliffton Belesbat, CSIO5* with M. Dilasser, 2nd of the Nations Cup in Dublin, winner of the GP 1,50m of Le Touquet in 2017, ISO 166(17); Darlon Van Groenhove, 2nd of the Pan-American Games in Toronto in 2015, winner CSI5* of Calgary with A. Rodriguez, About A Dream…
Among his licensed products in France: Vitesse Greenfield, CSI con M. Hécart, ISO 156(07); Vivaldo van het Costersveld, ISO 181(13) with R.Y. Bost; Wiltana Vd Ruitershoeve, CSI with M. Billot, ISO 147(08); Special ISO 153(09); Ellington JSX ISO 150(15); Clannad Future ISO 152(15)
He has also more than 40 approved sons: Consul DL Vie Z, CSI3* with T. Cadet, ISO 153(16) , Diabeau van de Heffinck, ASB Conquistador CSI5* with E. Navet...

►Gudrun, approved Keur Prestatie Prefers, has 10 products as Ulysses M2S (Ekstein kwpn), approved AES, classified in GP CSI2* with R. di Simone

Performances
►Approved in Italy at 4 years, it is then approved at 5 years by the SBS.
►Winner of the 6 years the National Cycle in Belgium
►In 2009, he integrates the stables of François Mathy Jr but a wound prevented from taking the competition and he has been devoted to the breeding by 2010.

Production
►President is the father of 25 winners in CSI, CSIO, World cups:
-Venue d'Fées des Hazalles, world cup finalist with Eve Jobs, 2nd GP World cup of Thermal, 4th of the GP World cup of Colombus, 7th of GP CSI4* of Vancouver, 9th of GP CSI4* of Harthill, 2nd of GP CSI3* of Lexington ;
-Quidich de la Chavée, sire, ISO 158(18) with FM. Bologni, winner of GP CSI2* in Samorin, 2nd of GP CSI2* of Arezzo, 2nd of GP CSI2* of Bagnaia, 3rd of GP CSI2* of Rome, winner of a 1,45m at the CSIO5* of Rome, 3rd and 7th on 1,45m at the CSI-W 5* of Vérone ;
-Dakota vd Knuffel, CSI with F. Spinelli, winner of GP CSI2* of San Remo
-U Watch, Olympic Games of Rio, 3rd at the Nations Cup of Rotterdam, 4th in Lumen, Dublin with Manuel Fernandez Saro ;
-Unique d'Elbe, CSI with M. Cruchet, 2nd of GP CSI2* of Ciekocinko, 11th of GP CSI4* in Samorin and Elie van del Kolmen, CSI5* with M. Whitaker; Der Senaat, sire, CSI5* with the rider from Hong Kong J.Lai;
-Air Force One, CSI5* with km. Godek; Tonton vs Maarten, CSI4* with C. Ahlmann;
-Vipreska de la Falize, CSI3* with G. Wathelet;
-Ti Amo, CSI 1,45m with G. Hornesch;
-Tina de Noyelles CSI3* with M. Bettinger;
-Baby Fée des Hazalles CSI3* with F. Daigneux-Lange;
-A New President, CSIO3* with K. Ludwiczak;
-Don Quichotte van de Kolmen, CSI2* with M. Bost; Esteny van de Herkkan, CSI3* with C. Leutene;
-Key to President CSI with P. Leprevost…
►Président is 15th Best Sire of young horses in 2018 in Classical Cycle CSO:
-In the 4 years:
- Elsa Gravelotte 18th, ISO 125(18);
- Etincelle de Blactot, winner of the CIR in the Lion d'Angers and 5th of the CIR Championship in Equita Lyon, ISO 115(18);
- Eole d'Altenbach, 9th of the Mares Championship, ISO 119(18);
- Extrême de Laume 23th, ISO 113(18);
- Ebene de la Jefe ISO 120 (18),
- Excess for You ISO 119(18),
- Eliya ISO 118(18)
-In the 5 years:
- Hourra de Reville ISO 126(18),
- Diva de Coquerie ISO 125(18),
- Djakarta des Forets ISO 124(18),
- Domino Ardent ISO 124(18)
-In the 6 years:
- Candy Mouche ISO 137(18),
- Crispy des Forets ISO 136(18),
- Gavotte de Reville ISO 135(18),
- Clinton de Levaux ISO 132(18)
►In Eventing, Maybe Tonight du Castay is 47th best 6 years of its generation.
Fleur Charbonnière is 5th at the French Championship of 3-year-old fillies.
He passes his very good silhouette. He does not bring size but enough blood.