POPSTAR LOZONAIS*GFE
Selle Français, Bay, 1m68, 20 years
After a very good international career in Belgium and the USA,this Selle Français Originel returns to France precisely when his first products are beginning to stand out in competitions for young horses. His outstanding pedigree and the quality of his first generations of offspring lead us to have great hopes regarding the future of his career as a stallion
---
Stud fees
Breeding guide program
Stud fees
Frozen semen
Booking fee : 350 €
Pregnancy fee : 750 €
Prices above do not included VAT 10%

Pedigree
QUICK STAR,

GALOUBET A,

ALME,

IBRAHIM,

GIRONDINE,

VITI,

NYSTAG,

IDA DE BOURGOIN,

STELLA,

NITHARD,

KESBETH,

NITOUCH,

FLORA,

TRIPOLI,

VANILLE,

BUGUETTE PLATIERE,

MUGUET DU MANOIR,

ARTICHAUT,

PIERREVILLE,

JARIOSE,

CAMERA,

RANTZAU XX,

NARCISSE,

SOPHIA PLATIERE,

GRAND VENEUR,

AMOUR DU BOIS,

TANAGRA G,

VALERIANNE,

BEL AVENIR,

PATELLINE D,
▶ License : SF
▶ X-ray score: : 4* - WFFS : Génotype N / N
Grades for breeding (from 1 for a few to 5 for a lot):
SIZE: 4 LENGTH : 3 CHIC: 4
BLOOD: 4 SCOPE: 4 BONES: 4

THE SIRE'S CHARACTERIZATION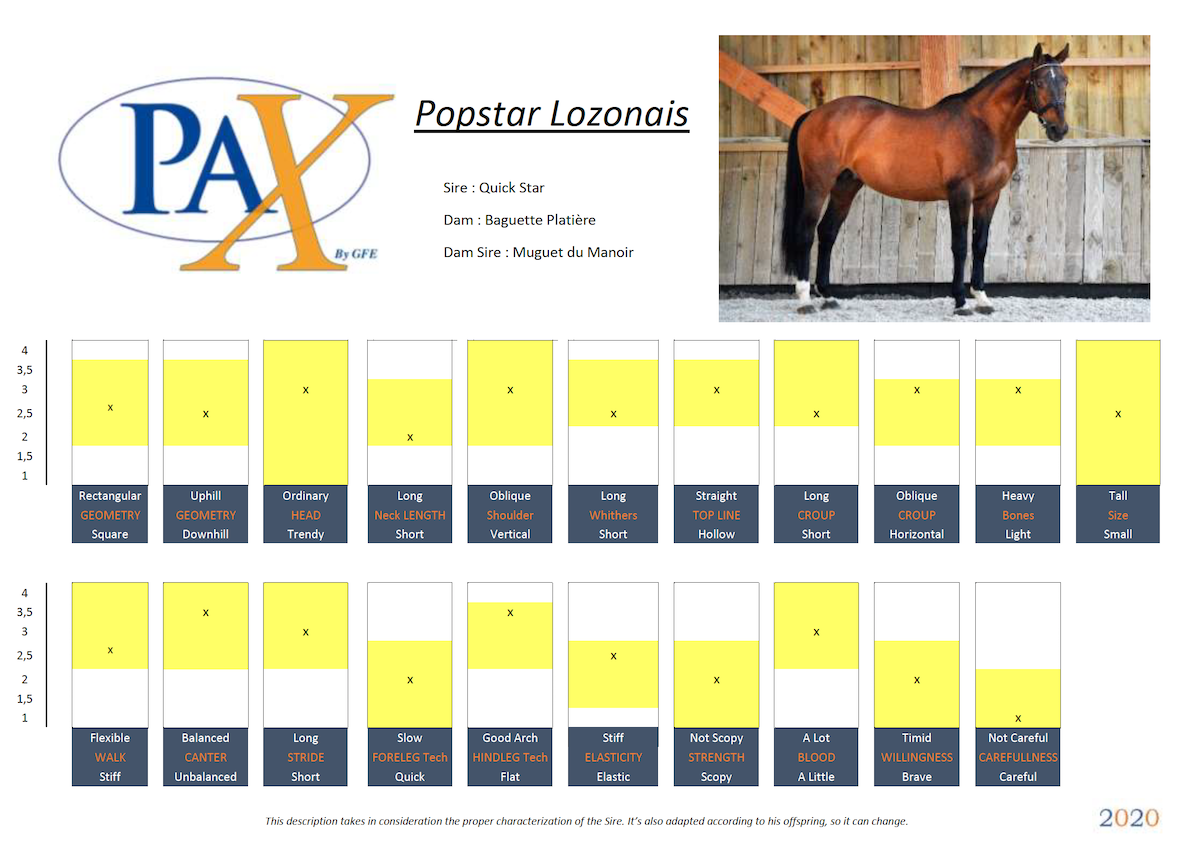 Click here in order to refine your selection with the PAX Graphique

Origins
▶ Quick Star, licensed in 21 stud-books, one of the best sires of current winners in Europe, is placed 63th best Sire of international winners in Stallion Ranking WBFSH 2018. He produced the Sire who was Olympic champion of Rio 2016, Big Star, with N. Skelton, also gold medal by team and 5th ex-aequo in individual at the Olympic Games of London in 2012, winner of the GP CSIO of Rome and Aix la Chapelle, 2nd WBFSH world performer 2012 and 4th in 2013; Quatrin de la Roque, winner of the GP World cup of Bordeaux in 2017 with J. Epaillard, French Pro 1 Elite Champion in 2012 with M. Hécart, CSI5*, ISO 173(17); Orient Express*HDC, Sire, 6 years old Champion, winner of the GP CSI-W of Helsinki, CSIO of La Baule and Rotterdam with P. Delaveau, double silver medal-holder at the 2014 World equestrian games, ranked 35th WBFSH in 2014, ISO 176(14); Sprehe Stella, European Champion by team with Hickstead and 6th at the World cup final in Gothenburg with M. Michaels Beerbaum; Quick Study ex Lutin de Semilly, ISO 186(11), 25th best world performer 2011 with L. Hough, winner of the GP CSIO4* of Wellington, CSI5* of Hamburg, Dublin; Power Star, 84th best 2014 world performer with Ian Millar; Nokia de Brekka, winner of the 2014 derby CSIO5* of La Baule, ISO 176(14)… and Ishd Dual, Star, Red Star d'Argent ISO 168(16), Orlando de Roy ISO 160(15), Pop Lady d'Elle ISO 165(14), Tea Star d' Oyale ISO 166(17), Ryanair de Riverland ISO 162(18), Turquoise d'Ivraie ISO 155(18)… all good winners in CSI.
He sired many stallions: Ninio de Rox ISO 154(10), Niagara d'Elle ISO 158(11), Notrestar dela Nutria ISO 171(13), Untouchable M ISO 150(10), Qantar des Etisses, ISO 162(14)...
▶ Buguette Platière ISO 108(93), has 7 other products as:
•Qualinka de Riverland (Dollar du Murier sf), dam of :
- Vérité de Riverland ISO 129(17)
- Babylone de Riverland ISO 121(17)
•Rhyme de Riverland (Dollar du Murier sf), 4 and 6 years old finalist, ISO 135(11)
•Usa de Riverland (Diamant de Semilly sf), CSI2*, ISO 144(17)

His dam-line comes from the famous breed "Platière" which produce several international winners and is ranked 10/10 in the Selle Français Studbook. Among them:
Usa de Riverland (Diamant de Semilly sf), CSI2*, Lagune de Kreisker, Junior European Championship, ISO 159(12), Ungaro de Kreisker, ICC 140(16), Gentleman Platière CSI5* with E. Navet, ISO 173(06), Olga Platière, ISO 142(08), Précieuse Platière CSI2*, ISO 143(14), Lys Platière, CSI5*, ISO 166(10)...


Performances
▶ 2007 to 2008 : Under the saddle of Alban Notteau, he was 4 and 5 years old finalist in Fontainebleau for the Clasic Cycle test.
▶ 2009 : Under the saddle of Benjamin Devulder, he was finalist in Classical cycle test, ranked 10th of the Championship, graded "Excellent". Also, winner in 6 years old CSI tests: 3 times first in Dinard, twice 1st in Auvers and placed 5th of the GP 1m35 in Bayeux.
▶ 2010 : Under the saddle of Guillaume Batillat, winner of the 7 years old at the CSI3* of Dinard, 3rd of the 7 years old French Championship, 2nd and 3rd of 7 years old tests during the CSI5* of Chantilly, 3rd and 5th at the CIR Lion d'Angers...
▶ 2011 : With Nathalie Mack, winner of the GP 1,40m of Strasbourg, of the GP 1,35m in Eckwersheim, 2nd of the GP 1,35m of Neewiller, 4th of the GP 1,40m of Cluny, 7th of a 1,45m test at the CSI3* of Lons le Saunier.
▶ 2012 :At 9 years old he was already shining on the international scene under the saddle of the Belgian Jérôme Guery with 10 victories as at the GP CSIO of Gijon and at the GP CSI2* of Rosières aux Salines.
Then exported to the US, bought by Fleischhacker's family for Sharn Wordley with whom he was winner in CSI 1,50m.
He came back to Belgium in 2016 and won 3 international tests in 3 competitions, as the CSI3* Derby in Le Touquet with his new rider cavalière Nadège Janssen.
▶ ISO 161(13)
Production
▶Among his first offspring:
•Digo Derick, 5 years old finalist, ISO 129(18)
•Cendrillon'Jac, 5 years old finalist, ISO 123(17)
•Calinka de Lareyre, ISO 124(17)
•Caurel du Very, 6 years old finalist, ISO 130(18)
•Bambin d'Argence, "Excellent" at 6 years old, ISO 138(17)
•Balrine du Quesnay ISO 122(18)
•Banco du Moulin, CSI-YH, ISO 124(18)
•Bel Ami du Tyl, 5 years old finalist, ISO 128(16)
•Belstare du Hamel, 5 years old finalist, ISO 130(17)
•Beryl des Prés, finalist at 6 years old, ISO 134(18)
•Bigstar Derick, CSI-YH, ISO 137(18)
•Brillantisine, ISO 134(17)
•Aston Derick ISO 134(16)
•Auna Derick, CSI-YH, ISO 124(16)
•Avenir de Chalamont ISO 130(16)
•Avenir du Genestel, 5 years old finalist, ISO 128(17)

With an amazing bloodline, he came back to France in 2018 after a beautiful international career in Europe and the US.