LAUTERBACH
Oldenburger, Bay, 1m70, 22 years
Lauterbach still counts among the best sires of young winners in the SHF charts and sires of champions in Germany. His first French offspring generations are entering the international competition scene! In addition to his jumping ability, he transmits strength, elegance and a beautiful locomotion.
---
Stud fees
Breeding guide program
Frozen and Chilled semen :

Booking fee : 350 €
Pregnancy fee : 850 €
Prices above do not included VAT 10%

Pedigree
LANDOR S,

LANDADEL,

LANDGRAF I,

LADYKILLER xx,

WARTHBURG,

NOVELLA,

FARNESE,

FURTH,

FUREIDA 2,

GODEHARD,

GOTTHARD,

ALSTERKUNDE,

FUREIDA,

FURIOSO II,

HEIDA II,

COCO,

CONTENDER,

CALYPSO II,

COR DE LA BRYERE,

TABELLE,

GOFINE,

RAMIRO,

CITA,

W-FLAMENCA,

FAMOS,

FOEHNRICH,

BABOLNA xx,

FIDELITAS,

FRIVOL xx,

N. 3212,
▶ License : SF
▶ X-ray score : 5* - WFFS : Génotyp N / WFFS


Grades for breeding (from 1 for a few to 5 for a lot) :
SIZE : 4 LENGTH : 4 CHIC : 4
BLOOD : 4 SCOPE : 4 BONES : 3

THE SIRE'S CHARACTERIZATION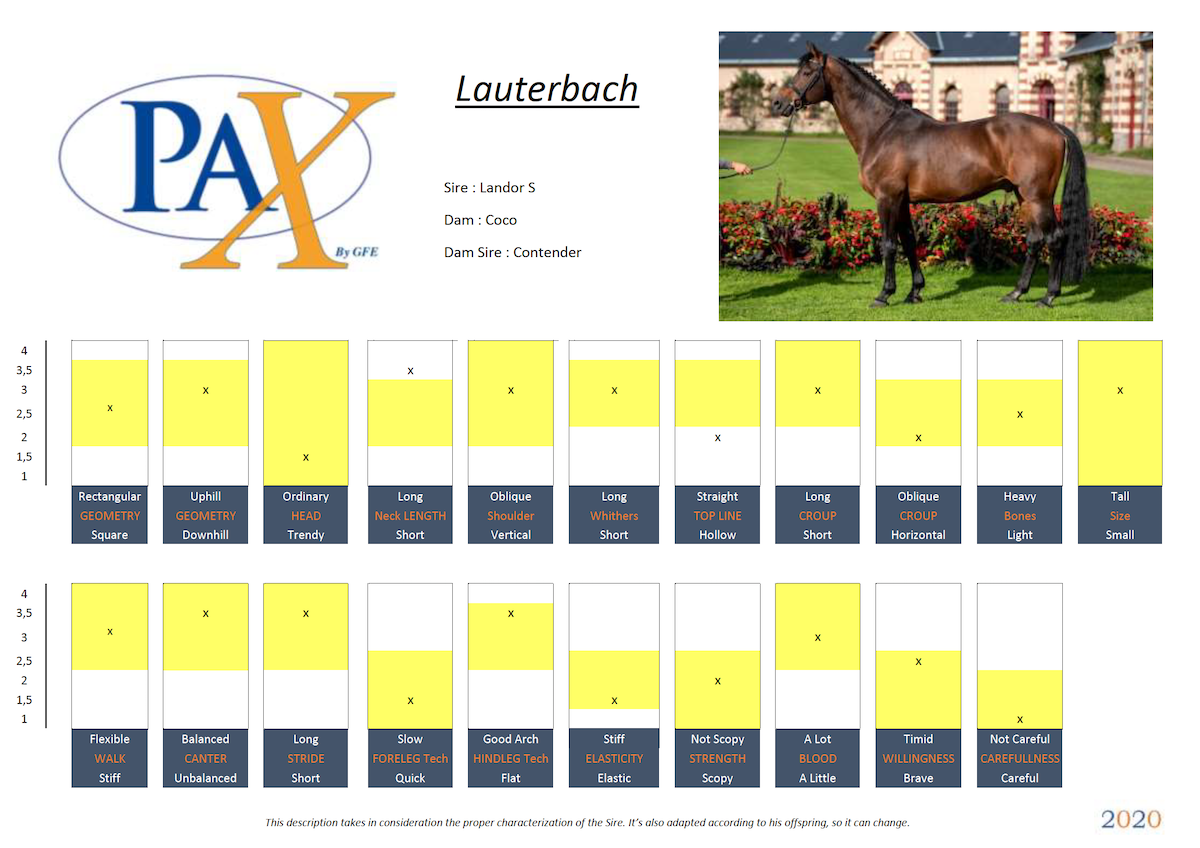 Click here in order to refine your selection with the PAX Graphique


Lauterbach geldt nog steeds als één van de beste hengsten in de jonge paarden competitie in Duitsland. Zijn eerste in Frankrijk geboren nakomelingen breken reeds internationaal door ! Samen met zijn springvermogen geeft hij kracht, elegantie en goede bewegingen door.


Origins
▶Landor S, son of Landadel, one of the best sons of Landgraf, Sire of many winners such as the champion Fein Cera, Gold medal by team at the Olympic Games of Athens, Landfriese I, Lord Kemm, Landjonker. Landor S, Champion of Germany at 6 years and winner of CSI, one of the best young stallions of the Oldenburg stud-book. 35the Sire of winners in CSO on world plan WBFSH 2012.
Among his offspring: Blue Loyd 12, CSIO, Olympic Games, ranked 18th WBFSH in 2012, Bronze medal at the Olympic Games of London with C.O' Connor; Leoville 2, CSI3*, winner at the CSIO5* of Baule in 2010 with P. Weishaupt; Lacapo 4, CSIO, European Young rider Championships, 4th of the GP CSIO3* of Budapest 2013; Sassicaia, winner of CSI2* in Fontainebleau with A. Francquart, ranked in CSI2* and CSI3*, ISO 159(14); Vestal de Mazure*HDC, CSIO5* GCT with P. Delaveau, winner of a 1,55m at the CSI5* of Paris, Derby CSI3* of Dinard in 2018, ISO 160(18); Utopie de Bonneville, CSI3* with D. Romao, ISO 152(17); Quenotte d'Anchin ranked in 55 / 69 in Pro Test from 2014 to 2016, ISO 148(13); Lovely Rita CSI; Miss de l'Othain ISO 145(09); Laacoon, CSI; Venusia de la Violle, 3rd in CSIYH in Macon in 2016 with B. Brassart, ISO 144(15); Astalavista Declamens, 13th of the 6 years Championship in Fontainebleau in 2016, "Excellent", ISO 151(17); Astuce de Barrières ISO 150(18)…
He has many licensed sons: L'Arc de Triomphe, Lagostino, Lambrusco Ask, Larius, Longford, Lameo, Lycos, Ludwig Von Bayern, Wandor Van Mispeleare, 42th world Sire WBFSH 2018 in CSO…
▶Coconut, also produced Carell (Cayetano L holst), licensed Sire in Oldenburg and in Westphalia, vice-champion of Germany 5-year-old in 2010.
Holsteiner Dam line n° 8805.

Performances
▶2007: Lauterbach is 6-year-old French Champion, classified as "Elite" with P. Rozier:
Winner of the circuit Elite SHF and winner of the finale in Lyon, 1st of the 6 years GP CSIO5* of La Baule, Chantilly and Vichy; 2nd of the 6 years old GP in Fontainebleau, 3rd in Lyon, 5th in Bourg en Bresse and 6th in Saint-Tropez.
▶2008: Winner of the circuit Elite SHF 7 years, 1st of the GP 7 years CSI of Villeneuve-Loubet and Bourg en-Bresse, 4th of the GP in Sainte Cecile, 5th in Vichy, victorious at the 7 years CSI of Villeneuve-Loubet, Fontainebleau, Chantilly, Sainte Cecile, Dinard and Vichy.
▶2009: Winner of a 1m40 CSI2* of Palaiseau, 2nd of a test CSI2* in Arnas, 3rd of a test CSI2* in Sainte Cecile, 3rd of the GP 1m35 in Chantilly, 4th and 6th of 1m40 CSI2* of San Giovanni, 5th of a 1m40 and 8th of a 1m45 CSI3* of Vidauban, 5th of the 6 bars CSI3* of Royan, 5th of the GP 1m40 in Le Mans, 7th of the GP CSI2* in Verquigneul with P. Rozier.

Production
▶Among his foals born in Germany: Lagerfeld, 4th of the GP CSI3* in Vilamoura, winner of a 1,45m CSIO5* in Sopot with C. Rivetti; Lautermann, 6th of the GP CSI3* in Hong Kong with T. Hassmann
▶ His first generation born in France was 9 years old in 2018:
Vahinée ISO 153(18), winner of the GP 1,50m CSI2* of Lier, victorious GP 1,45m CSI2* of Jardy, 2nd of the GP 1,45 CSI2* of Oliva, Valkenswaard, Chantilly with M. Hecart
▶ And also Villa de Riverland ISO 142(18); Amiral de Roqueline ISO 141(18) ; Blini de Blondel ISO 138(18) ; Alessi du Soleil ISO 132(18) ; Vivaldi de Graves ISO 126(18) ; Valentine Saint Aubin ISO123(18) ; Diaz des Forêts ISO 125(18) ; Vivarno de Boisy ISO 143(17), Vinci de St Siméon ISO 150(16), Vittorio de St Siméon ISO 139(15) ; Vriska de Blondel ISO 145(15) ; Adriana d'Argouges ISO 153(16) ; Ambre de Launay ISO 149(16) ; Braise du Cazala ISO 143(17)
▶In the young horses: Calypso de Blondel ISO 134(18), Demi Moore de Bedon ISO 122(18), Djangaux d'la Djik, Comtesse de Somoza ISO 123(18), Concerto de Puychety are finalist in Fontainebleau
▶Aktion de Belhème, ICC 152(17), is 3rd of the 7-year-old French Championship, winning in CIC2* with Jean Lou Bigot,
▶Ilton de St Jean is 8th at the French foals Championship.