CORNET'S PRINZ
Westphalian, Bay, 1m72, 18 years
Cornet Obolensky's son and grandson of the champion Almox Prinz. He is one of the few German stallions graded 10/10 for the model at 3 years. He is finalist at the 7 years World championships in Lanaken with Guido Klatte Jr, finishing 19th of his generation. He evolved in international tests during 2 years before being wounded with his knee.
Chic - Model - Respect
---
Stud fees
Breeding guide program
Frozen semen :

Booking fee : 350 €
Pregnancy fee : 1 000 €
Prices above do not included VAT 10%

Pedigree
CORNET OBOLENSKY,

CLINTON,

CORRADO I,

COR DE LA BRYERE,

SOLEIL,

URTE I,

MASETTO,

OHRA,

RABANNA VAN COSTERSVELD,

HEARTBREAKER,

NIMMERDOR,

BACAROLE,

HOLIVEA VAN COSTERSVELD,

RANDEL Z,

GUDULA O,

ALMOXELLA O,

ALMOX PRINTS J,

HOCKEY II,

POMERANETS,

HASA,

PAWANA,

WELT,

PIKA,

POLYGRANNA,

POLYDOR,

PILATUS,

FATA MORGANA,

GRANNUSE,

GRANNUS,

PREMIERE,
▶ License : SF, Old, BWP, Hann, Rhein, Westph, Meckl, ISH

▶ What to remember : Son of Cornet Obolensky and grandson of the champion Almox Prinz. It is one of the few German sires rated 10/10 to the model at 3 years old. He was successful very early at a high level with a young rider. Today, it is the quality of his offspring, which is coming on the international scene and which is worth having integrated our catalog among the superstars.
▶ What he passes : Produces with elegancy, length and passes balance at canter, respect and style. He will well suit mares with blood.

Grades for breeding (from 1 for a few to 5 for a lot) :
SIZE : 4 LENGTH : 4 CHIC : 5
BLOOD : 3 SCOPE: 4 BONES : 4

PAX Characterization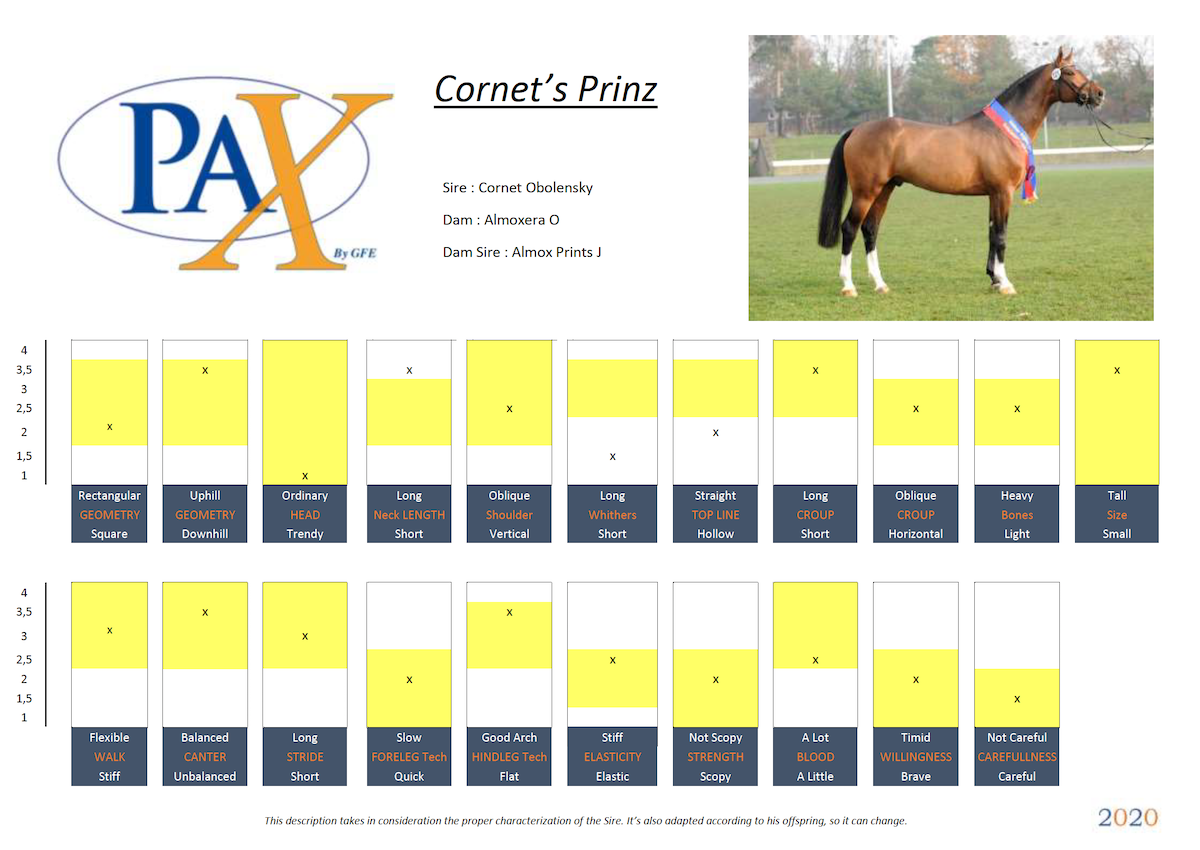 Those information should help you to a first sort and then should be completed by the PAX Graphique


Zoon van kampioen Cornet Obolensky en kleinzoon van een andere kampioen Almox Printz. Hij presteerde zelf op hoog niveau, en zijn nakomelingen beginnen op hoog niveau door te breken. Zijn sperma is van zeer goede kwaliteit.


Origins
▶Cornet Obolensky's son and grandson of the champion Almox Prinz. He is one of the few German stallions graded 10/10 for the model at 3 years. He is finalist at the 7 years World championships in Lanaken with Guido Klatte Jr, finishing 19th of his generation. He evolved in international tests during 2 years before being wounded with his knee.
▶Cornet Obolensky, Very good international winner, had 8 victories and more than 80 rankings in international tests with Marco Kutscher:
-2011 European Champion by team in Madrid and 11th in individual;
-Participation at the Olympic Games of Beijing;
-Winner of the Nations Cup in Rome, in Rotterdam in 2008, 2011 and 2012,
-2nd in Aix la Chapelle and 3rd in Rome and Hickstead;
-3rd of the 2008 German Championship;
-Winner of the GP CSI5* of Zurich;
-Winner of the 2007 and 2008 Super Finale Leagues Samsung in Barcelona;
-2nd of the GP CSI5* of Doha and Bordeaux;
-3rd of the GP CSI5* in Frankfurt and Rio de Janeiro;
-4th of the GP CSI5* of Valkenswaard, Rome and Stuttgart;
-5th at the GP CSI5* in Helsinki and Oslo
N°4 in 2018 WBFSH ranking in JUMPING, with more than 180 winners in CSI, GCT, World cup, CSIO. He has 4 products participating at the WORLD EQUESTRIAN GAMES OF TRYON 2018: Cannavaro, Carthagena, Cornet 31 and Clooney. Cornado NRW, ranked 19th in 2018 with Mr. Ehning, 2nd of the GP CSI5* of Hertogenbosch, Valkenswaard, finalist of the World Cup. Clooney 51, 22th world performer 2018, team bronz medalist at the European Championship in Gothenburg, Silver medal at the World Equestrian games of Tryon 2018, winner of the GP CSI5* World cup in Lyon, 3rd in Verona with M. Fuchs; Comme Il Faut, 56th world performer 2018, winner of the GP CSI5* of Brussels-Stephex Master with M. Ehning; Cornet d'amour, 67th 2018 world performer, 8th at the World cup final, 3rd of the GP CSI5* in Hong Kong with D. Deusser ; Balou du Reventon ex Cornet' s Balou, 105th 2018 world performer, 2nd at the GP CSI5* of Knokke, 3rd of the GP CSI5* in Geneva with D. Kenny ; Cornet 39, finalist at the World cup in 2018 with D. Deusser, winner of the GP CSI5*-W in Oslo, 5th at the GP CSI5*-W in Madrid ; Cornetto K, 4th individual at the European Championship of Gothenburg, 2nd of the GP GCT CSI5* of Miami, winner of the GP GCT CSI5* in Monaco, 4th of the GP CSI5* in Versailles with A. Zorzi ; Coree, winner of the GP GCT 5* in Shangaï with G. Whatelet
▶Almoxella O, daughter of the trakhener Russian Almox Prints, Russian performer with Anatoly Timchenko and then Olympic Games of Seoul and Barcelona and in Germany with Elmar Gundel, winner of the GP of Wiesbaden and Rotterdam. She has 2 recorded products:
-Cornetta 17 (Cornet Obolensky, bwp), winner of CSI 1,45m;
-D (Douglas, kwpn), approved Sire

Production
▶His young production started at the international levelin 2017:
-Corisanto, CSI4* with Guido Klatte Jr, 2nd of one 1.50 classat the CSI4* of Wiesbaden and 4th of the CSI3* of Braunschweig, 2nd of the GP 1,50m CSI2* in Lastrup in 2017 ;
-Captain Jo, 8 years old, CSI 1,45m with Christina Thomas ;
-Prinz Claus, 7 years old, CSI 1,40m with Mathais Mock ;
-Chattanooga, 7 years old, CSI 1,40m with Angelica Augustsson Zanotelli ;
-Corniolan, 7 years old, CSI-YH with Robinson Maupiler ;
-Cornet' S Crown 2, 2nd of the GP of the 6 years old in Kronenberg, 2nd of the small finalat 6 years in the World championships of Lanaken with Clarissa Crotta then with Santiago Diaz Ortega ;
-Caspar 278, 6 years old, CSI 1,35m with Inge Graven
▶Among his few products in France:
-Coeur de Lion 41, finalist at 5 years, ISO 135(14) ;
-Vasco de Champloue ICC 121(17) ;
-Catch Boom Bang, CSI-YH with Jonathan Chabrol, ISO 140(17)
-Cornet' S Prinz counts several approved sons: C'est Moi, Corne's Bavarian, Cornet's Crown; California 19, CSI5* with Rodrigo Pessoa.

He produces with elegancy and transmits balance, respect and style.
It is today the quality of his production, which arrives on the international scene at 9 years, which is worth him to integrate our catalogue among the superstars