CONQUISTADOR - étalon/stallion -
belgian warmblood, Bay, 1m68, 22 years
An outstanding competitor from Australia to America, the aptly-named Conquistador has the incredible ratio of 14 products competing at CSI level out of the twenty or so among his progeny that are old enough to compete. This new star is back in Europe and he is BWP ambassador!

Offspring - Strength - Respect
---
Stud fees
Breeding guide program
Frozen semen :
Booking fee : 350 €
Pregnancy fee : 1 000 €
Prices above do not included VAT 10%

Pedigree
CLINTON,

CORRADO I,

COR DE LA BRYERE,

RANTZAU xx,

QUENOTTE,

SOLEIL,

CAPITOL I,

KUERETTE,

URTE,

MASETTO,

MONTANUS,

EMITA,

OHRA,

LANDGRAF I,

BRIKSCHA,

QUINTANA VAN DEN BOSRAND,

HEARTBREAKER,

NIMMERDOR,

FARN,

RAMONAA,

BACAROLE,

SILVANO,

ORCHIDEE,

FATIMA VAN DE HEFFINCK,

RANDEL Z,

RAMIRO Z,

ALARIC Z,

J'AIME VAN DE HEFFINCK,

FURIOSO Z,

DINNETTE-F VAN DE HEFFINCK,
▶ License : SF, BWP, Aus
▶ WFFS : Génotyp N / N

What to remember: Returning from the United States to Europe in 2019, he ended a world trip that took him through Australia where he had a few foals before being sold to the US. Thanks to his two offspring (with less than 25 births) finalists in Paris World Cup and Tryon WEG, he has unbeatable production statistics and the breeders have given him a very good welcome.
What he passes: He usually gives an elegant head and enough bone, he suits mares with enough blood and size.
Crossing grades (from 1 for a little to 5 for a lot):
SIZE : 4 LENGTH : 4 CHIC : 5
BLOOD : 3 SCOPE: 5 BONES : 4

PAX Characterization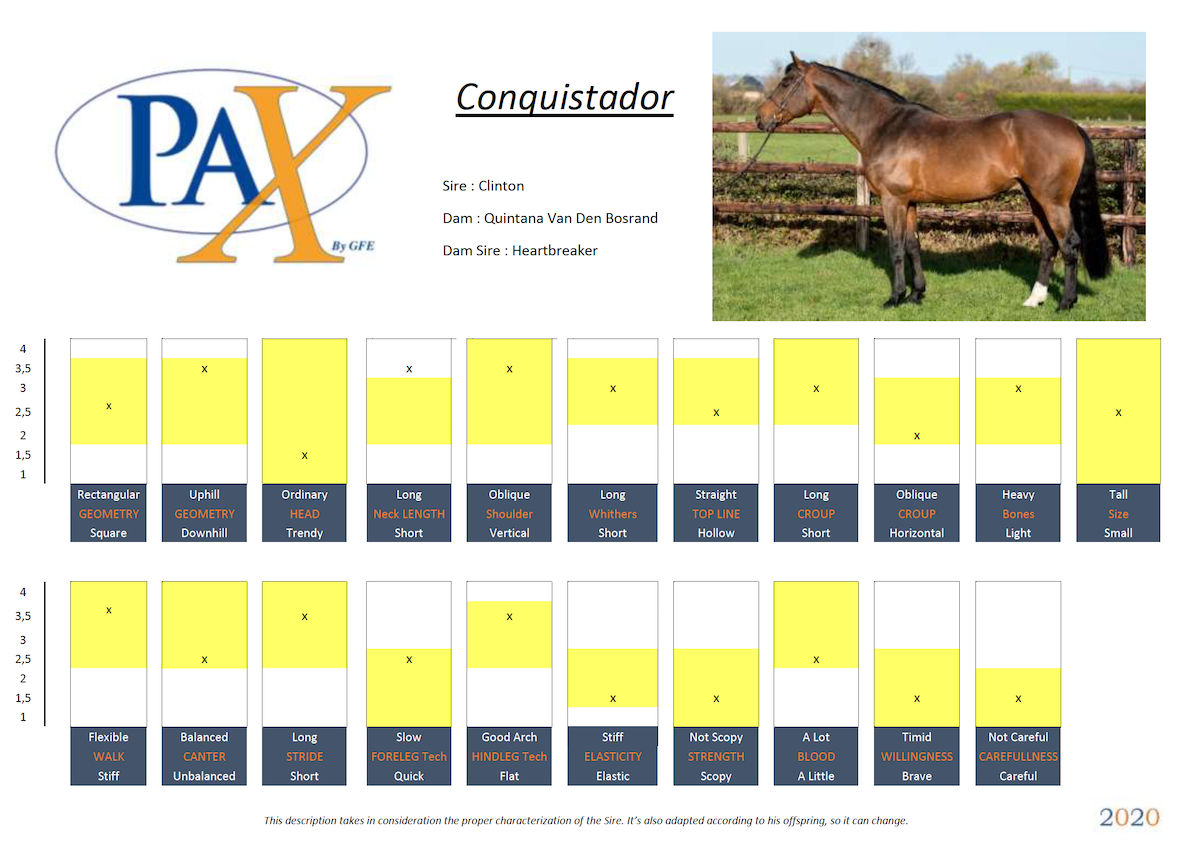 Those information should help you to a first sort and then should be completed by the PAX Graphique


Een geweldige sportpaard van Australië tot Amerika, met een toepasselijke naam: Conquistador. Hij heeft een ongelooflijke score van 14 van de 20 nakomelingen die oud genoeg zijn, deelnemen op CSI niveau. Deze rijzende ster is terug in Europa en is BWP ambassadeur.


Pedigree
▶Clinton, great international performer in CSIO with D. Demeersman: 2nd GP CSIO5* in Aachen, 3rd of the Olympic Games in Athens and 4th of the GP CSIO5* in Rome...
Ranked among the best Sire in the WBFSH ranking with more than 150 international winners such as CORNET OBOLENSKY, European Champion by Team and among the best Sire in the WBFSH ranking, Clinta, Gold medal by team and 4th into individual at the World Equestrian games of Tryon with McLain Ward, Suspens Floreval, World Equestrian games of Tryon, Dame Blanche Van Arenberg, Coral Reef Via Volo, Bagni di Luca, Danny Boy, Ustina Sitte, Cliffton Belesbat, Darlon Van Groenhove, About A Dream, Vitesse Greenfield, Vivaldo van het Costersvel, all top performer at CSI5* level.
He has also more than 40 licensed son such as PRESIDENT*GFE, Cigaret JVH Z, 2nd of the DIABEAU VD HEFFINCK*GFE or even CONSUL DL VIE*GFE
▶ Quintana van den Bosrand, dam of:
• Utrillo vd Heffinck (Clinton), CSI4* with W. Lapertot,
• Quindoctro (Indoctro), license stallion
• Vanité vd Heffinck (Clinton) dam of Dax van d'Abdijhoeve, 7 yo World Champion in Lanaken 2010, CSIO5* with Pieter Devos
▶ Fatima van de Heffinck dam of :
• Wientana Vd Bosrand, CSI3* and dam of Gandrio van den Bosrand, CSI2* and Jilko van den Bosrand, CSI1*
• Adelanto Vd Bosrand, CSI5*
▶ J'Aime van de Heffinck dam of :
• Nachtvlinder vd Heffinck, dam of Valentino, CSI5* with P. Freimüller
▶ Dinette van de Heffinck dam of :
• Chostess, good winner in dressage
• Idéaliste vd Heffinck, dam of Titanic, CSI4* sous selle brésilienne
• Kinette vd Heffinck, dam of Quel Homme vd Heffinck, CSI5* and Souvenir vd Heffinck, CSI5* and dam of Bentley vd Heffinck, 6 yo belgium vice-Champion des 6 ans en Belgique en 2006, CSI 1,50m, Tsarina vd Heffinck, dam of Infernate vd Caatshoeve, CSI5*, Welfe vd Heffinck, dam of Daedalus van T & L, CSI5*, Its Loto 111, CSI5*, CP Aprilla, CSI5*, Inette LVP, CSI3*
• Quinette vd Heffinck, mère de Baileys vd Vijf Eiken, CSI3*

Performances
▶ ASB Conquistador ex Bush vd Heffinck was sold youngster to Australia where he begun in CSI at 7 yo with Chris Chugg.
▶ at 8yo : ranked 5th in GP CSI-W in Melbourne. Sold and exported to the USA to compete with a young rider : K. Cook up to level CSI5*.
▶ from 9 yo : they were ranked twice at 1m60 in Calgary CSI5*, 3 times in GP CSI-W in Del Mar, 2nd GP CSI-W in Las Vegas and 3rd in Sacramento.
CONQUISTADOR was ranled in GP CSI-W in Del Mar, San Juan, Las Vegas with Karl Cook and Eric Navet.
Retired in California for 2 years, he came back to Europe in 2019 due to the quality of his first offspring !
Offspring
▶ His production is confidential but exceptional with less than 25 registered offspring in Australia before being exported to the US. Among them:
• Oaks Redwood, World Cup finalist in Paris in 2018 and World Equestrian Game finalist in Tryon, 24th into individual with B. Raymont for Australia. Sold to USA as his father, he was ranked in CSI5* GCT with N. Nassar and J. Gates in 2019.
• Yandoo Oaks Constellation, World Cup finalist in Paris in 2018 and World Equestrian Games finalist in Tryon, 29th into individual with J. Kermond for Australia.
▶ Conquistador is the only Sire with 2 offspring in the Top 30 horses ranked at the World Equestrian Games in Tryon. Up to Oaks Redwood and Yandoo Oaks Constellation, he is also sire of Yallambi's Bellini Star, CSIO5* with S. Hill and Oaks Kosmo, Celso, Conquest, Chumbawumba, Goya, Conquista ,Ce Cajun, Conan, Clovelly, Jitterburg, Glenara Lady Bollinger, Denison Park Cassisi, Diamond B Carla... all good jumpers in CSI2* and 3* Australia and Europe.
Pumpernickel is doing eventing : CCI3*, with A. Armstrong.